I am so excited for this weekend. This weekend is a chance that I (along with every other member of the Church of Jesus Christ of Latter-Day Saints) gets to listen to the prophet and other leaders of our church speak. What do they talk about? How to build your faith, how to endure during trials of our life, how to build our marriages, and ALWAYS messages about our Savior, Jesus Christ. So we get to listen to two 2 hours sessions on Saturday and two 2 hour sessions on Sunday. It's a lot of time, but SO uplifting and it fills my soul to listen and be inspired to be better.
So factor into those 8 hours of listening 5 kids and it sometimes becomes a crazy time. Today I thought I'd make those hours where the kids are listening a little easier on everyone with a few Free General Conference Games: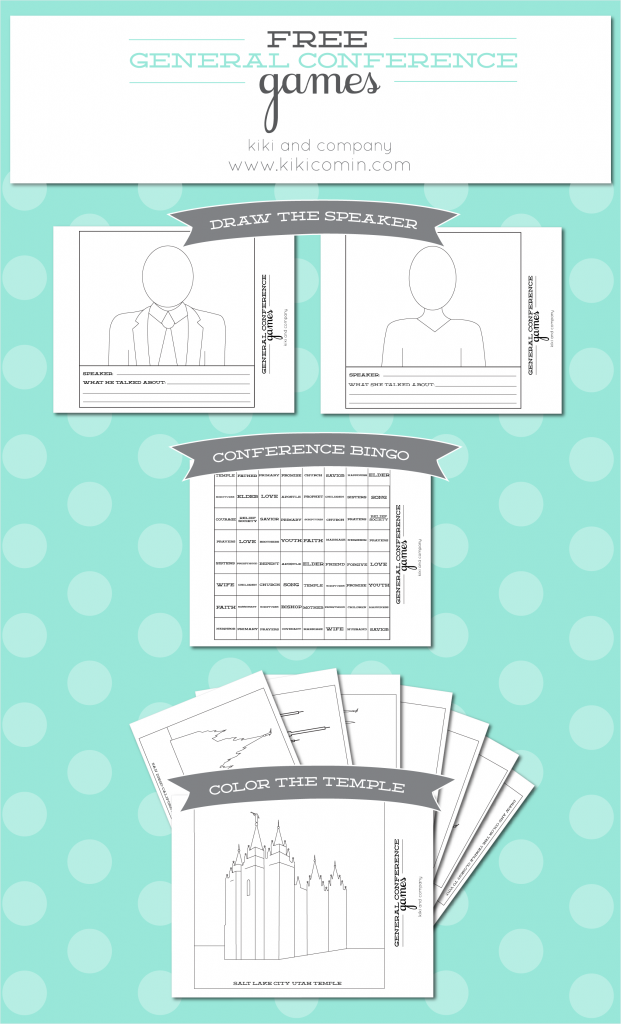 First, there is a Draw the Speaker game. There is both a male and female page. Have your kids draw what the speaker looks like. What color is the man's tie? Does he wear glasses? Is the woman wearing a necklace? Is her hair long or short? For the younger crowd, this is probably as far as they can do alone, but help them write in the speaker's name and ask them at the end of the talk what he/she talked about. Older kids can fill it all in by themselves. I can't wait to see how my kids draw different speakers. 🙂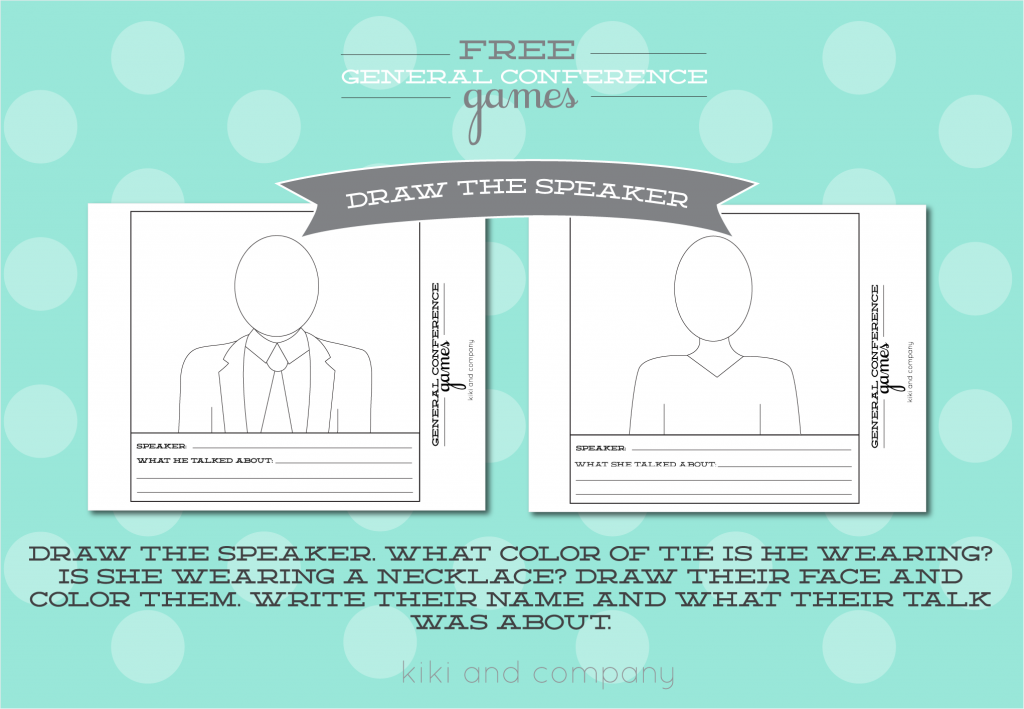 Next up is Conference Bingo. Now unlike a regular bingo where you would have multiple cards, this one has just one card, but the card has words that your child will listen for (they are written more than once on the card) so you can either play who can fill the line in first or for younger kids, 5 in a row, etc. You could also fill the card completely in. Use nuts, raisins, cereal, or small candies to mark the words heard.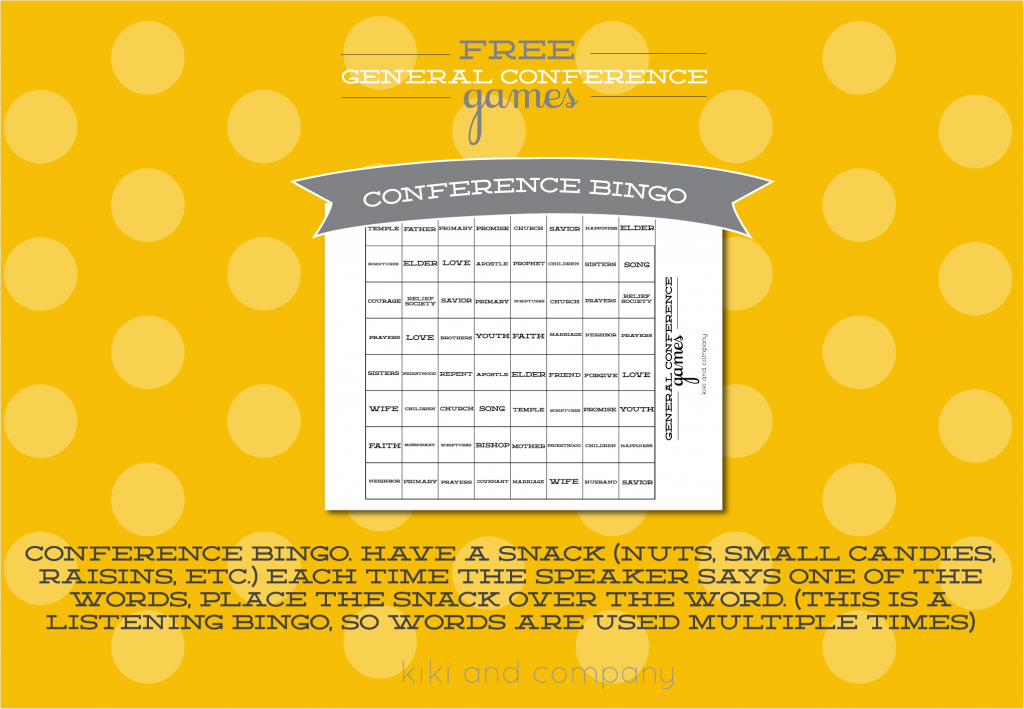 Lastly is Color the Temple. I have 7 temples with their outlines, so your child can draw the defining features (or make their own) and color the temple in. I also have one blank page so your child can draw the temple that is closest to you!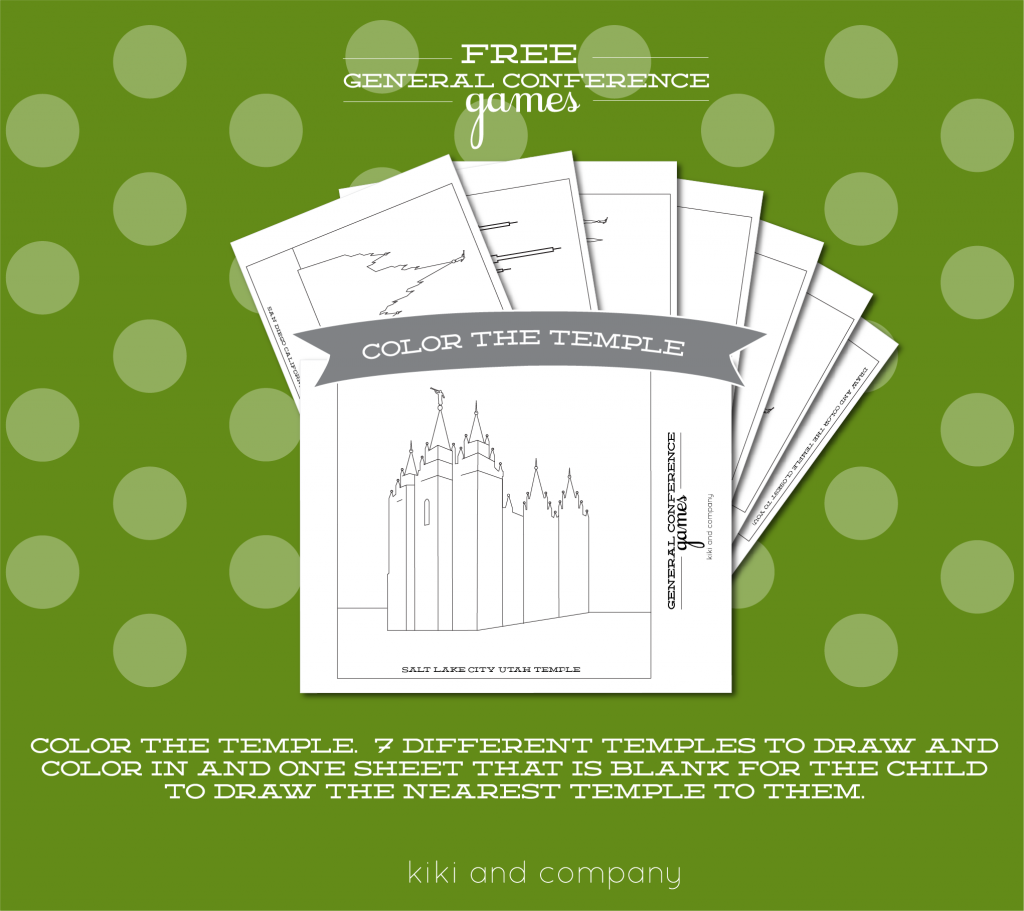 I am so excited to see how you use these printables. (You could even use them for Sunday meetings to get your kiddos to listen). Each 6 months as general conference rolls around, I will be adding to these worksheets!  I will be posting my kids results on my INSTAGRAM page, where you can follow me and keep up with my family.
Download the games by clicking each of the links below!
general conference pack draw the speaker
general conference pack draw the speaker sister
general conference pack temple coloring salt lake city
general conference pack temple coloring seattle
general conference pack temple coloring san diego
general conference pack temple coloring portland
general conference pack temple coloring las vegas
general conference pack temple coloring denver
general conference games bountiful
general conference pack temple coloring draw your own temple
Happy General Conference weekend.:)