disclaimer: This is NOT a sponsored post…I just wanted to share some of my favorite places that I go to to shop for my girls!
My first two babies were boys. They are SO fun to have, but the shopping can be hard to find unique items for them to wear.  However, when I had my first girl, I was overwhelmed with the shopping. I don't think it's fair to walk into a store and have a little square section be for boys, while the girls section takes up 1/4 of the store, but I have found this just about everywhere. You? Today I will share 3 of my favorite shops to find cute girls clothing..and I want you to share YOUR favorites too.
#1- Old Navy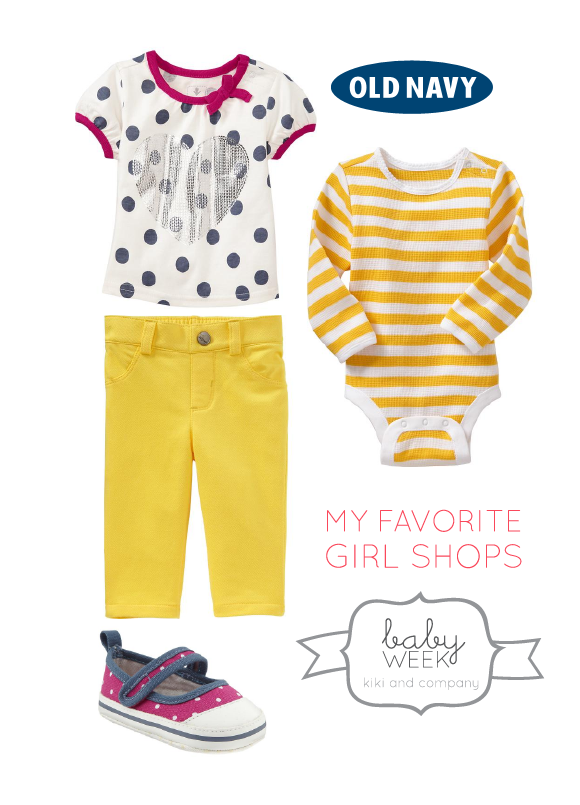 I love Old Navy for a few reasons. 1- They have cute, comfortable clothing for babies and up. 2-They are generally less expensive than stores you find in the mall. 3-I love the selection they have!
I love being an online shopper too, so their selection online is great. I loved looking at all the bright colors they have out right now for baby girls. I picked out a cute outfit I'd love to see my little peanut dressed in and even added a little long sleeve shirt I could add for winter time.  If you haven't lately, check Old Navy out…and if you go in store, check out their awesome clearance section..one of my favs to peruse!
#2- Taylor Joelle

I have been shopping at Taylor Joelle now for a bit. I adore the collections they have come out with and look forward to more from them! My older daughter's closet is filled with their dresses and shirts. I love their Black Tie collection they came out with this summer and just ordered this sweet little onesie set for the baby to be. The quality in their clothes are AMAZING. Their clothing is unique and I love the mixture of patterns and colors they use.  Wouldn't this sweet little mint tutu with bow leggings look perfect with one of the little onesies we made yesterday!  I can't say enough good about Taylor Joelle..and even better..right now everything on their site is 25-75% off. It's a perfect time to check them out!
#3- Joyfolie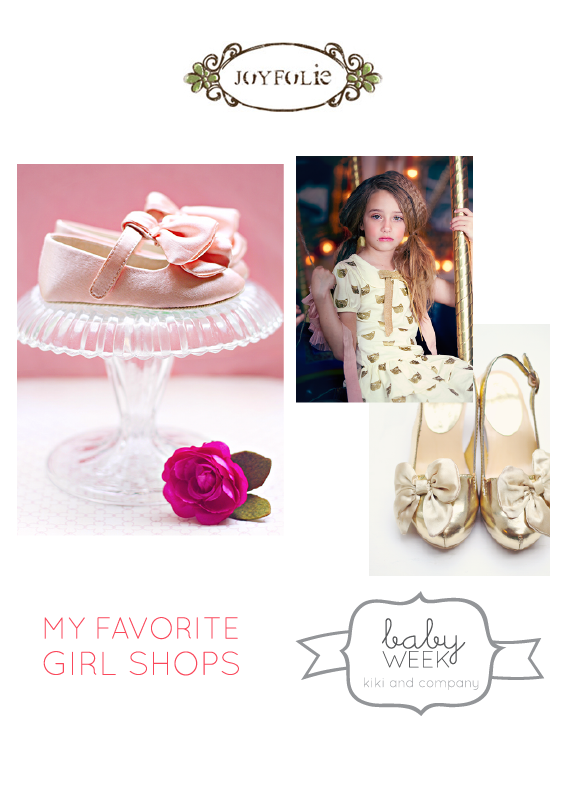 My #3 shop is perfect for those special occasions in your life! I WISH I could shop there all of the time, but I wait and am patient for the sales they have and then scoop them up! Joyfolie has the sweetest shoes and clothing for every girl in your life, from baby to YOU! I picked up those sweet pink shoes for my baby when she has her blessing at church (she will be blessed in the same gold dress her sister was blessed in)..and for her older sister, I had to pick up an outfit that will coordinate (and happened to be on sale!). I LOVE this little cat dress and the gold shoes make my Maizie smile from ear to ear! When I recieved my box in the mail from them, it was like CHRISTMAS. No, really. Everything was packaged to perfection..each pair of shoes comes with a coordinating bow and I picked up a bunch of hair accessories as well. I love it when companies think about the entire process of an order!
So there are 3 of my favorite shops to shop at for girls. You do have to know, most of my clothing for my babes come from Target (I LOVE them), Carter's, or from clearance sections at any store I happen to be in. I am a HUGE clearance shopper, but for those extra fun pieces, I like to shop online!
WHAT ARE YOUR FAVORITE SHOPS FOR GIRLS? I am always looking for new ones!