Can you believe it is MAY?! And with the first week of May comes Teacher Appreciation week.  I so appreciate all those teachers who take time everyday to teach my babies and because of that I wanted to make a little something to let them know that their dedication doesn't go unnoticed! This project is quick and easy..and with the free printables, costs next to nothing.To make the gift, you need to download and print the free printable at the end of the post. In addition, you will need Treasures or Nuggets chocolate from Hersheys, a hot glue gun and then I will show you two different ways (and there are so many ways you could do this) to package them up.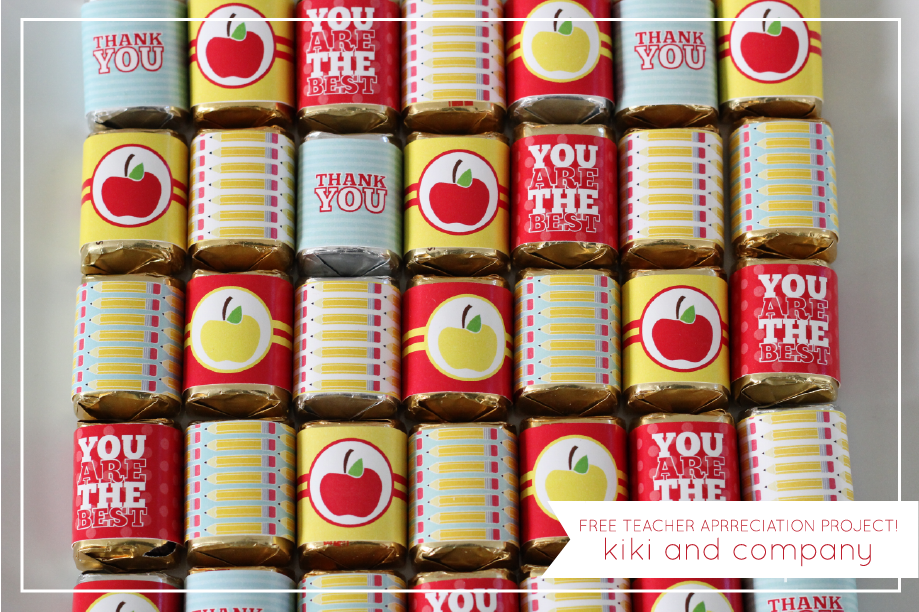 Let's make the chocolates first. Cut out the candy wrappers, and wrap them around the chocolate, securing the label on with a dab of hot glue. As long as you don't use too much glue, it doesn't even melt the chocolate. You can even use tape, if you prefer. Aren't they just the sweetest things..and give just the right message: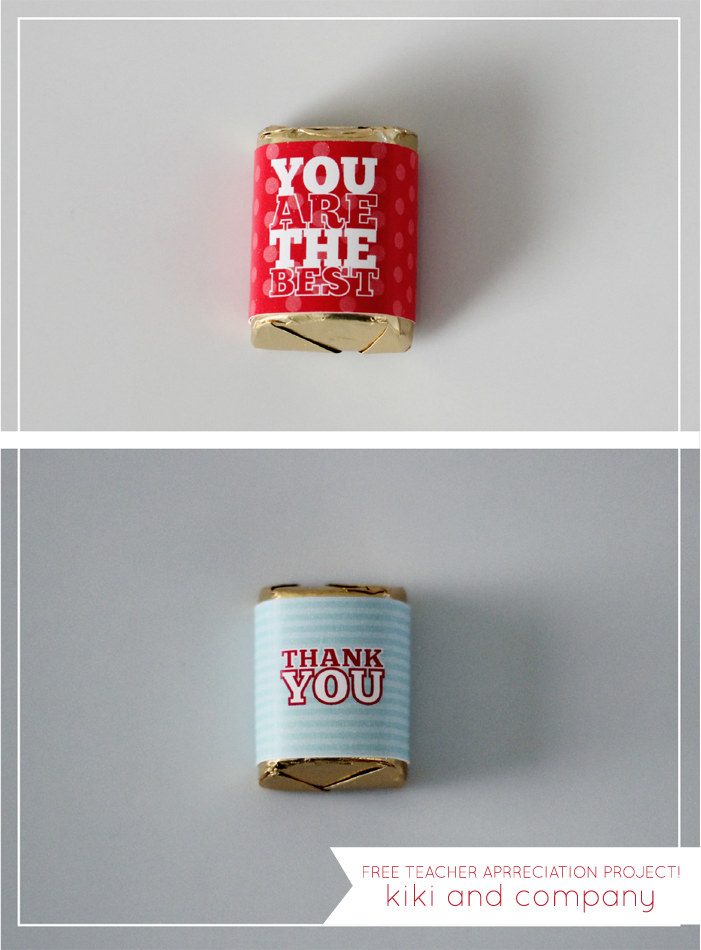 First, I will show you how to put together this little board that will stand all on its own. Get a piece of cardboard about 5×7 (the topper is 5 inches wide). Cover it with a cute piece of scrapbooking paper. Line up your chocolates just how you want them, and then one by one, hot glue on by adding a dab of glue to the back. Add the topper with hot glue and then cut another piece of cardboard 3×6. Attach scrapbook paper to it (or you could skip this step entirely!). Bend it about 2 inches from the top and then hot glue those 2 inches to the back of the candy board.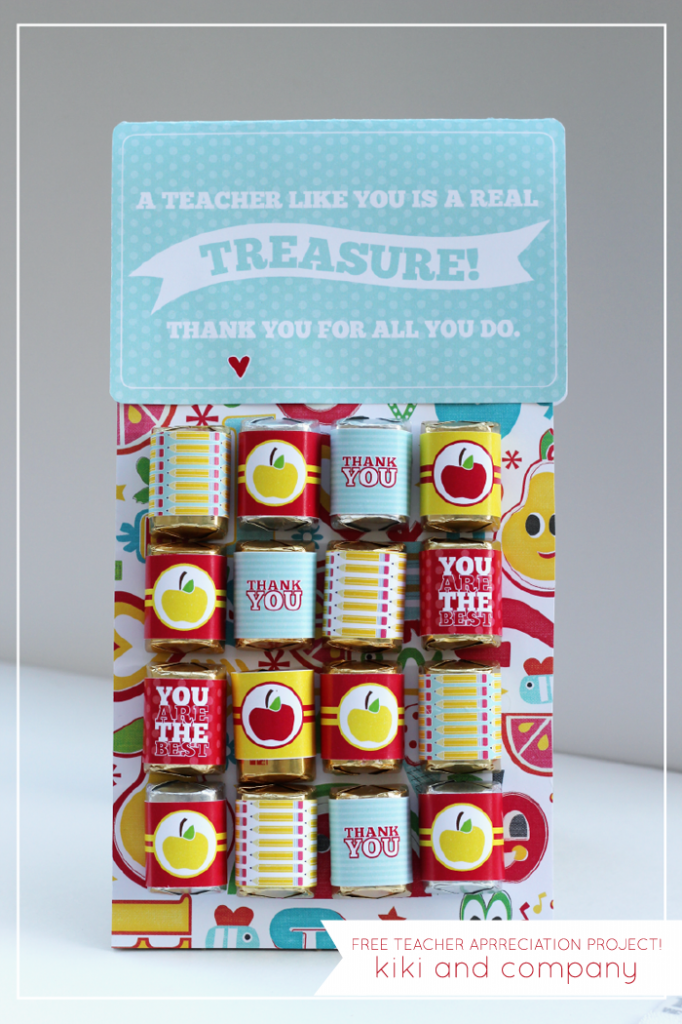 Once you do that you have a little stand alone gift that is so sweet and thoughtful. They can set it on their desk, and snatch a piece of chocolate anytime in the day!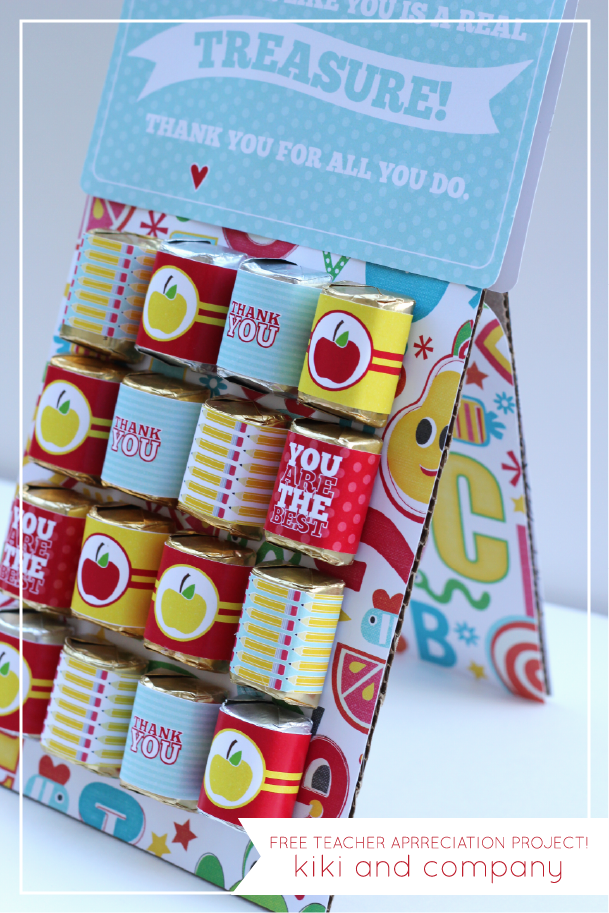 The other way I will show you to package it is much more familiar. Get your chocolates ready, get a piece of scrapbook pages so it fits in a 5×7 cellephane bag. Lay out your chocolates on the paper and then glue them down. Place the paper and candy in the bag and then add the topper to the top of the bag by gluing it on.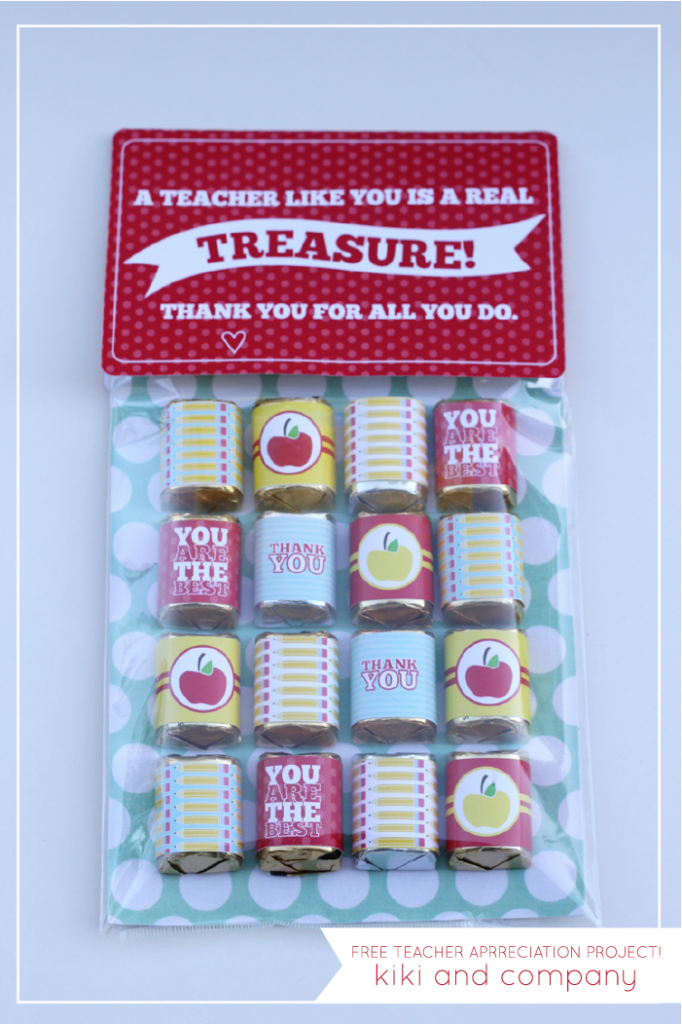 These are both so easy to do..so easy in fact, you can whip a bunch out in no time! Have your child sign next to the heart, and you can even add a quick note on the back of the topper.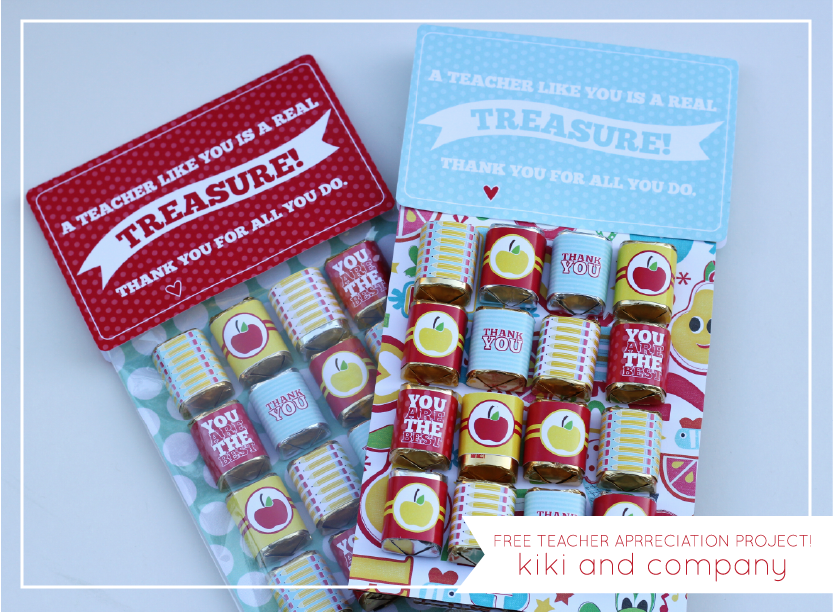 The best part? The toppers come in 3 colors and it is all free!
You can download the free files b

y clicking below:
Teacher Appreciation Treasure Red
TEACHER APPRECIATION TREASURE TEAL
Teacher Appreciation Treasure Yellow
Now go and get creating! Have so much fun telling those teachers thank you!
This post was orginally posted on I Heart Naptime as part of their contributor team.