I loved everything about this tree, but I was LOVING the little treat baskets that were hung as well. They would make a cute little bucket to send with your kids for Halloween parties for each kid in his/her class. I love how small and quick the baskets I made are to whip up…and even easier if you do them in an assembly line!
To start each basket you will need:
toilet paper roll
colored paper
hot glue
shape cutter (anything to cover the bottom of the bucket)
craft glue
glitter
Here are the first 6 steps to get you started:
Today we will be making a Frankenstein, a mummy and a bat treat bucket.
To make the Frankenstein bucket:
I used green paper on all but the hair, in which I used black. After getting your bucket to step 6, take your 1/2″ x 6 1/2″ strip of black paper and cut triangles out of it for his hair. Glue the hair on with hot glue. Glue the beads on for eyes, then simply add the screw brads on the side of his head. I found my brads that look like screws at Michael's a few years ago and they are seriously perfect for these! Any silver circular brads will work, though.
To make the mummy bucket:
Do NOT glitter the base paper. Instead, skip straight on to gluing down the 6 skinny strips of white paper. I found it is easiest to glue the eyes down first and then work the white paper around the eyes to make it look like a mummy. Lastly, glue and glitter the mummy in white!
To make the bat bucket:
Cut out the bat wing template in black paper and glue and glitter it first! Simply click on the above picture and print as you please. After getting to step 6, let your black glitter dry and then glue the buttons on, followed by the beads on to the buttons. Lastly, glue the wings on the the back of the bucket for one super cute bat!
Aren't they just sweet?!
I couldn't resist making a tree for them to hang on:
And excuse my "non-professional" photography..and bask in my beautiful ROCK back yard 🙂 as I show you the Pottery Barn Knock off Halloween tree that I whipped up. Aren't those little treat buckets so cute on there?! I can't wait to give one to kids who come by to visit and play this next month.
Fun, right?!
Well, today, you get a triple dose of me..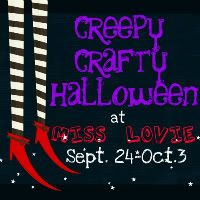 Here you will find another sweet and simple project to put together, but for HALLOWEEN! Both have free printables and both are super fun and easy to put together! Go leave them some love.:)
Thanks for stopping by..you really are the best.