Oh, I am so happy to have you here today as I get to share a fun skirt with you today as part of Simple Simon and Company's Skirting the Issue event.
I have a little confession to make. I adore this event so much each year. I love to give back. I love to support and encourage girls in their education.
I also have not found myself so busy in all of the years that I have been a mother. I am moving, having to rip apart and put together our new house, I've had an influx of work, and I had a family reunion to get my family packed for this week. In short, my life has been crazy. The other day, I knew I had this post coming up and so I sat down and gave myself just a bit to finish everything. I had an idea of what I wanted and went for it. AND GUESS WHAT?! You guys, I had the skirt cut, sewn, and finished in about 45 minutes (it took me a little bit to figure out the waistband). In less than an hour, I had the skirt done. So I just wanted to let you know that YOU CAN DO IT. If you want to participate in this awesome event which will provide skirts to girls in foster care, then know that you can set aside an hour and get SO much done!
So here we go. Here is my girl in her Twirl Away skirt: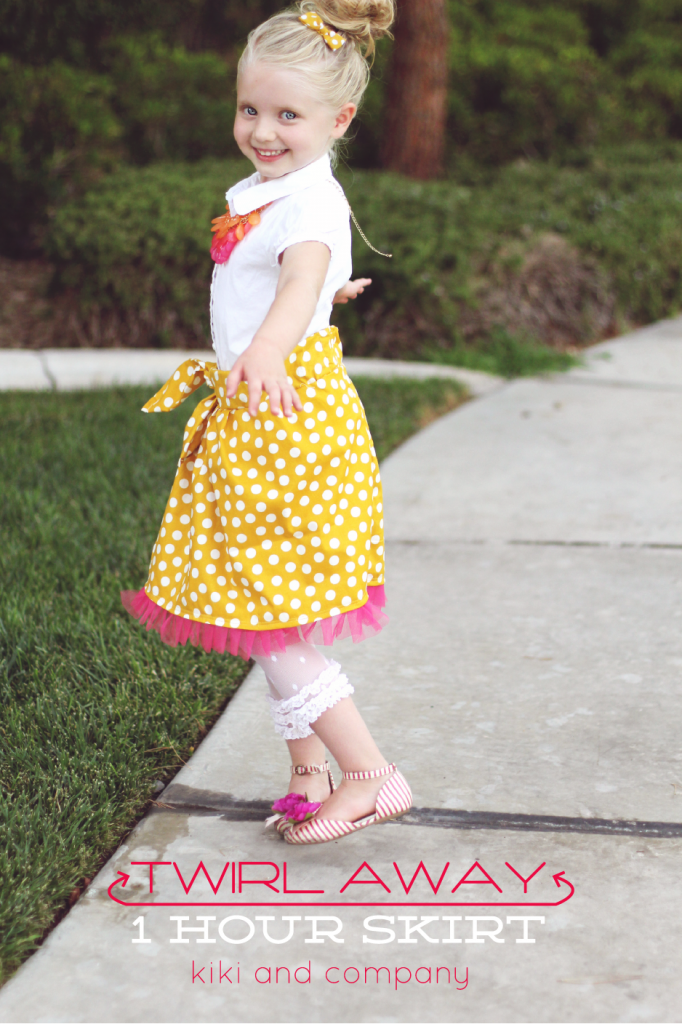 Because I made this not from a pattern, I just wanted to tell you what I did. Sorry..I sew like this so much, I need to get better at using a pattern! 🙂
I used a yard of fabric and cut it into 3 pieces:
I measured my daughters waist and doubled it. I measured her waist to her knee. That made the first piece.
Next, I took her waist measurement and cut a piece of fabric 6″  wide and her waist measurement + 3″ length.
I took a piece of fabric 5″x48″ and cut it in half.
Sew the skirt portion's right sides together. Finish the bottom by folding it 1/4″ up, then fold again and sew. Next I sewed some tulle in ruffle to the bottom inside of the skirt.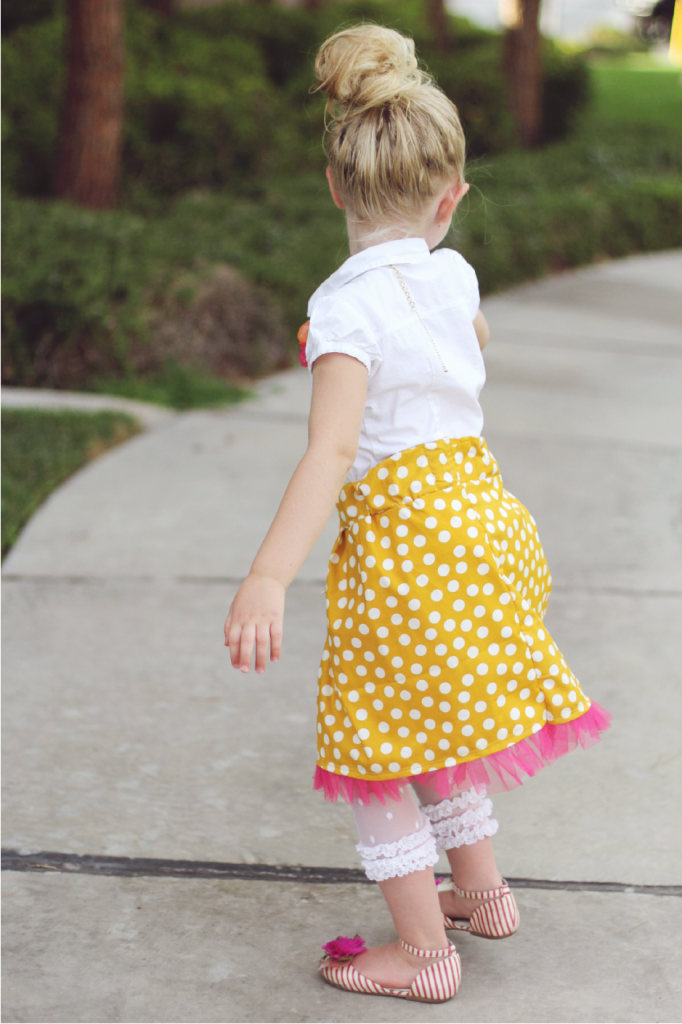 To make the waistband, I sewed 2 giant buttonholes in the middle, bottom half  of the waistband.  Cut out the material in the middle of the buttonholes. (see illustration below)

Sew the waistband's long right sides together to make a 3″ waistband.
Sew the tie's together by sewing it into a tube (3 sides, right sides together and pull it through. ) Pull the inside out and iron. Now put the two ties in each side of the waistband tube with the unsewn side at the end of the waistband tube. Sew all the layers together. Pull the ties through the inside of the waistband and pull them out of the buttonholes. Sew the waistband to the skirt by pinning the front, back and sides to each other and then evenly space out the rest of the skirt on the waistband. Sew together and you are done!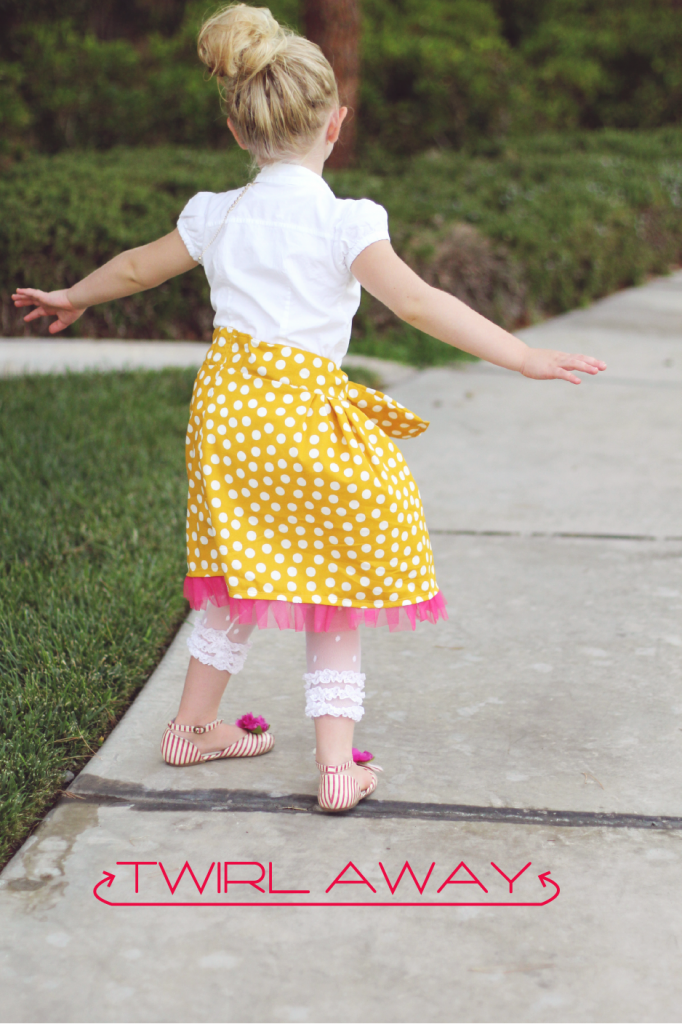 My girl was so excited to try her skirt on. (Ideally I would have liked an inch or two less on her length, but it all worked out and I left it. 🙂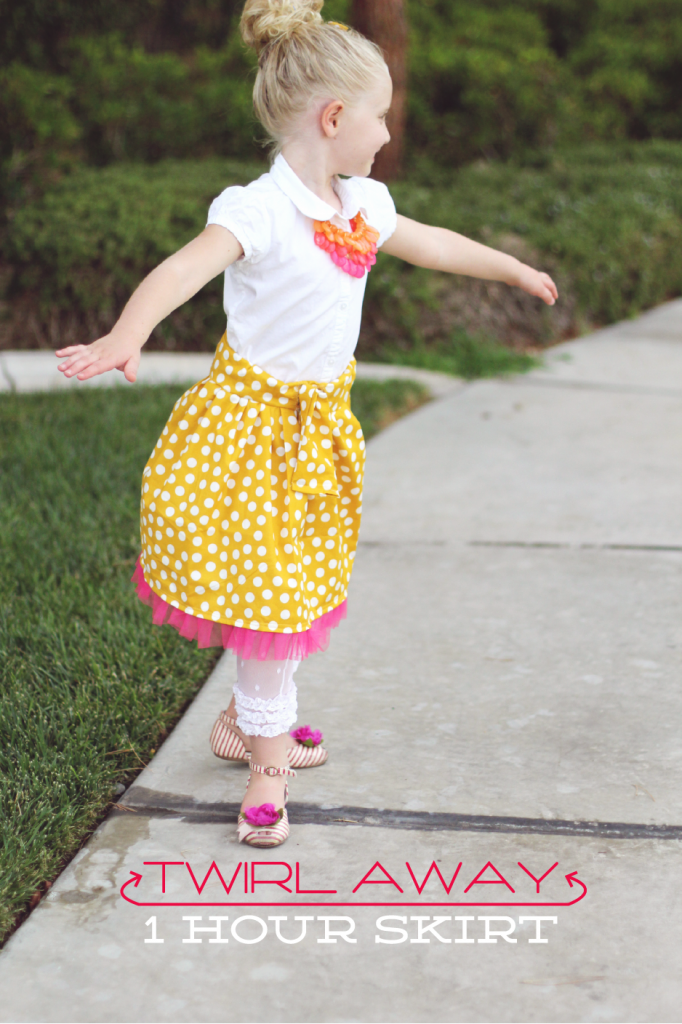 I'm sure the directions sounded a bit more complicated than it is, but no matter the skirt you make, find one you love and make one or ten up!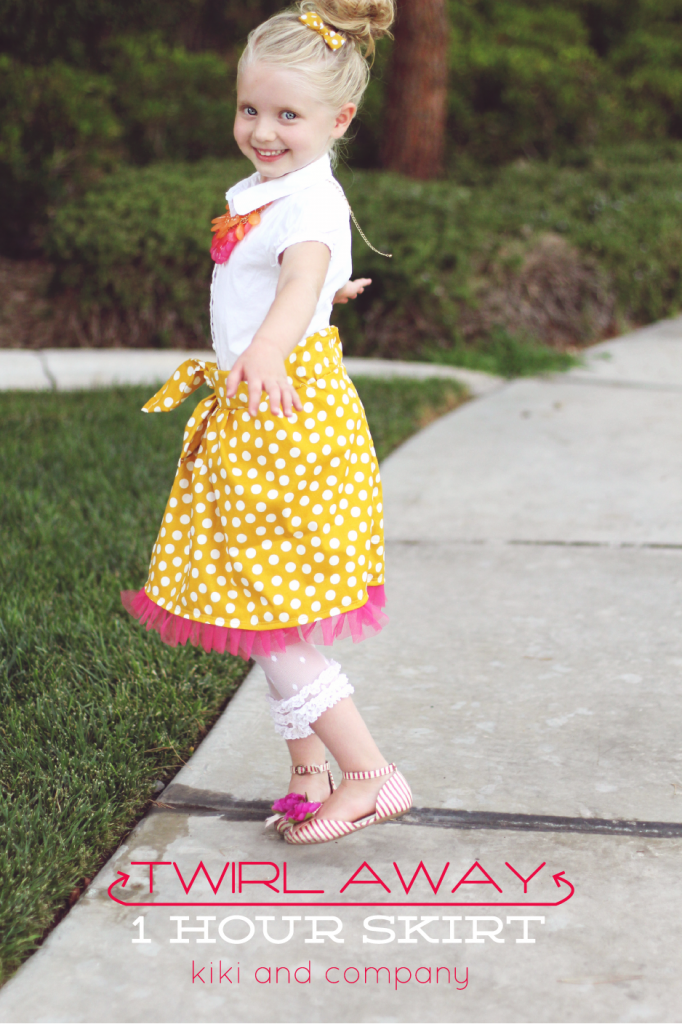 As my girl put on this outfit and started to get her pics taken, she had so much fun and twirled and twirled. It really is a fun dress for that!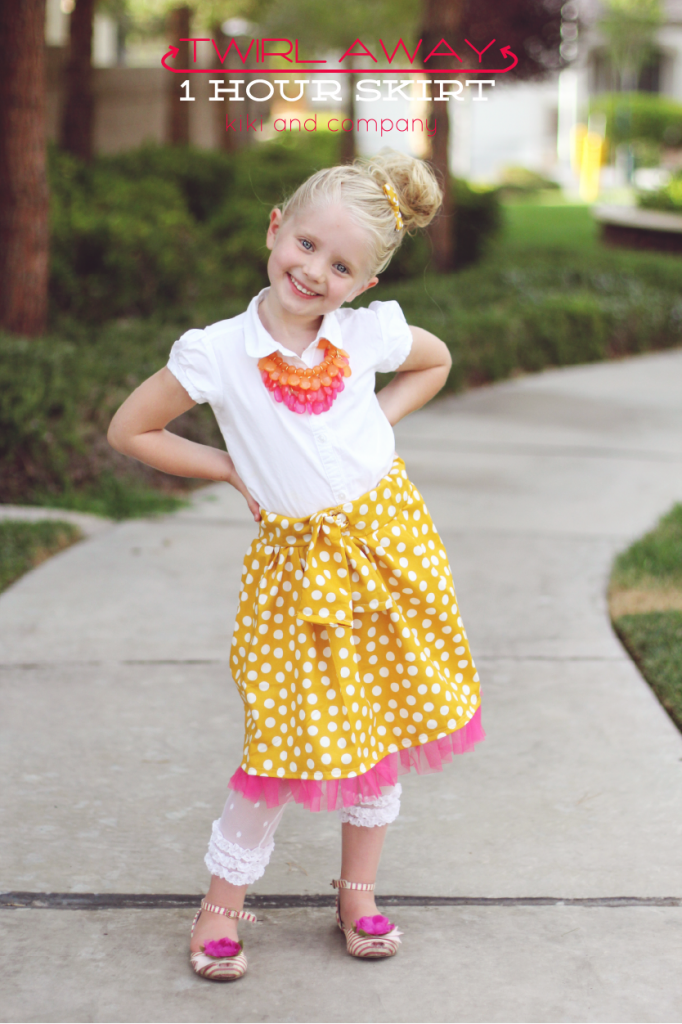 I hope you find a skirt to make, and if you decide to try this one, send me a pic, so I can feature you!
Again, I'd like to thank Simple Simon and Company for inviting me to participate and can't wait to make more twirling skirts for girls in need. To find out more about Skirting the Issue, visit Simple Simon and Co.