Well, can you believe we are at the end of Project Run and Play?  These last few weeks have flown by. I can't say thank you enough for the sweet comments and support you have given me throughout this competition. Today I have 2 freebies for you, so stick around until the end! I also have a fun giveaway once you have voted..Read about it at the bottom.:)
 This week is all about our signature style. I thought for awhile about how to word my style. I find it hard to put into words my style but this outfit embodies it completely!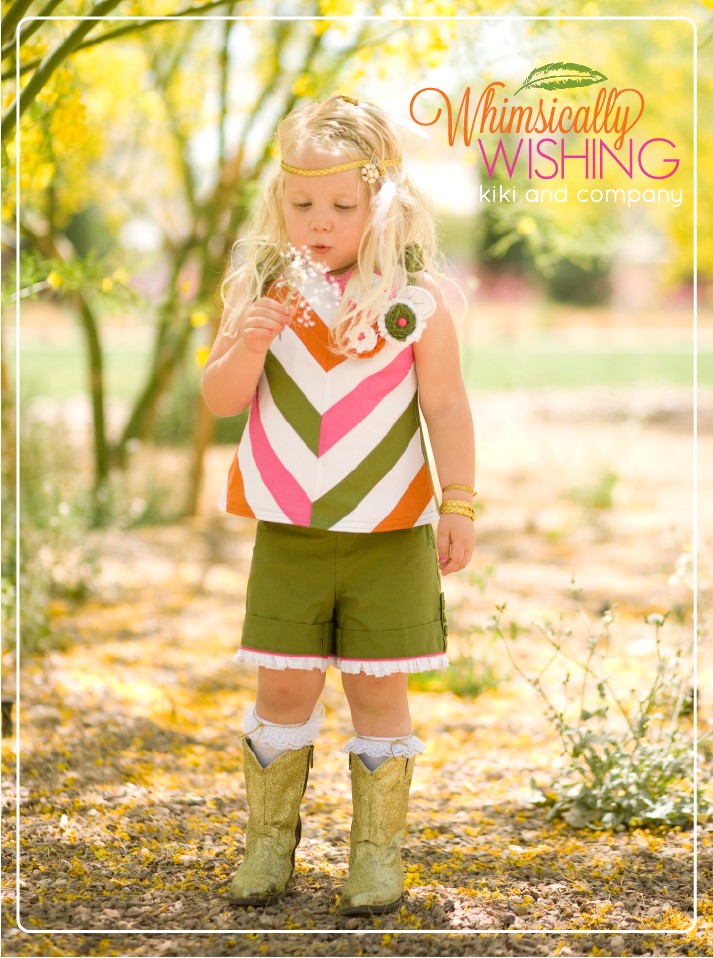 I find my style to be bold with whimsy. What is that? I LOVE to make interchangeable pieces…pieces that can be mixed and matched to make a lot of outfits. I love funky color combinations, bold patterns and LOTS of little details to make the outfit come alive. (note: don't you LOVE this picture?! As soon as we started the photo shoot, my daughter found the dandelions and started blowing the seeds to make a wish. Don't you love how you can see the little seeds as they are just blown off..so fun! This is the shot that inspired the name of the outfit.)
I started this outfit by making the chevron fabric..the color combo is one of my favorites and I love it paired against the white.  I made the slightly flaired swing top from a modified  bodice pattern.  I added a simple ruffled sleeve to the shirt to soften it up just a bit. I have been a long time fan of chevron, so it was fun to incorporate this pattern into my design.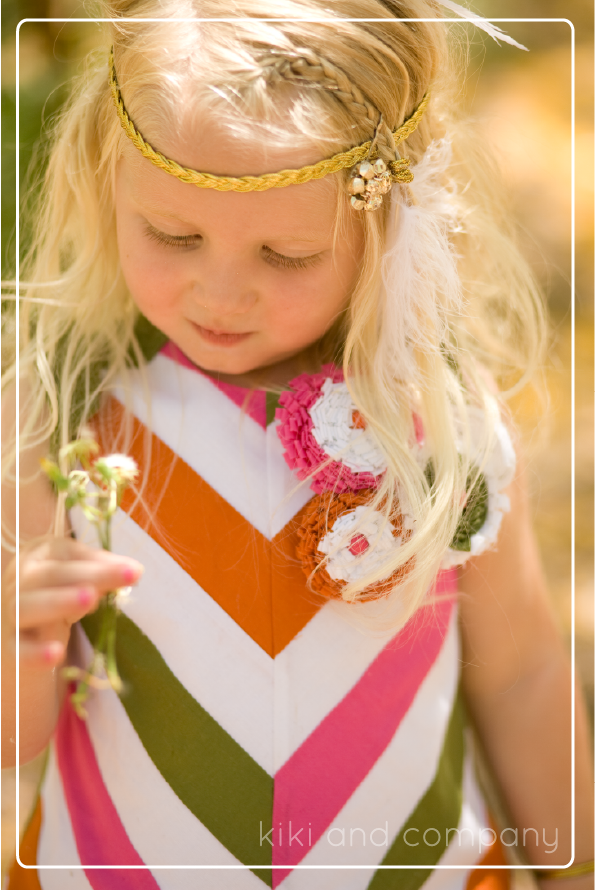 I love the added flower brooch. I think it is so fun to add little details like this. I love the texture it brings and adds that quick pop of color to add to the shirt.  The shorts have sweet buttons up the leg and I added some ruffles and pink piping at the bottom  to give the shorts some character and make the outfit more cohesive. They also have deep pockets..perfect for my daughter who likes to carry little "things" around with her all day.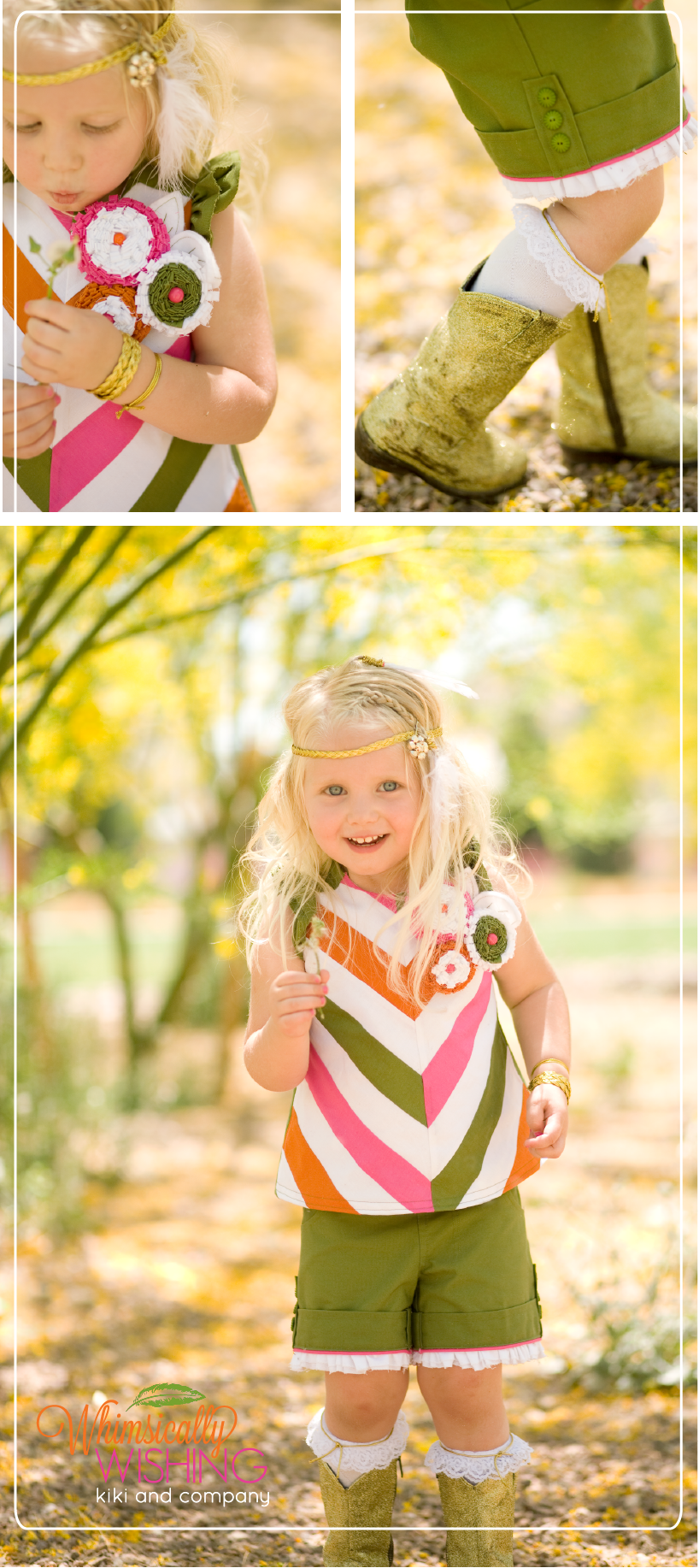 She was so fun during the shoot..and as you can probably tell, she was obsessed with blowing dandelions over and over!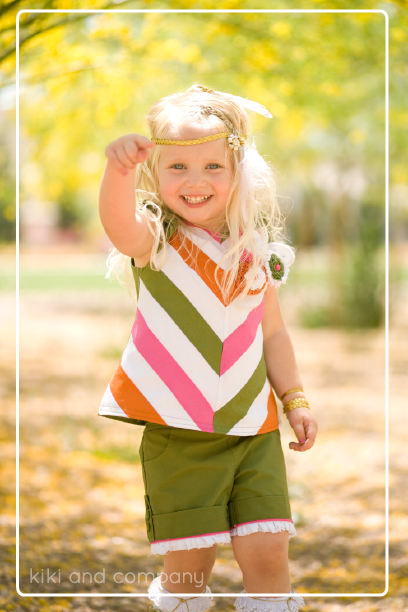 I also made a bolero jacket to coordinate with the outfit..and added the same ruffle and piping as on the shorts to help it all come together. It really adds a bit of sophistication and femininity to the outfit, which I love having the option of! It also adds a bit of detailing to the back of the outfit..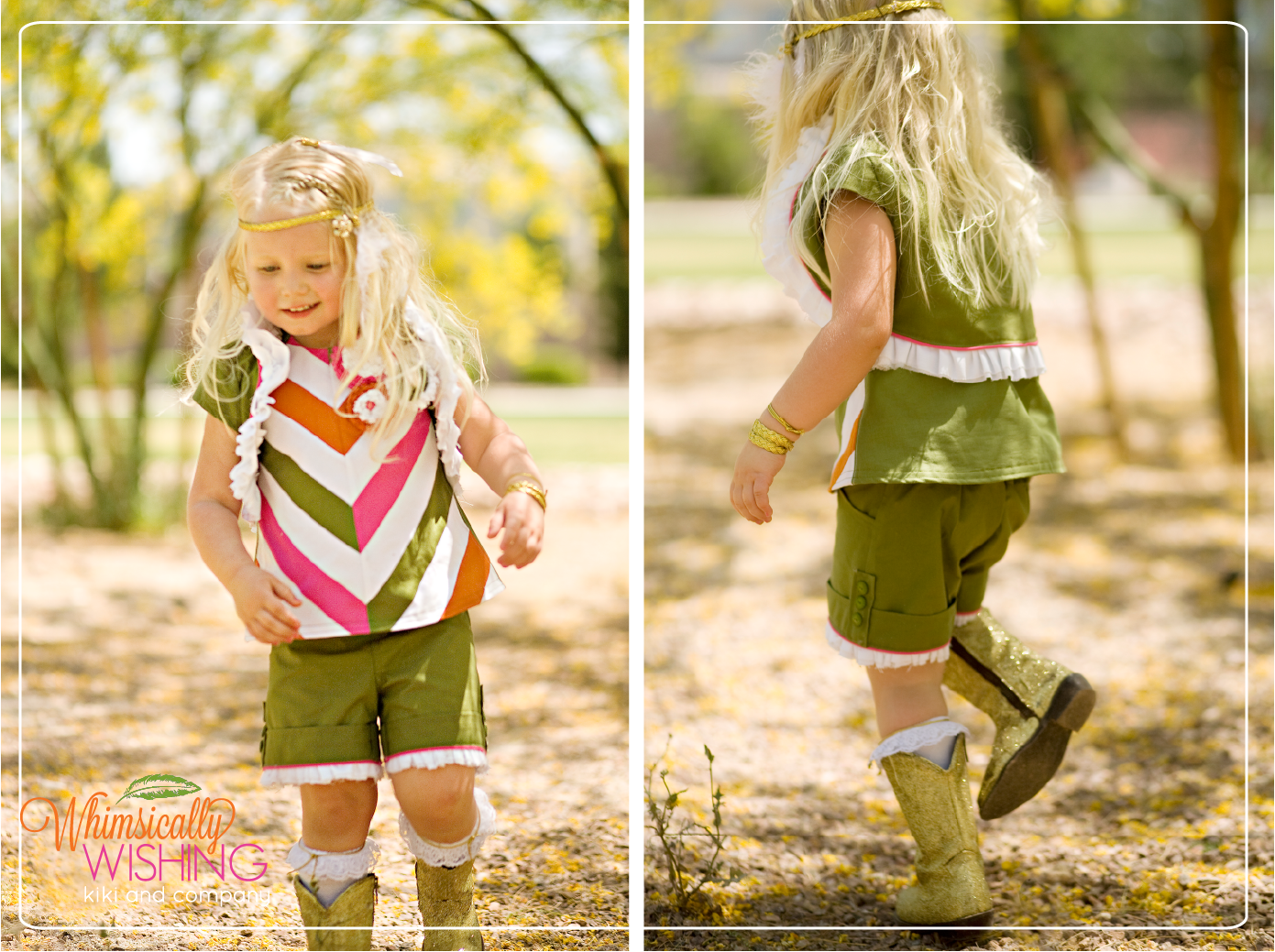 You know how much I love details, so lets look at a few:
After getting the outfit done, I stepped back and looked at it and decided I would accessorize with gold as the colors in the outfit are all warm and wanted to keep it cohesive. I added some sweet trim to make some bracelets…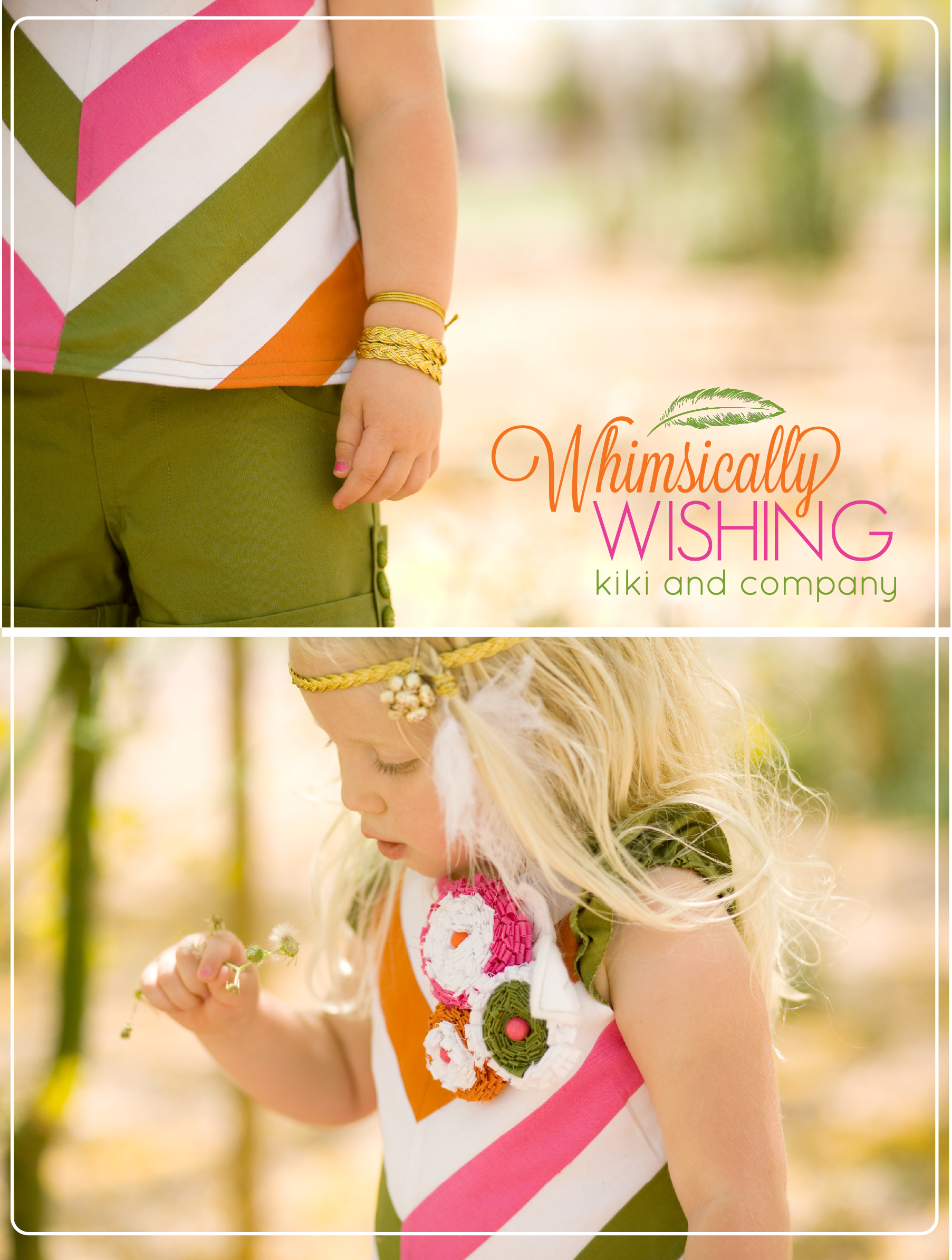 In her hair, I added gold cording to her braids and then strung two feathers  on it as well..I LOVE how the feathers looked…so magical! I added a head band made out of gold trim.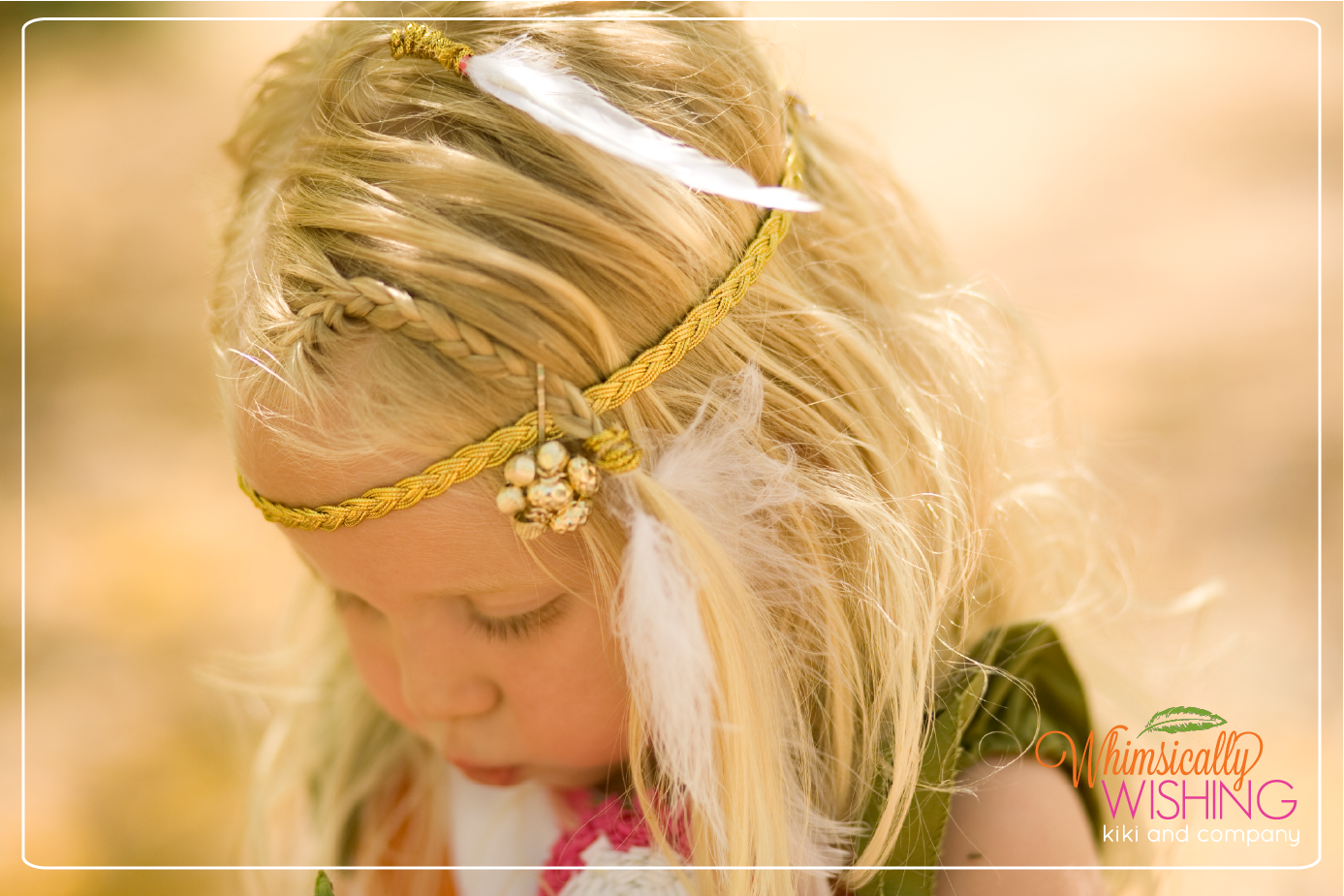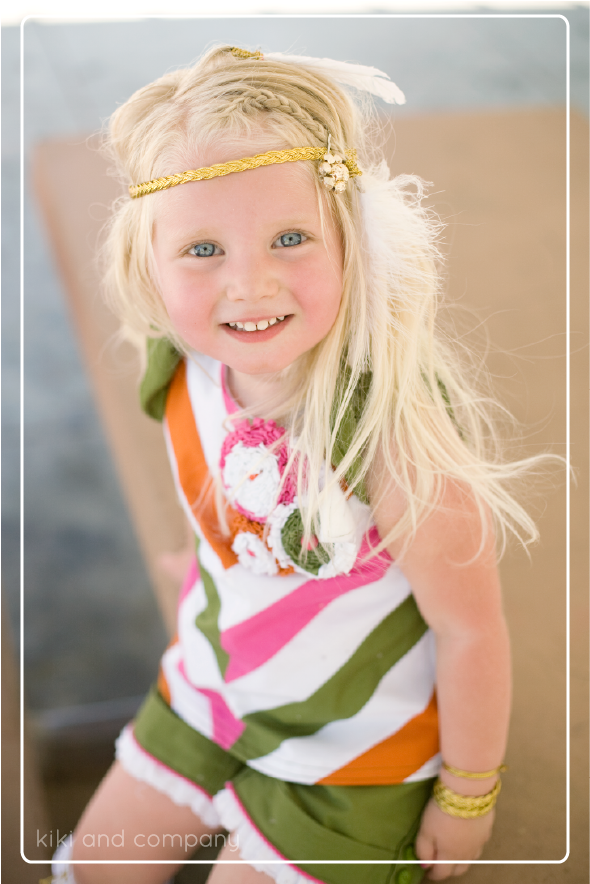 One of Maizies favorite pieces were the gold glittered boots. I simply used mod podge on some old cowboy boots I had laying around, poured on the glitter and then sealed it with mod podge again. Such a fun way to personalize shoes! The lacy boot socks were really simple to make and added a sweet little detail coming out of the boots.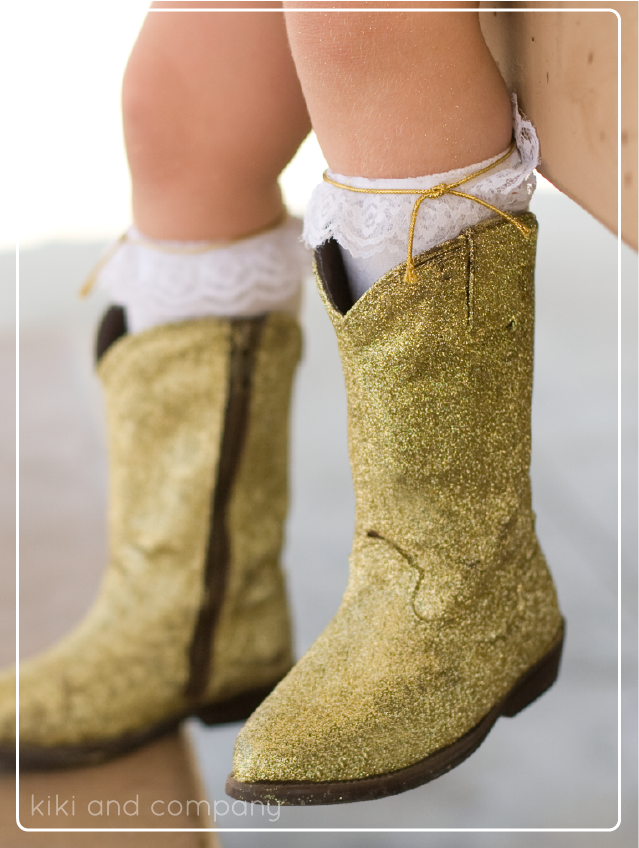 And that is it!(phew..breathe a sigh of relief). There are many things I am looking forward to …getting my house in order, doing my dishes, making good, nutritious dinners again and continuing to sew!  This competition has encouraged me to show more sewing on my blog, and I hope you will stick around with me to see it!  Sewing has been such a great outlet for me in my creative life, but it is most importantly SO fun to head into my sewing room and sew up something  unique and cute and full of personality for my daughter and my sons (yes, i do have 3 of those as well!)…and the bonus being that I don't have to spend a lot of money doing it as well as know that no one will have the same outfit.
I also cannot end without thanking my amazing husband and kids for being patient and supportive, my friends and family, Melynda, from Sweet as Honey Photography for all of the pictures and especially my sweet daughter, who modeled for me each and every week and acted like a pro..I think you can all tell why it is so fun to dress her through the pictures, but she also endured the countless fitting sessions..all of the time without complaining. She has made this whole experience SO fun and rewarding.
To celebrate the finale of the competition, I have two special freebies for you. First is  a special edition Maizie doll…the clothes to match my final outfit, complete with feathers in her hair.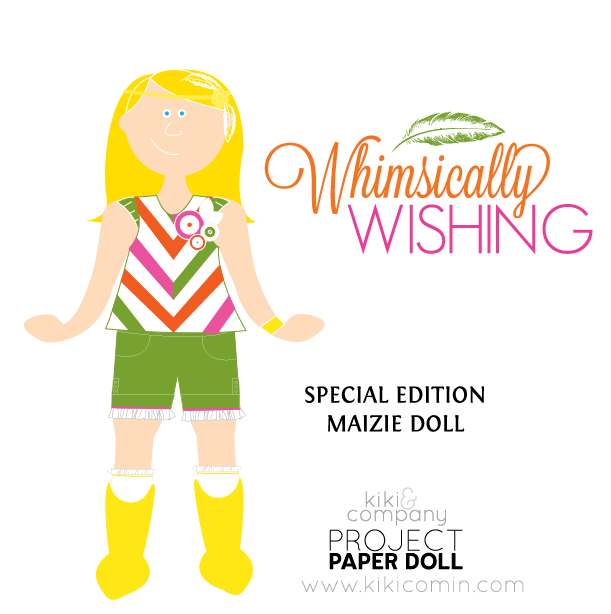 Here is the lineup of all of the dolls and outfits so far..You can find the outfits HERE, and HERE, and HERE, and HERE, and HERE and the dolls HERE.
And second, I have two sweet reminders in 4×6 print form.  If you remember, I was scared to death to participate in this competition. I cannot tell you how great it has been. It is SO great for us to find opportunities that scare us and make us uncomfortable and go after them. It doesn't matter if it is a health goal, work goal, family goal, etc. GO FOR IT. Great things can only come if you try.
My print freebies are now for subscribers of my newsletter ONLY! Simply add your email to the box over on the right hand sidebar and the print is yours! It will be sent to you with the first free newsletter this weekend!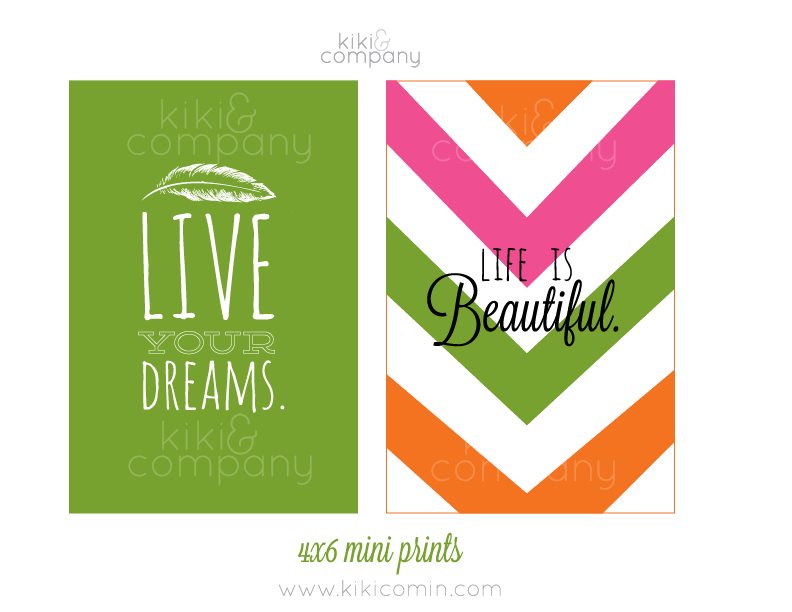 NOW go and vote! This is the finals and I would SO appreciate your vote! Thanks.
Once you vote, head on back and leave a comment…when you do you will be entered to win 1 of 5 print packages worth over $100!
If you have already voted, leave a comment and you are entered! To get an extra entry, SHARE this post on facebook.
You are the best.
Linking up to all of these fun parties.