I am so excited to show you something I have been working on for awhile now..just in time for the Halloween season!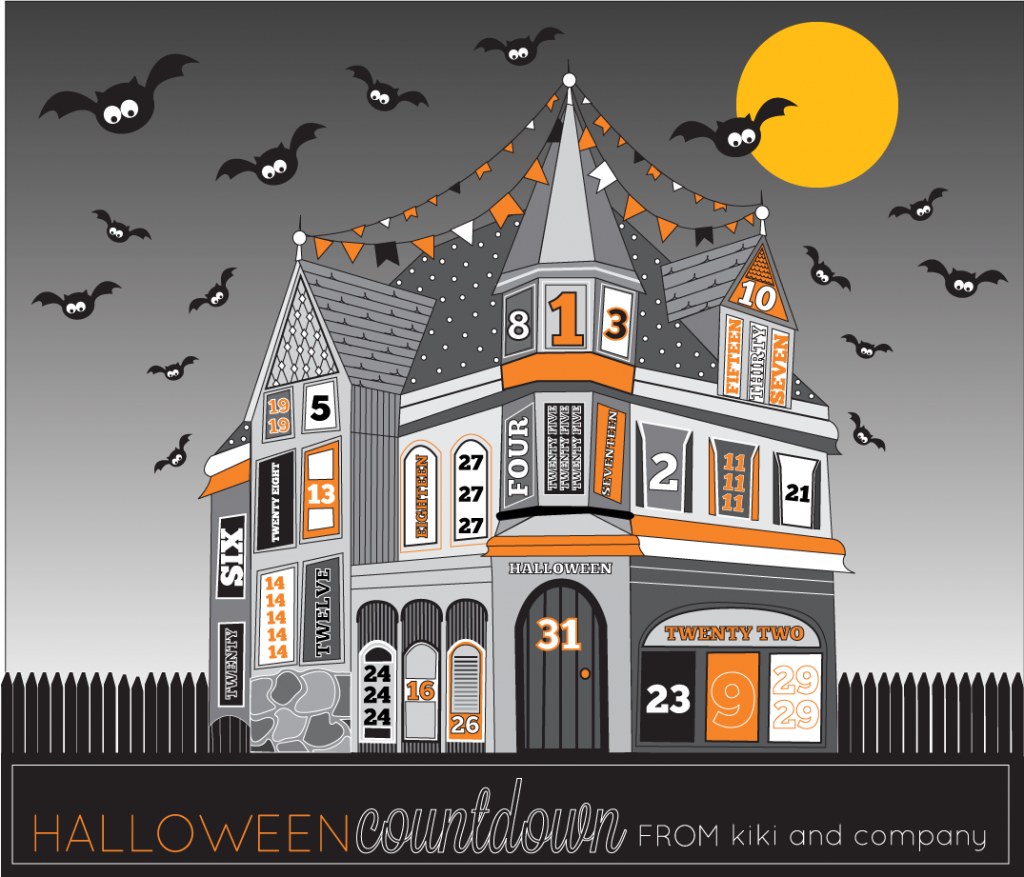 Today you can find me over at eighteen25 for Spooktacular September where you can pick up a FREE Halloween Countdown House and the directions to make it. When you make the calendar, behind each door and window will be one activity to do with your family to make October the best month yet of this year! My kids are so excited to get going.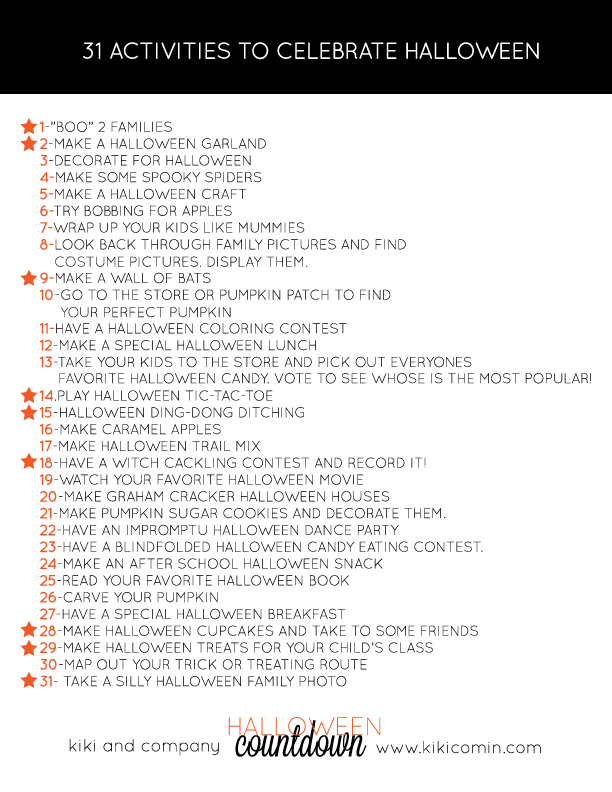 Today, I wanted to share the 31 activities with links to ideas for them. This will make your month go smoothly and make it more enjoyable for you.  And you will notice that 9 different activities have an orange star on them? Well, to make these activities even easier..I have designed printables for those 9 days and for just $3 you can purchase the printables that you will be able to use year after year. First, let's go over the activities (bolded activities come in the printable pack):
OCTOBER DAILY COUNTDOWN
1-"BOO" 2 FAMILIES- if you don't know what this is, you simply get a bucket and fill it with Halloween treats/goodies and leave a cute poem and picture with the person (you do this secretly)..they put the picture on their door that says they have been "booed" and then they pass it on..and on..and on.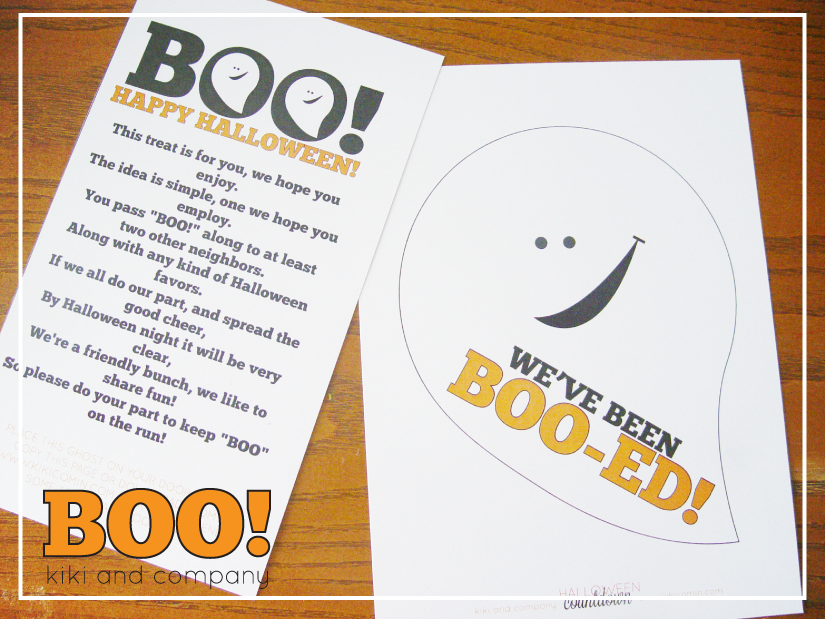 2-MAKE A HALLOWEEN GARLAND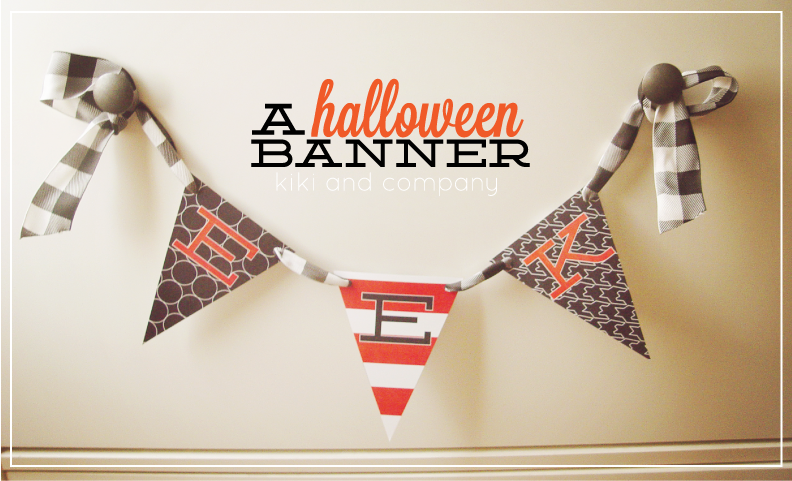 3-DECORATE FOR HALLOWEEN- get all your goodies out and let your little ghouls help you decorate. I am loving the inspiration from HERE and HERE.
4-MAKE SOME SPOOKY SPIDERS-go for a walk and find rocks, then make THESE.
5-MAKE A HALLOWEEN CRAFT-Love THIS, THIS, and THIS.
6-TRY BOBBING FOR APPLES- get a bucket of water and some yummy apples. Perfect for a warm day or just to remember the past!
7-WRAP UP YOUR KIDS LIKE MUMMIES – I giggled when I saw a picture of a kid wrapped up in toilet paper and cannot wait to do this with my kids. Make sure to take a picture!
8-LOOK BACK THROUGH FAMILY PICTURES AND FIND COSTUME PICTURES. DISPLAY THEM.
9-MAKE A WALL OF BATS . You can see my wall from last year HERE.
10-GO TO THE STORE OR PUMPKIN PATCH TO FIND YOUR PERFECT PUMPKIN
11-HAVE A HALLOWEEN COLORING CONTEST. Here is an online page with tons of Halloween scenes.
12-MAKE A SPECIAL HALLOWEEN LUNCH. Look HERE, HERE, HERE and HERE. for some great inspiration.
13-TAKE YOUR KIDS TO THE STORE AND PICK OUT EVERYONES FAVORITE HALLOWEEN CANDY. VOTE TO SEE WHOSE IS THE MOST POPULAR!
14.PLAY HALLOWEEN TIC-TAC-TOE- the o's are pumpkins and the x's are bones crossed!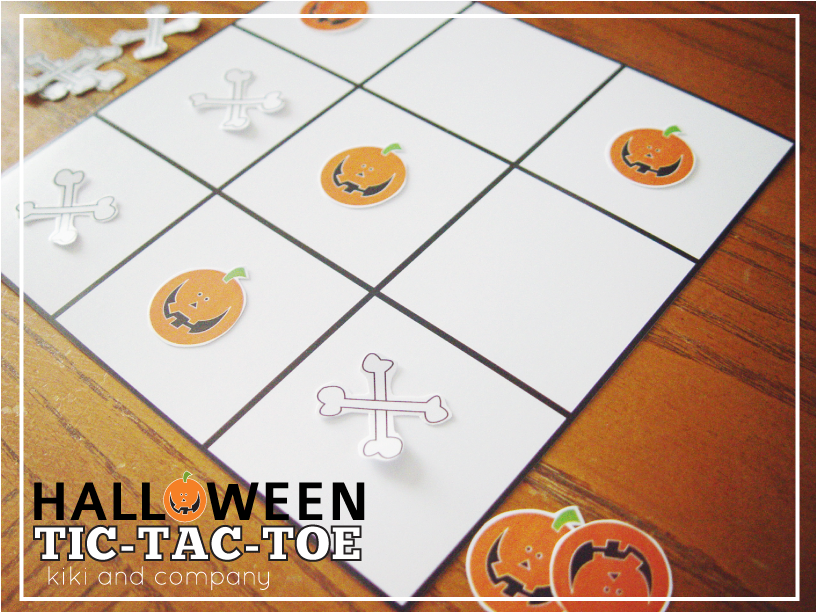 15-HALLOWEEN DING-DONG DITCHING..I loved this idea from poppies at play, so I thought I would update it for Halloween time!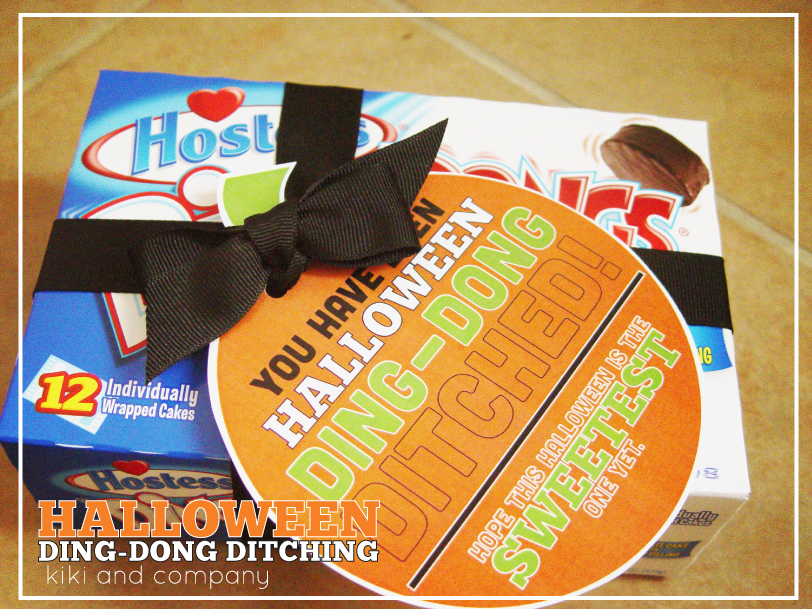 16-MAKE CARAMEL APPLES..THESE look super yummy..and then roll them in your favorite candy, nut, etc.
17-MAKE HALLOWEEN TRAIL MIX..check out HERE and HERE and HERE for different ideas. My kids LOVE trail mix, so I thought this would be fun to make together and then they can take some to school in their lunch.
18-HAVE A WITCH CACKLING CONTEST AND RECORD IT! The Halloween pack contains 4 certificates…so everyone can win something!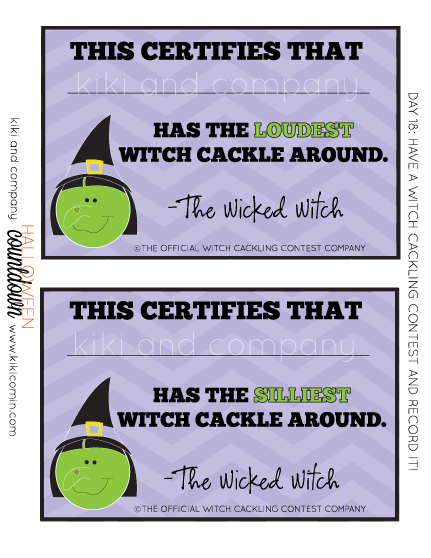 19-WATCH YOUR FAVORITE HALLOWEEN MOVIE
20-MAKE GRAHAM CRACKER HALLOWEEN HOUSES..loved this take on Christmas Gingerbread houses.
21-MAKE PUMPKIN SUGAR COOKIES AND DECORATE THEM…look at a few of these..there are some really fun ones!
22-HAVE AN IMPROMPTU HALLOWEEN DANCE PARTY
23-HAVE A BLINDFOLDED HALLOWEEN CANDY EATING CONTEST…see if your family can guess the candybar they are eating when blindfolded!
24-MAKE AN AFTER SCHOOL HALLOWEEN SNACK..love how some of these are healthy, and some are not!
25-READ YOUR FAVORITE HALLOWEEN BOOK
26-CARVE YOUR PUMPKIN
27-HAVE A SPECIAL HALLOWEEN BREAKFAST..i love when people are so creative with their food. Check these out!
28-MAKE HALLOWEEN CUPCAKES AND TAKE TO SOME FRIENDS..a set of Halloween Paper Tots? Yay!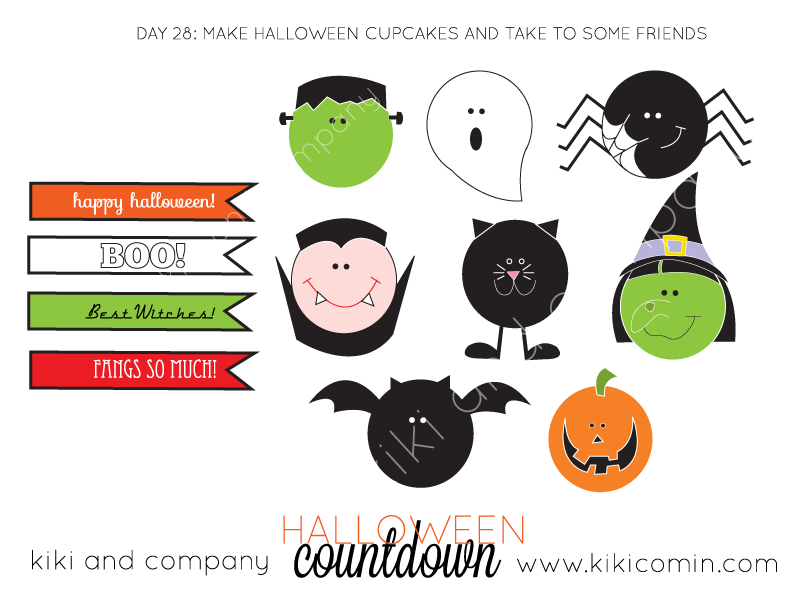 29-MAKE HALLOWEEN TREATS FOR YOUR CHILD'S CLASS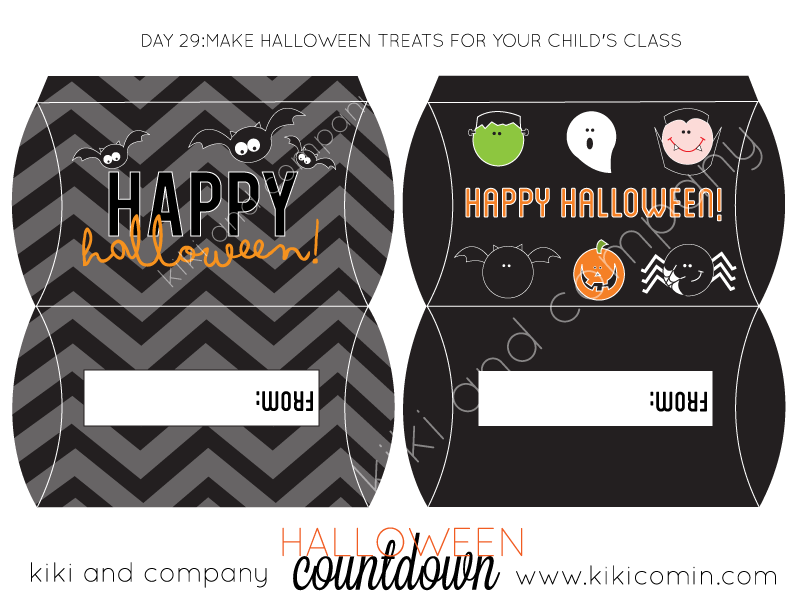 30-MAP OUT YOUR TRICK OR TREATING ROUTE
31- TAKE A SILLY HALLOWEEN FAMILY PHOTO..find photo props HERE, HERE or HERE...and the free printable will include a fun way to remember the occasion!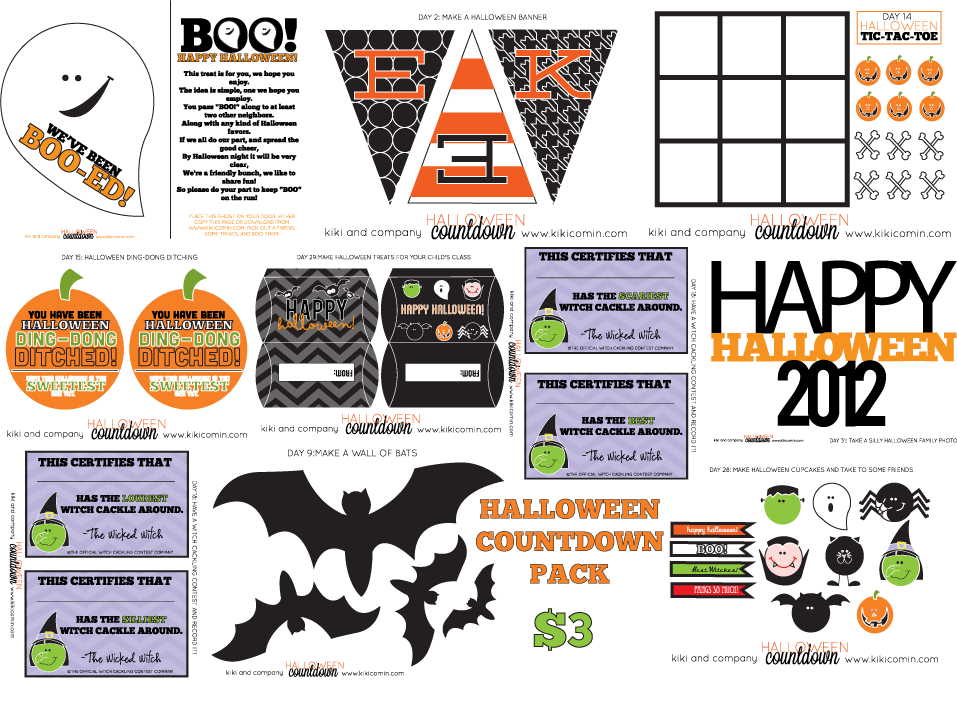 So in all that is 10 pages of free printables for just $3. Can't beat it..unless you want to throw in LAST YEAR's 15 pages of  printables which include to-do lists, another banner, more class treat bag toppers, dessert tags, cards, a print, and some really cute bats (if I do say so myself!). If you buy both sets together, it is just $5!
You can purchase by simply clicking the "buy now" button below and files will be sent to you within 24 hours!  AND don't forget to  head on over to eighteen25 to grab the  free Halloween House Countdown Calendar.
Thanks for stopping by!
Linking with these parties: Whipperberry, Family Ever After and Tatertots and Jello