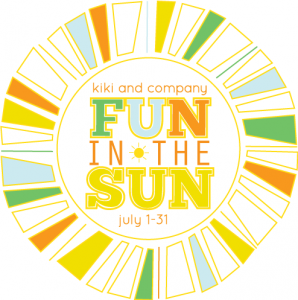 I met today's guest, Melissa, while taking part in Project Run and Play in the Spring. Melly Sews is a super fun blog with projects and tutorials galore. Not only is she super talented, but equally as sweet. I am so happy to have her here today..her project is on my to-do list as my kids LOVE a good toy that bring out their imaginative play! Here is Melissa:
Hi Kiki & Company readers! I'm Melissa and I blog over at Melly Sews.
I'm so excited to be here with you today! Like Kiki, we deal with HOT weather in central Texas.
I've seen a bunch of these adorable card table playhouses around, but (like a lot of things in blog land) many of them are very girl oriented. I love girls, but as a mom to two boys who have a football coach daddy, girly is NOT going to fly in my house. So my project is a card table playhouse with a boy spin.
This project is part sewing and part hot gluing. And really, I sewed to add details because sewing is my fallback easy method, but if it's not yours, you could hot glue this whole puppy.
Start with 3 yards of 72″ felt and a card table.  Cut the felt right up the center fold from the store.
This gives you two 108″ x 36″ pieces, which you can drape over the table like this to cover the whole thing.
Trim up the edges, then glue or sew the corners together. Then it's just a matter of adding decorations. Let's take a look at what I did to mine. First I'll show you the opposite side from the first picture.
And now we'll take it side by side:
The gas pump is a rectangle with the top rounded off, and then a circle above it (I traced a dinner plate).
The gase hose is a long rectangle that I sewed into a tube and turned right side out. I stitched it to the back of the gas pump before gluing the whole thing on. I glued in the nozzle piece, and added a bit of velcro to stick the hose up out of the way.
The lettering is all iron-on flocked lettering that you can buy pre-packaged – I don't have one of those fancy cutting machines, so this was the easiest option for me.
The oil cans actually have velcro on the back so they can come off, fill up the car and get stuck back on.
The cashier window was made by first glueing on the red frame, then cutting out the blue felt to make the window.
The next side is my favorite part – the car scrubbers. These are just two rectangular pieces of felt sewn together down the center, then cut into fringe. I made 6 for the opening, then sewed them in across the top.
The exit was even easier – I just cut strips.
On the final side I added a vacuum and air pump. I made the vacuum hose the same way as the gas hose, I just didn't add a nozzle.
I was running out of felt, and I wanted the air pump hose to look kind of twisty (though my boys have already stretched the twist out of it), so it's actually a spiral cut circle.
My boys have already had a blast playing around in this car wash, and I love that the whole thing folds away when they're done.
Thanks for having me!
WOW! SO fun, right?! Her boys are incredibly lucky to have her as a mom! Thanks so much, Melissa.  Make sure to run over and see Melissa at Melly Sews. She has so many fun projects…these are just a few of my favorites:

Nothing But A Hound Dog Backpack, Suitcase Puppet Theatre, Argyle Hoody