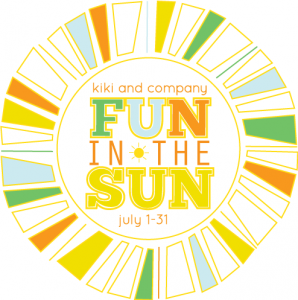 Today I am so happy to have Michelle from A Little Tipsy here to share her favorite treat for the summer. If you haven't been by A Little Tipsy, you will want to run on  over as Michelle is filled with all kinds of fun projects, recipes, printables, and even DIY under $5 days! She is amazing..and I am so happy to have her here for another Fun in the Sun idea.  Here is Michelle:
Hello there! Michelle here from A Little Tipsy and I'm so happy that Kiki, one of my favorite bloggers under the sun invited me over to share a little fun in the sun!
When it gets hot, I get wimpy. The toasty temperatures inspire the need for one thing at our house a delightfully cold sweet treat. If the treat involves chocolate, even better! Enter the fudgesicle!
This recipe was inspired by this Chocolate Mousse I found on Pinterest. It involves coconut milk which is all the rage in the health world right now. The fudgesicles are nearly guilt free. Just a little guilt with my good friend sugar, but you could substitute a sweetener if that is more your style.
1 can full-fat coconut milk (do not shake)

1/4 cup plus 1 tbsp cocoa powder

1/2 tsp pure vanilla extract

5-6 Tbs sugar (we like things sweet, so you can add sugar to taste)
Open the coconut milk, and leave the can uncovered in the fridge for a few hours, unless it's already thick. It should be at least as thick as heavy cream. Transfer to a bowl and beat in your cocoa, vanilla, and sugar. Pour in to your popsicle molds and freeze. Run the mold under hot water for a few seconds to remove and enjoy!
I love that these are so creamy and cool! No annoying ice crystals, just smooth chocolatey goodness. My boys would have eaten the whole batch in one sitting had I let them.
Thanks again to Kiki for having us over! Stop in and visit us anytime!
Oh dear. We are lovers of coconut milk in our house as well, so this will be the perfect recipe to try! Thanks so much, Michelle!  Remember to run on over to A Little Tipsy and check out some of my favorite projects:

THIS POST SPONSORED BY: