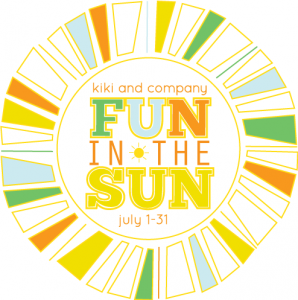 Today I am so happy to have The Letter 4 here to share a fun activity with us! The Letter 4 has been a favorite of mine since they started just over a year ago. They are a group of 4 sisters who do everything from DIY to hair to cooking to printables. They are fun and stylish and amazing. They even have their own cause..The Letter 4 +1 that you will have to run over and check out. Altogether they are an incredible bunch and I am thrilled to have them here. Here is the Letter 4:
Hey all! My name is Julianna and I blog over at The Letter 4. I'm so excited to be a part of this summer series on Kiki's new site!
If you know me, you know I am not a fan of summer. I sunburn easy and I don't tolerate the heat well, not to mention I have two of three kids that are the same. However, I do love summer nights, snow cones, and nature…in all it's beauty! In the past we've shared yummy healthy things to eat as well as natural  things that are good for your hair and body. Today we decided to have some fun with it though. So, we made our own dye and play dough.
We've actually done this a few times and my kids love to see what colors we can draw out of different things and then what color they'll actually be when we mix it with the play dough.
This time we used orange peels, lemon peels, cucumber peels, blueberries, raspberries, blackberries, and nutmeg. All you do is boil about a cup of water with 1/2 cup or more of whatever you want to bring color out of. Sometimes it takes more or less, but part of the fun is the discovery 🙂
 For the play dough we basically used what I call the traditional recipe, you know, flower, water, cream of tartar, salt, and vegetable oil. But for this project we made it in small separate batches, which makes it tons easier to add the color.
So, easy peasy. In a small pan combine 1/4 cup of flour, 1/4 cup of homemade dye (instead of the straight water), 1/2 a teaspoon of cream of tartar, 2 and 1/3 tablespoons of salt, and 1/2 a table spoon of
Have a fun summer all! Visit us at our blog anytime! Thanks for having us Kiki!
-Julianna
Thanks SO much, Julianna. I love a good playdough recipe that is safe (we all know kids put the things they play with in their mouth) and I especially love that the dye is natural!  Make sure to head over and say hi at The Letter 4 and check out some of my favorites while you are there:

Double Waterfall Braid, Make your own Photo Props, 4th of July fruit pops