I am so excited to introduce you to a new series I will be doing each Friday.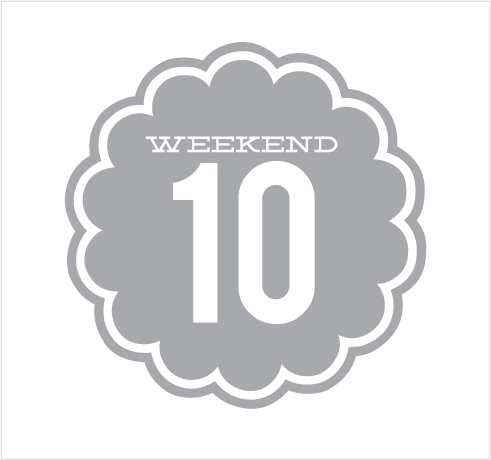 Weekend 10 will be a list of links you can check out over the weekend to keep you inspired, creating, cooking, etc. I have been wanting to do this forever and I'm finally taking the plunge! Make sure to leave a comment and let me know what has been inspiring YOU this week!
Create:
1-I LOVE Rebecca from Simple As That. Check out these cute retro Christmas Tags she has for free at her site.
2-I'm making a wreath for Christmas..and getting my new garland printed and photographed this weekend too! Do you have a wreath up?
3-Any Doc McStuffins fans? I adore this party, and though mine won't be nearly as fancy, I can't wait to throw one for my daughter in a month. (Can't wait to show you the printables for it!)
Cook:
4-I love Apple Pie. These Apple Pie Bites are going on my list of recipes for next week.
5-I'm excited to make these rolls for our Sunday Dinner from Lil' Luna.
6- I like to make my kids something special for breakfast on Saturday morning (read: they eat cereal 6 days a week), so these Pumpkin Spiced French Toast Sticks look perfect to try!
Shop:
7-I can't wait to give my daughter this dress I have hanging in my closet for her! I also got my son this shirt to match. (They have the same birthday and I like to get them matching duds on their day.)
8-Piper Street is a new site that one of my good friends just opened. I adore the Jenni and Sarah dresses. Such a fun site!
9-Loving the message of this print.
Inspire:
10-This article was so inspiring to me. What would your "just wait" statement be?