Compensation was provided by Hershey via MomTrends.  The opinions expressed herein are those of the author and are not indicative of the opinions of Hershey or Momtrends. #Sponsored in all social posts. 
Valentine's Day is right around the corner and I cannot wait to show you this fun basket I came up with using Hershey Chocolates. I don't know about you, but my kids LOVE Easter time for the yummy, sweet baskets they get, so I thought it would be super fun to make one for Valentine's Day as well to let them know how much I LOVE them.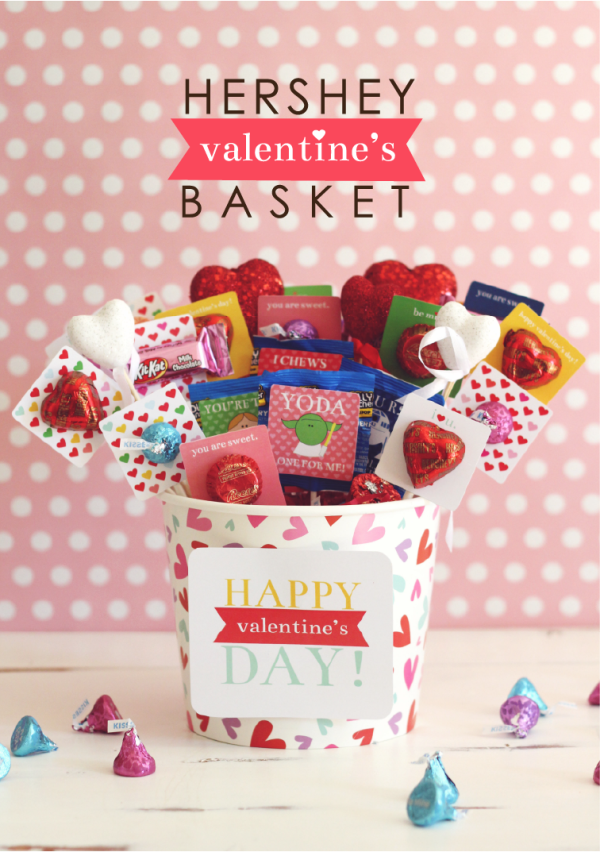 I thought it would be so fun to make sweet little notes that I could add some Hershey's chocolates to and make the basket be filled to the brim with sweetness, both in candy and words. I mean, nothing REALLY says I love you like some chocolate, right?! 😉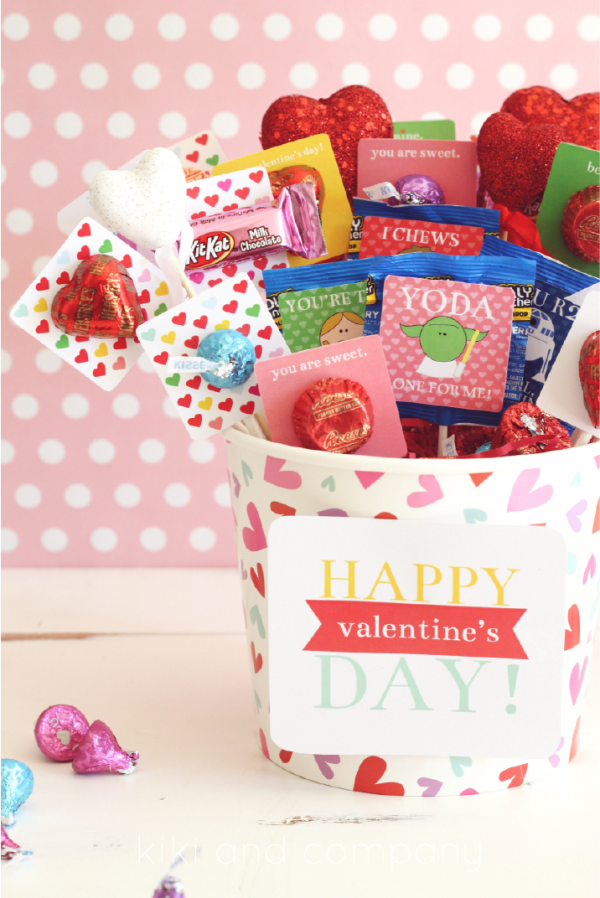 To make these baskets is super simple.
SUPPLIES
Hershey Chocolates: I used Kit Kat Milk Chocolates, Jolly Rancher Valentine's Pops, Reeses Peanut Butter Cups, Hershey's Kisses Conversation Candies,

Hershey

's Milk Chocolate Hearts filled with Caramel and Reese's Peanut Butter 5 oz. Heart. You can use your favorite Hershey products!
Free Printables at end of post
scissors
bucket (I got mine for $1 at Wal-Mart)
Hot Glue
Any other little do-dads to decorate with
long succor sticks
paper shred (I used red)
floral foam for the bottom of the bucket.
DIRECTIONS
Download, Print and Cut out the 2 inch printable valentines.
Choose chocolates you want to use.
If using the Blank cards (any but the Star Wars cards), glue chocolate to the card.
If using the Star Wars Cards, simply glue one of the cards on top of a succor.
Glue succor stick on the back of the cards.
Place floral foam in bottom of bucket with paper shred on top (to hide the foam)
One by one, simply place sticks in the foam until it is shaped just like you like.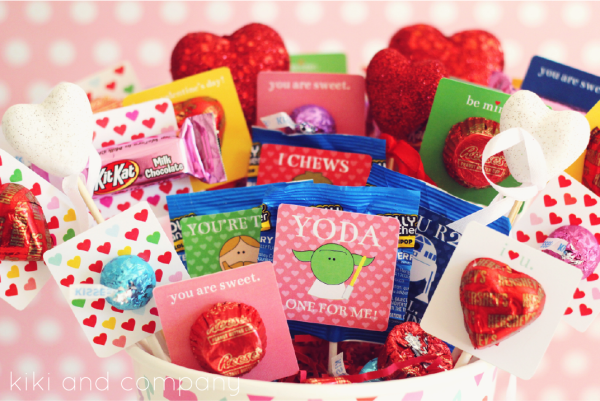 It really is such a fun project to show your kiddos how much you just love their little faces…and to surprise them as well.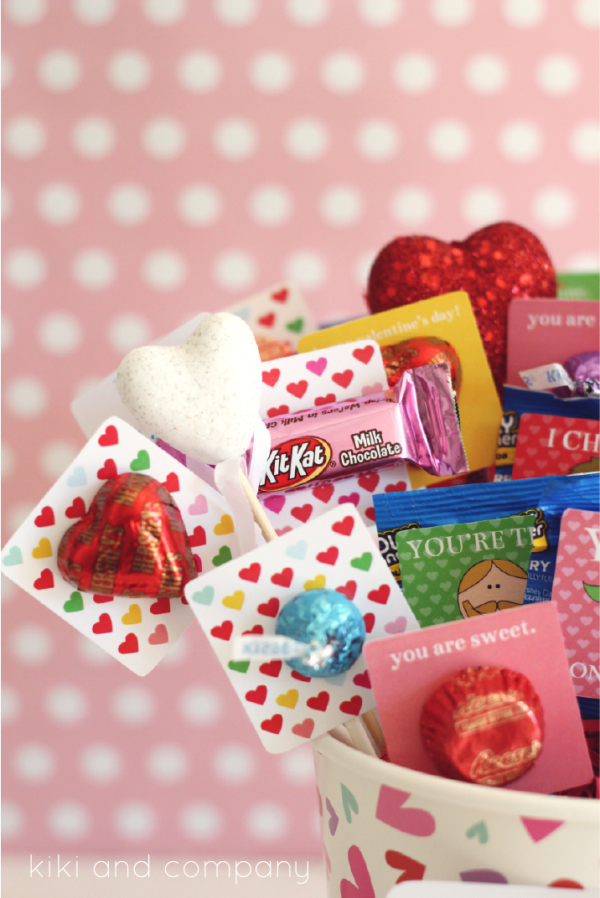 I hope you have so much fun coming up with a basket that will just "speak" to your kids!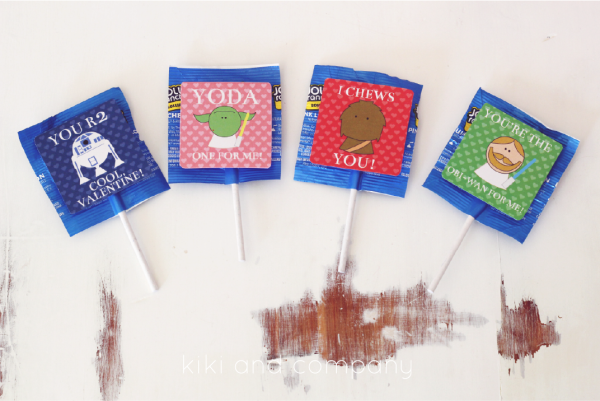 There is nothing sweeter than to have the love of another and it just puts it over the top to add Hershey into the mix as well.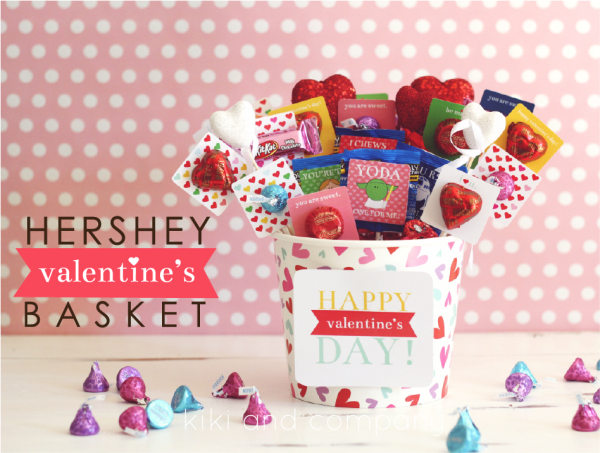 To download this freebie, simply click on the link below: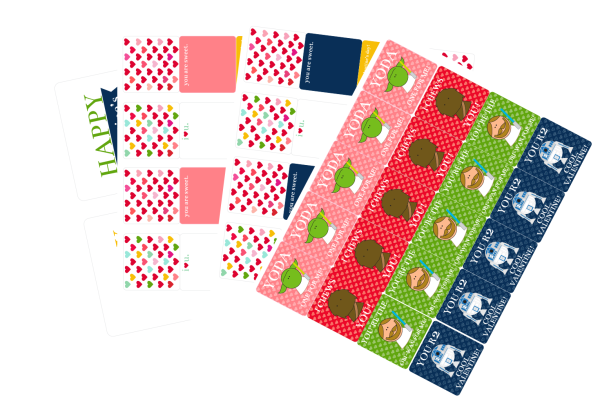 I'd love to see the baskets you come up with. Make them and tag them with #HSYMessageOfLove so we can all see them!
Happy Valentine's Day!