This week I am so excited to bring you some of my favorite quotes from last week's general conference. For those of you who don't know, I am a member of the Church of Jesus Christ of Latter-Day Saints. Two times a year we get an opportunity to listen to the prophet and apostles who speak on a variety of topics. Each conference is so different, but there is never a time I don't come away feeling uplifted and a greater desire in my heart to go and BE better.  Each day this week, I will bring you one of my favorite quotes..(thanks to all of you who gave me YOUR favorite quotes via facebook!)
Today the freebie of the day came from one of my favorite talks of conference. (I still have one more printable coming from it!) On Sunday, Elder Jeffrey R. Holland gave a talk titled, "Lord, I Believe".
Do you ever feel your faith waver? Do you want to strengthen your faith so it is where it needs to be in a trial? This talk gave me so many reminders and "aha" moments. One of my favorite quotes was his reminder to: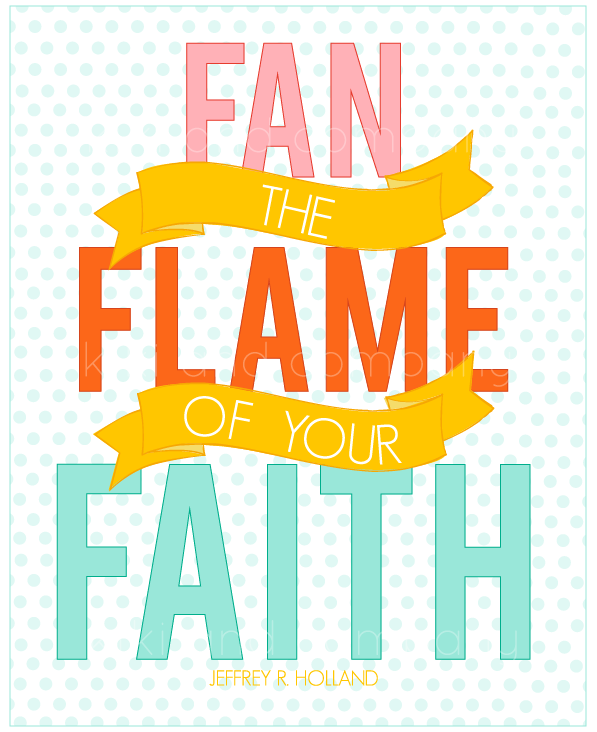 I LOVE this visual that this quote gives me. I love the promise that as we "fan the flame" of our current faith, that it grows. I FEEL this in my heart as I pray, read the scriptures and obey the commandments. It can grow just as a flame does with a little fanning, and can become a knowledge of what we know to be right because we are LIVING it!


So FAN away! 🙂
You can pick up the free prints in either or both colors HERE.
Don't forget to share on Facebook or pin on Pinterest when you take the files! Thanks so much.