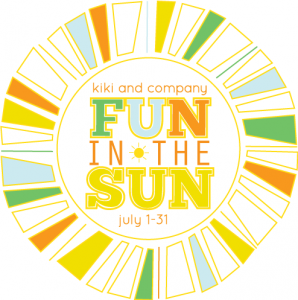 Today's guest is sweet Amanda from Every Creative Endeavor. I found Amanda early last year and have loved her blog since. She has so many fun projects and tutorials..she crafts, sews, cooks and more! We are so happy to have her here today.  Here's Amanda:
Hello Friends! I am Amanda and I blog over at Every Creative Endeavor! I am thrilled to be apart of Kiki's Fun in the Sun Blog Series! There have been some great ideas to keep cool this summer and I am excited to see more ideas over the next month!! One of my favorite ways to have fun in the sun is favorite summer treat – Ice Cream! But not just any kind – the homemade kind!!
Homemade ice cream is perfect for any summertime activity because you can simply whip up the mix and let the machine do it's work while you sit by the pool, BBQ or read a book in the shade while your kids play in the sprinklers. But the best part is – it tastes so yummy!! I have tried a lot of different homemade recipes for ice cream and this one is my favorite for sure!
Homemade Vanilla Ice Cream
4 Eggs
2 1/2 Cups Sugar
3 Teaspoons Vanilla
3 Cups Whipping Cream
7 Cups Milk
3/4Tteaspoon Salt
The secret to this recipe is the first two steps – crack all your eggs into a large bowl. With your mixer, whip your eggs until fluffy-ish. Add in your sugar and whip the eggs and sugar really well. Then add all the other ingredients and mix. Pour into your ice cream machine and use ice and rock salt.
The great thing about this recipe (other than it tastes amazing!!) is that it makes a lot! I usually half the recipe and store it in a Tupperware in the fridge for a couple days and then we have a sweet treat all ready to go!
One other great thing is that the vanilla is the perfect base for other flavors – we love to add fresh strawberries to the mix for some Fresh Strawberry Ice Cream – or about 5 tablespoons of cocoa powder (for the full recipe, 2 1/2 for half) for some yummy Chocolate Ice Cream. With a good chocolate base we throw in peanuts and marshmallows for Rocky Road or some toasted almonds – you could even blend up some of your favorite candy bars and enjoy some Butterfinger Ice Cream – Just make sure you add the mix-ins AFTER the ice cream has churned.
Have fun trying your own combinations and enjoy! Thanks Kiki for having me today! It is always fun to meet new friends!

Yum. There is NOTHING like a bowl of yummy homemade ice cream to beat the summer heat! Thanks, Amanda.  Run over and check out Every Creative Endeavor. Here are a few of my favorites from Amanda:

Create your own garden boxes, Fun Tiered Ruffle Skirt, and  I love this knock-off rope bowl