Picnic season is here! One of our favorite things to do during the summer is to meet friends at the park and bbq and let the kids run wild. Since I started making this salad (very LOOSE term here!) a few years ago, it is the one thing I always take with me. Just this last weekend, I took it to a big picnic we had. I set the salad down, got my kids their food and went back to take a picture of it and it was GONE!  SO I don't have a picture for you, but I do have a picture for you to pin so you can remember it! 3 ingredients, make as much or as little as you want. Here is the recipe: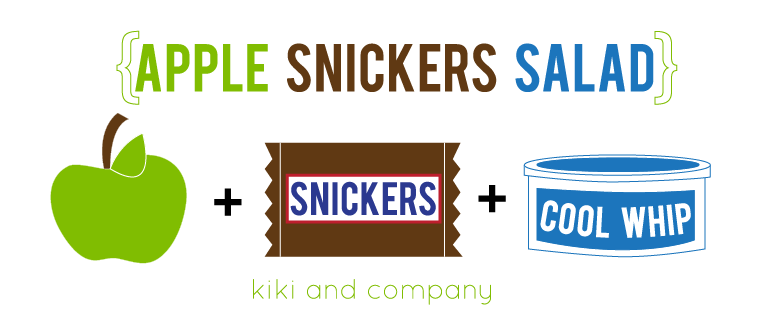 Simple, right?! This weekend, I made a large salad, which included 8 green apples, 1 bag of snickers minis and 1 large tub of cool whip. This will give you at least 15-18 1 cup servings (however, people usually take a larger portion!)
When you make it, simply, core the apples and cut them into little bites (I always like to think of kids eating it), cut up your snickers into little bites as well. Throw them all in a bowl, add in the cool whip and stir it up. Seriously..this is the easiest salad ever and the combo of snickers + green apples is to die for!
What is your go-to picnic recipe?