I am an ambassador for Expressions Vinyl and this post is sponsored by them. Even if I was not an ambassador for them, I would buy their vinyl everyday…it's that good!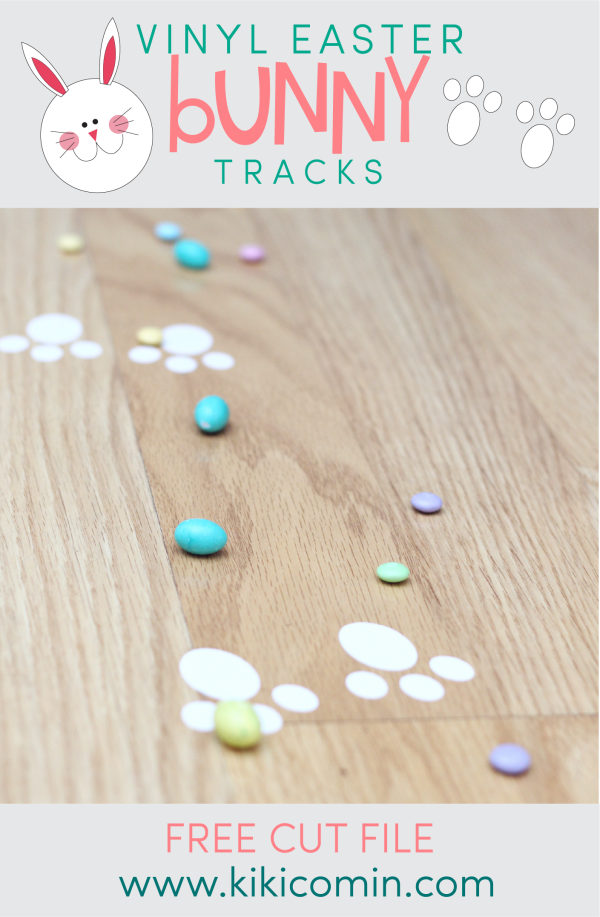 Hi everyone! Easter is right around the corner and I wanted to share one of my family's favorite tradition on Easter morning and a way that I will make it even funner this year! When my kiddos wake up, we always go to church before the Easter Bunny comes..it's a great way to really remember the true meaning of Easter first. From the first Easter we had with my kids, I have always made a track of some kind (usually m&m's)that shows where the Easter Bunny has been in the house. This year I thought it would be awesome to add real tracks in as well and the first thing I thought to use was vinyl! It is simple to have cut, cheap to buy and won't ruin a thing it's put on!  Let's see how I did this:
SUPPLIES:
Vinyl from Expressions Vinyl- I used the removable indoor Oracel White vinyl and love buying it is rolls so I have a lot extra!
Cutting machine- I use a Cricut Explore Air 2
Transfer Tape.. I use this one
DIRECTIONS:
1- Download the free Bunny Tracks Cut File
2- Open up Cricut Design Space.
3- Upload Bunny Tracks Cut file as a simple file. Click out the background and save as a cut file.
4- Make the tracks as big or little as you want. I made mine 2″ x 2 1/2″. I cut mine on a 12×24 mat..use whatever size you have!
5- Have the machine cut the vinyl.
pic 1-Weed out the outside vinyl and add transfer tape to the top of the vinyl. This makes transferring it so easy.
pic 2- Cut the tracks out in pairs.
pic 3- Lay the tracks out where you want them to go. Make them as close or far away as you want.
pic 4- Take transfer tape up with vinyl on it and lay it on floor. Rub the top and take the transfer tape off.
pic 5- Get some fun Easter candy to leave droppings…
pic 6- You are done! Your kiddos will be so excited!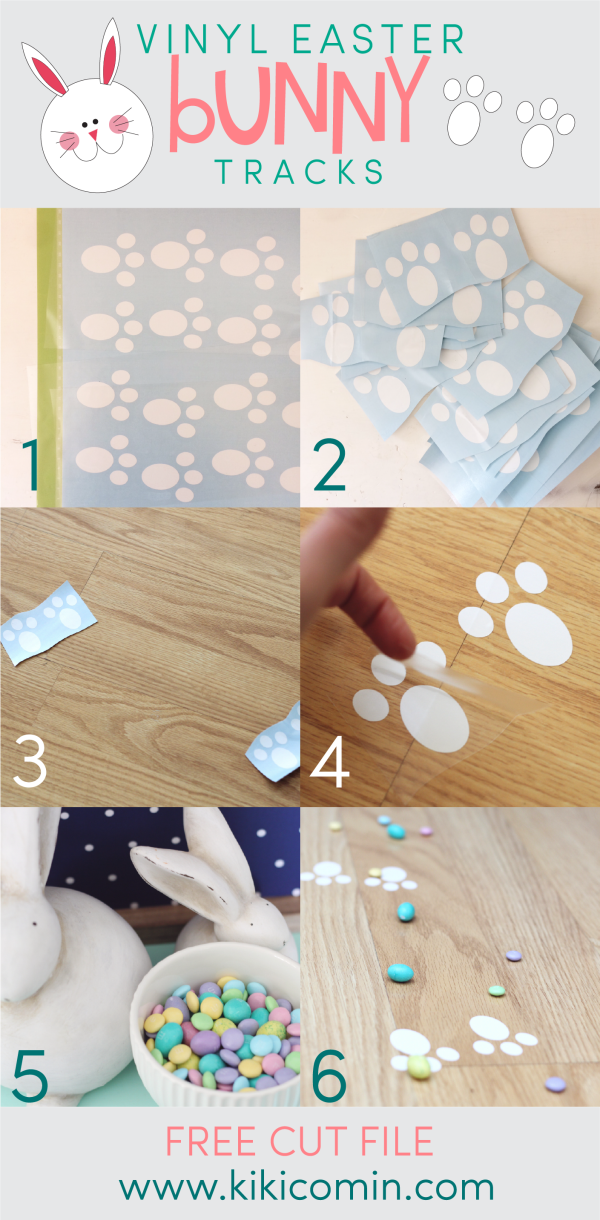 You can see the tracks without candy here and it is still so cute!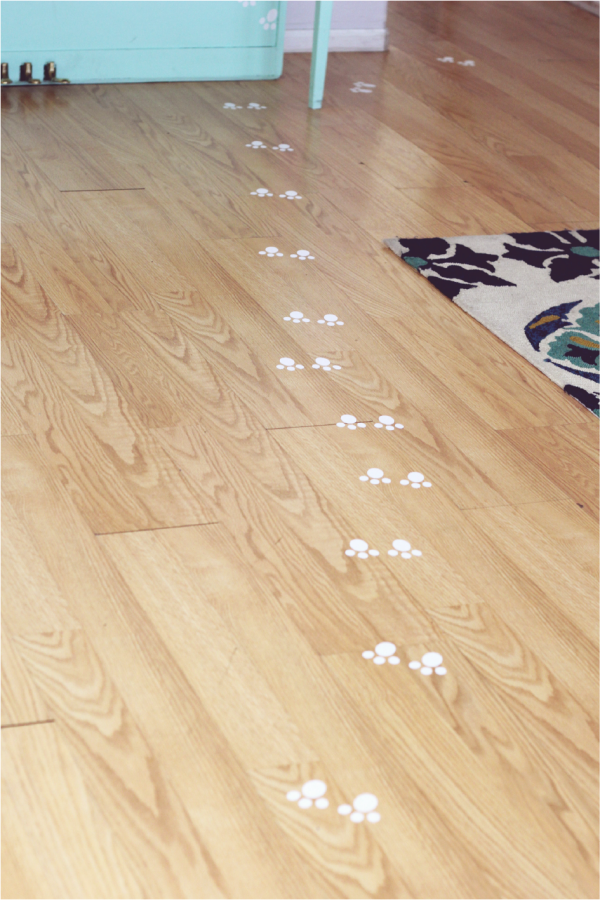 But those candies…your kids will shriek with joy! I always have my bunny go out the front door and leave a pile of glitter where it poofed through the bushes!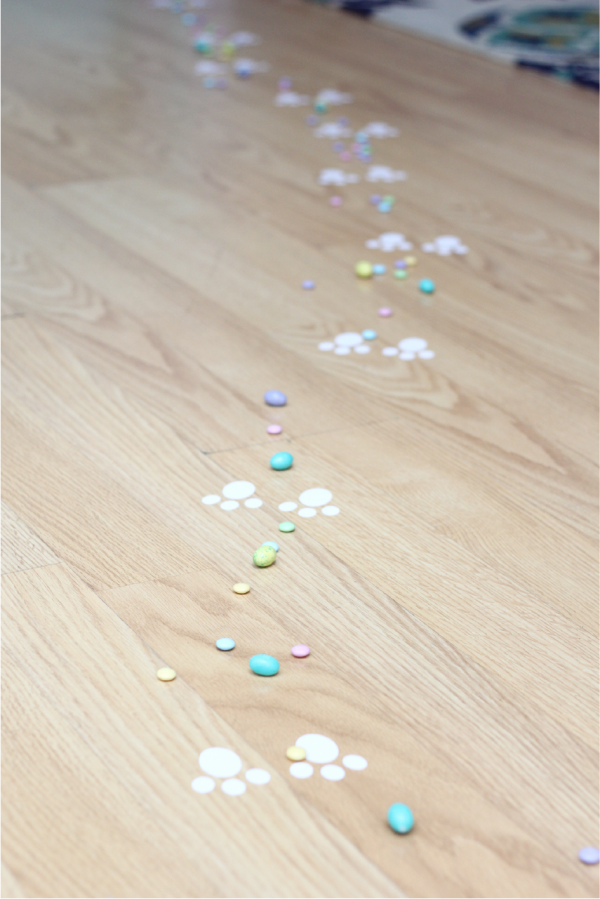 This is such a fun tradition to do each year. My oldest (now 13) still gets excited about it and plays along with it for his younger siblings. 😉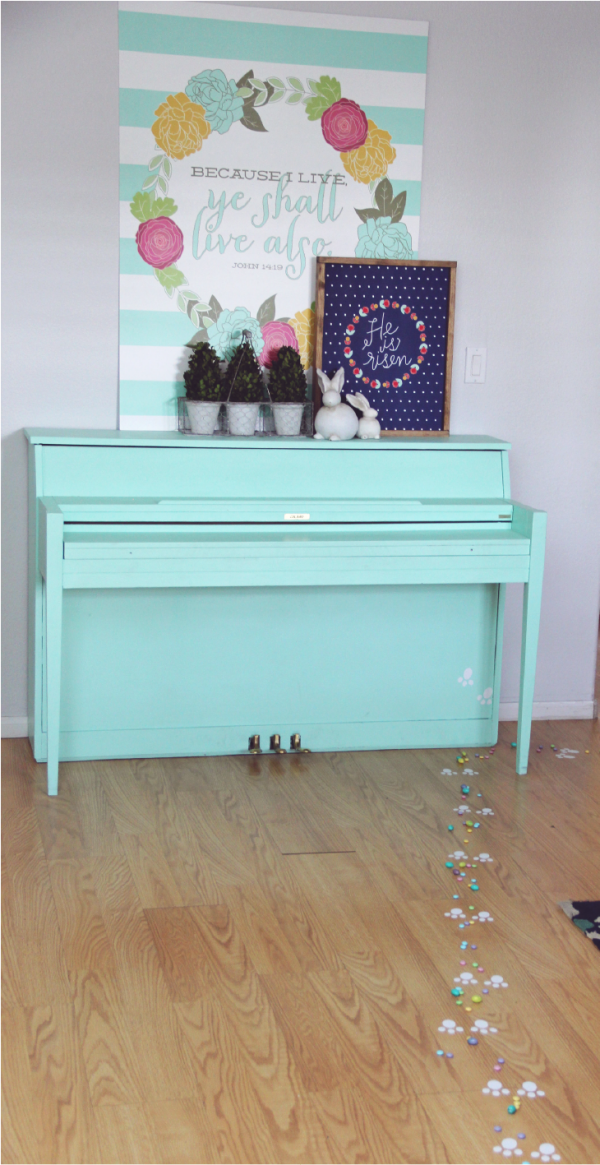 I hope you have the happiest Easter. Make sure to check out Expressions Vinyl for all of their awesome vinyl and tools and anything else you will need to complete all your projects!
Today you are the luckiest because Expressions Vinyl is giving away a $50 gift card to start all your fun Easter projects! Enter below…good luck!