This post is sponsored by Expressions Vinyl, but don't worry, even if I wasn't an ambassador for them, I would still vinyl everything with their vinyl…it's the best! This Buffalo Check Wallpaper is an easy, cheap DIY that will leave you with a stunning statement wall.
I don't know about you, but I LOVE a good patterned wall. As I was getting my master bedroom together, I knew I wanted a big statement wall, but I also know I didn't want to paint it (the undoing of paint is miserable), so I turned to my favorite vinyl company, Expressions Vinyl, and got to work. Look how amazing the wall looks: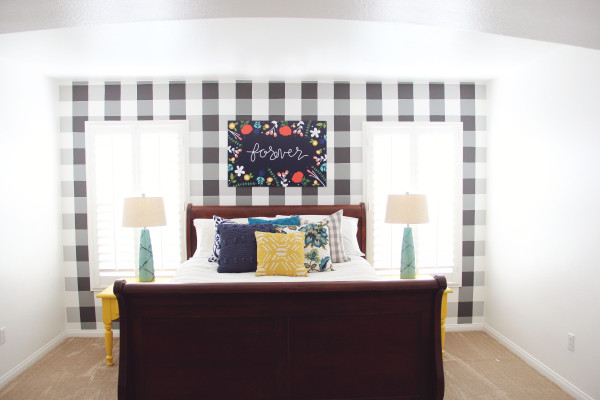 It really makes me so happy to walk in and see it everyday. It is the perfect backdrop for my new Forever print and I love that I can pair any colors with it and they pop! And Y'all…this is EASY to do. It took me about 4 hours to do, but well worth it!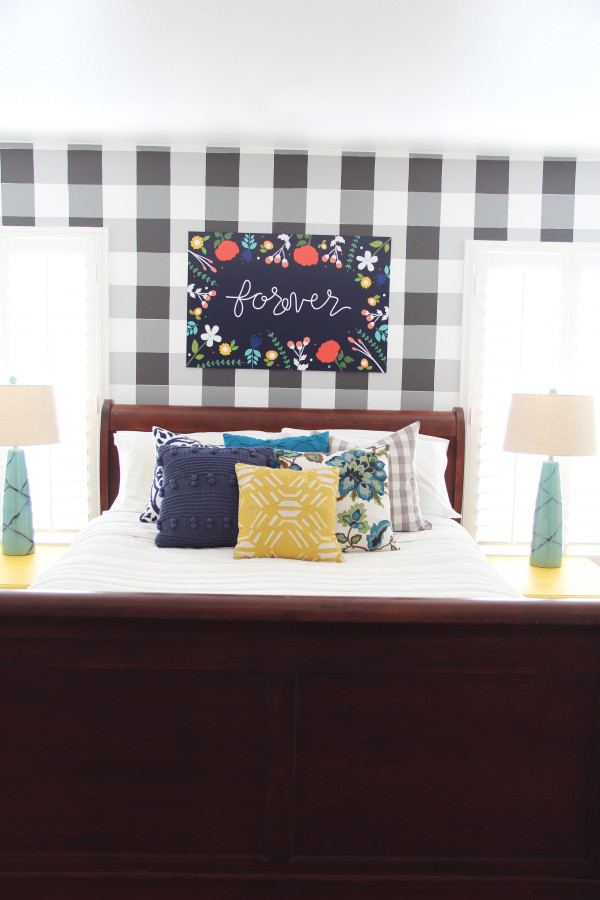 Let's talk about how to get it done!
SUPPLIES:
Expressions Vinyl Adhesive Vinyl: Oracal 631 Removable Indoor Vinyl in Light Gray, Middle Gray and Dark Gray. I ordered 1 roll of each and then order 5 12″x12″ pieces and I had plenty.
Cricut Explore Air 2 (You don't NEED one of these, but it does make it easier)
Expressions Vinyl 4″ Vinyl Application Tool
DIRECTIONS:
1-Cut your vinyl in 6″ squares (or however big or small you want). I chose 6″ because the vinyl is 12″ wide. You can have your Cricut do this or you can cut by hand…the back of the vinyl had lines on it so it is really easy to cut perfect squares.
2-To start, I found the perfect middle of my wall, squared up the vinyl and adhered…from there I just added the vinyl one at a time, making sure to square up each piece.
3- see pic 1- As I got to the bottom of the floor, I would take the vinyl (before I took the liner off the back) to the baseboard and then using my fingernail, make a hard crease. I'd then cut it and it would be perfectly lined up (see pic 2).
4-see pic 3- Here you can see the way I put the vinyl down. I would line the square up to the one it was touching and then using the application tool (see pic 4), I would smooth it out. I LOVED this tool…it helped get any bubbles out and really adhered it well to the wall.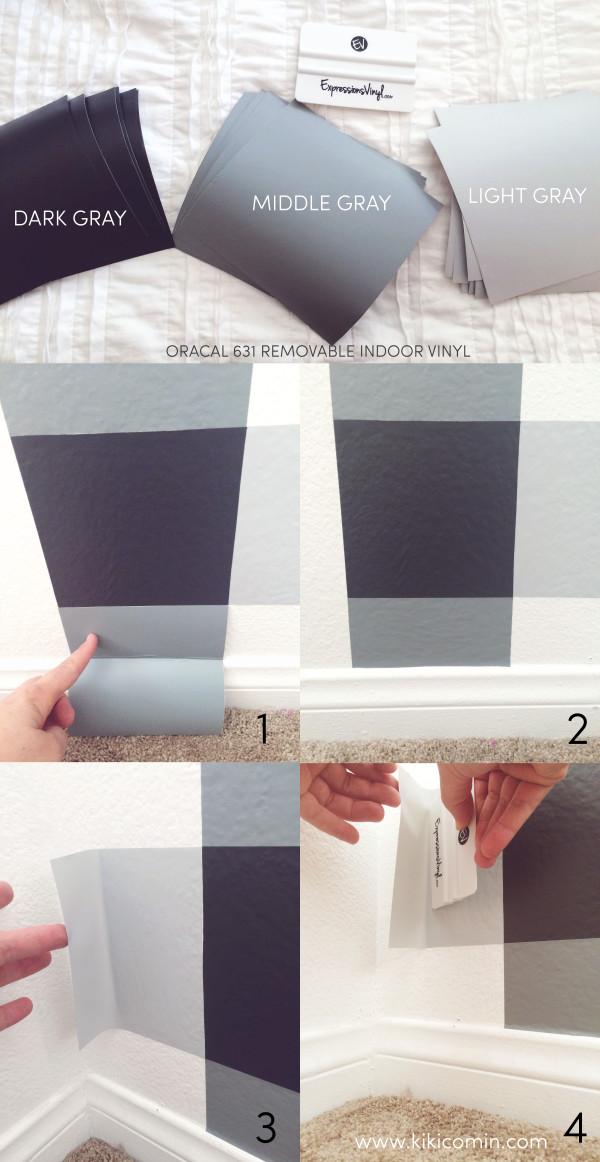 Here is the pattern I used. The middle gray and dark gray were stacked on top of each other and the light gray matched up with the dark gray on the sides. My wall was painted white to start.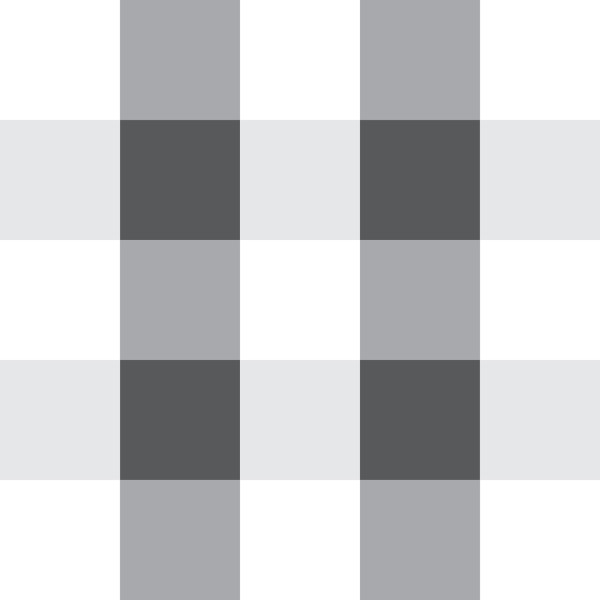 How fun is that? I love that with just a little money and a little time, you can make a statement wall that is versatile and gives a good pop to any room!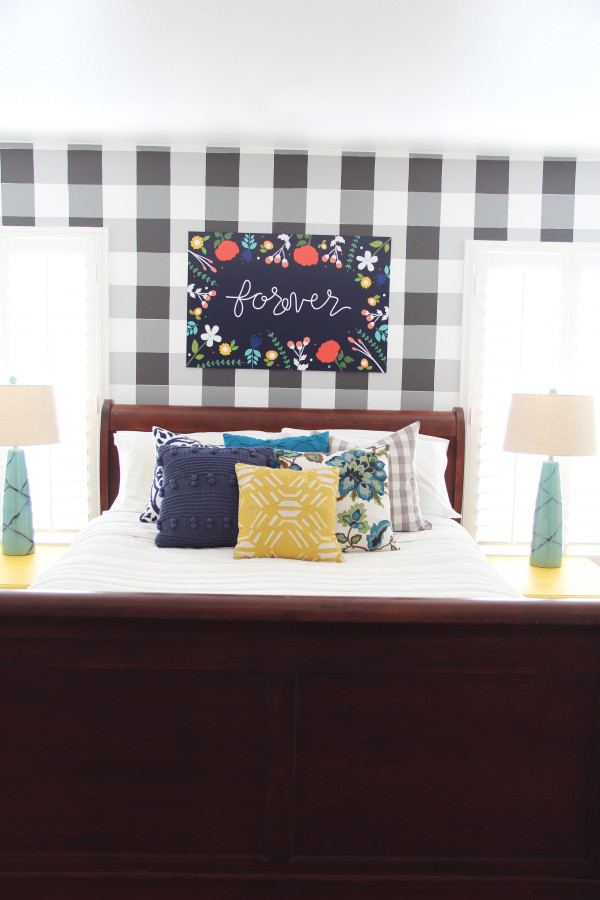 Run to Expressions Vinyl and get going! They have TONS of colors so you can do the colors YOU love.

This post contains affiliate links that help support my blog. Thank you!