Y'all, today is all about Disney FUN here on the blog. This post is sponsored by Expressions Vinyl..who only has the biggest selection of vinyl at great prices. You need to check them out! There are 25 other Disney projects you need to check out AND Get Away Today has sponsored a HUGE DISNEY GETAWAY..so you will NOT want to miss that at the end of the post!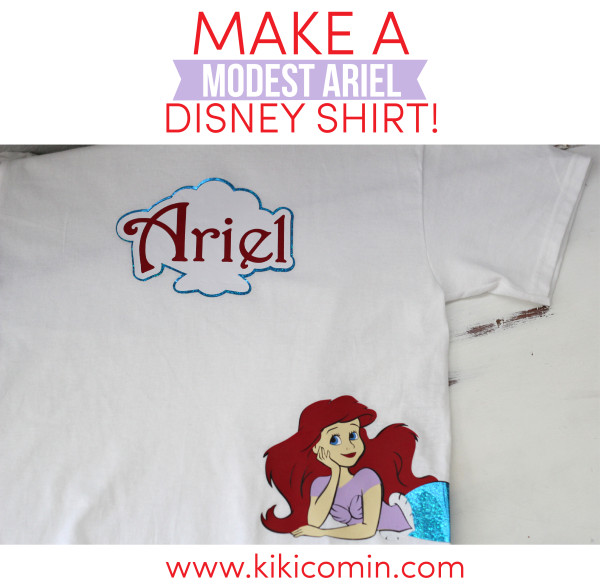 A few weeks ago, I was talking to a friend of mine who is taking her 4 little kiddos down to Disneyland at the end of the month. We came up with a great idea to surprise them with a shirt to their liking and it got me all excited! I know you know my love affair with Expressions Vinyl, but this project just reminded me how easy it is to make something up quick your kiddos will love!
My friend's daughter LOVES Ariel, but hates how immodest all the images are of her, so because we were making our own shirt, I knew we could add one more layer of vinyl and make her modest so my friend's girl could be excited about wearing her shirt. For those who want the regular Ariel, just skip the last step! 😉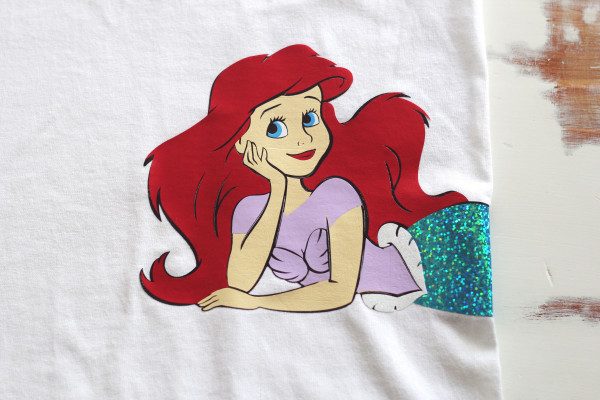 SUPPLIES
Expressions HTV Vinyl: EasyWeed Heat Transfer Vinyl in Cream, Black, Bright Red, Lilac and White and the Holographic Heat Transfer vinyl in aqua
T-shirt- I got mine at Hobby Lobby (about $3)
Cricut Explore Cutting Machine (love this machine SO much)
Iron
Scissors
DIRECTIONS
Let's get going right away!
Turn your iron on. (I put mine on my cotton setting)
Log into Cricut Design Space , Open a new file and add an image. Search "ariel" and buy the Ariel images that you want to use. (Remember you can make this yours, so choose your favorite!)
Make it the size you want in Cricut Design Space and then get ready to cut.
HTV vinyl will all go shiny side down on your mat and make sure to MIRROR IMAGE your design before you cut.
I cut out all of my designs first and just went back at the end to cut the cream color again (the skin),except I ended up using the lilac (same as shell top)
Weed the unwanted vinyl out and now it's time to iron.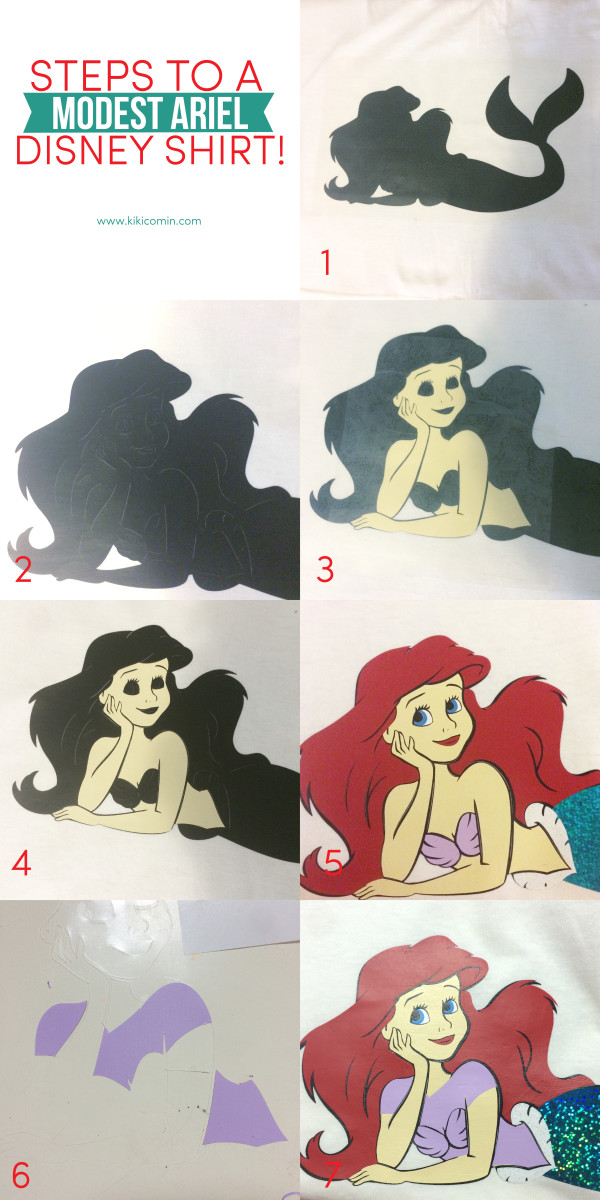 1- Iron down the black design. This will be your map for your whole design. You can see how it helps you in #2. 3 shows you how you will lay your design down with the plastic on top (I even like to keep the largest piece of plastic to put down over each piece to make sure I don't iron over any vinyl that isn't covered. After ironing each piece on high for at least 30 seconds, let it cool down for just a second and then peel the plastic off. Sometimes the vinyl will come up…simply lay the plastic down again and iron again. 4 shows you what it looks like after peeling the plastic off. You can see in #5 that I have the design done the way it was intended and on 6 you can see that I weeded out the vinyl that I didn't want and using an exacto knife, i cut sleeves and a neckline that would be cute. It really is that simple! After ironing it on, (7) your Ariel is modest and on her way!
My friend's daughter was so excited..and who wouldn't be…Disneyland is coming up in just a few short weeks!
When I was done with Ariel, I simply used another design to add to the front and fill up all the white space! It turned out SO cute…and now MY daughter is begging for one!:)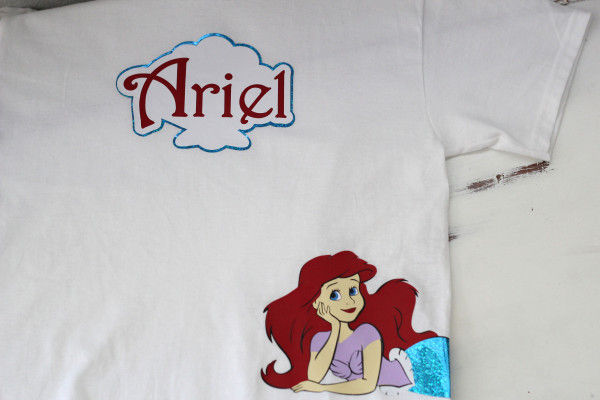 I also wanted to show you how easy it is to make up a bunch of shirts and Expressions Vinyl has every color and shiny fun vinyl you could want. I didn't want my friend's boys to get jealous, so I made them up a BB8, Lightning McQueen and a Mickey Head shirt so they could all rock their favs at Disneyland. It's SO fun to make exactly what you want in just a few minutes to exactly your kiddos liking!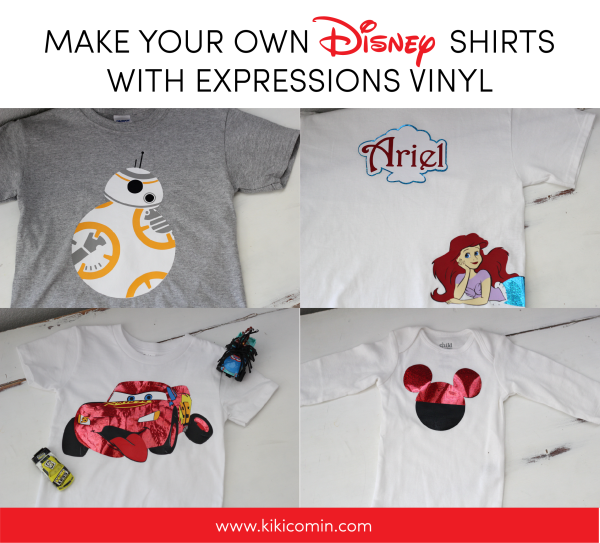 NOW to some crazy fun… 26 bloggers have joined up today in a Disney Blog Hop and will show you how to use Expressions Vinyl to create all the Disney you could need! Check out these fun projects (and don't forget to enter the giveaway below):
1. Lion King shirts by Play Party Plan
2. Jack Skellington Ears by A Pumpkin and a princess
3. Nemo pumpkin from C.R.A.F.T.
4. Disney coloring shirt by Artsy Fartsy Mama
5. Belle framed art by Crafting in the Rain
6. Miracles free cut file By Dawn Nicole Designs
7. Autograph shirt by the Pinning Mama
8.Disney countdown by Frenchi Wraps
9. Girl dress up by Over the Big Moon
10. Spirit animal shirt by Smashed peas and Carrots
11. Customized Minnie Ears by Inspiration Made Simple
12.Winnie the Pooh quote from Where the Smile Have been!
13. Modest ariel from Kiki & Company
14. Jack Skellington coin purse by Tried and True
15. Minnie Mouse purse by A girl and a glue gun
16. Disney ornaments by Happiness is Homemade
17. Girl Boss shirt by Sweet Rose Studio
18.No Sew Minnie tutu by Sugar Bee Crafts
19. Haunted Mansion door design by Simple simon and Co.
20. Minnie Mouse bow shirt by Girl loves Glam
21. Mary Poppins design by the Crafted Sparrow
22. Cinderella hand lettered shirt by Pitter and Glink
23. Jack Skellington shirt and pumpkin by the Scrap Shoppe
24. Beauty and Beast book sign by Flamingo Toes
25. Hat hair shirt by Polka Dot chair
26. Vintage Disneyland by Persia Lou
AND now with all your Disney projects in the making…how about you WIN A DISNEY TRIP from Get Away Today! If you are ready to book with Get Away Today right now, use the code Kikiandco to get an extra $10 off any 2-night or longer Southern California package (hotel and 2 ticket minimum). How fun is that, right?!
AND AS A BONUS Expressions Vinyl is giving away a $100 gift card so you can get these projects done! CLICK HERE TO RUN OVER AND ENTER!
This post contains affiliate links which help to keep this blog up and running! Thanks so much for your support!