It's Black Friday Sale time at Kiki and Company.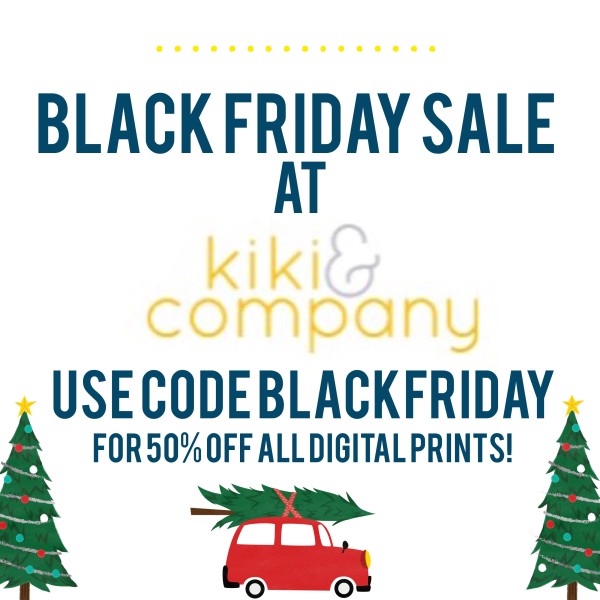 I know there are so many fun sales going on right now for Black Friday. I don't put ALL of my prints on sale very often, but BLACK FRIDAY weekend is one time a year I do. Starting today through Monday, you can buy ALL of my Digital Prints for 50% off. That means you will find prints for 50 cents up to $10! What most of you don't know is that I have 2cshops open right now and they have different prints, so let me catch you up to speed:
This is the shop you are most familiar with. This has all my newest prints in it. It also has books and ornaments.
ALL PRINTS 50% OFF WITH CODE BLACKFRIDAY, ALL BOOKS 20% OFF WITH CODE BLACKFRIDAYBOOKS, NATIVITY ORNAMENT SET buy 2 and get 1 half off, that makes the purchase of each set $22.50! uSE CODE BLACKFRIDAYORNAMENTS. THESE MAKE GREAT GIFTS.
This shop has a lot of my designs from the past few years. I hope you'll run over and stock up on every holiday and occasion you can. Make sure to look under the MORE category to find everything you will need.
ALL PRINTS 50% OFF WITH CODE BLACKFRIDAY.
I hope you will run and grab all you can. These prints make great teacher, neighbor and family gifts as you can buy one and print over and over again!
Thank you SO much for your support. It means the world to me that you support my small business!