Yes. I'll admit it. I have an addiction to cute little bundt cakes. I love them. They are the perfect size…and they are so moist and yummy. Here is yet another to add to your to-do list: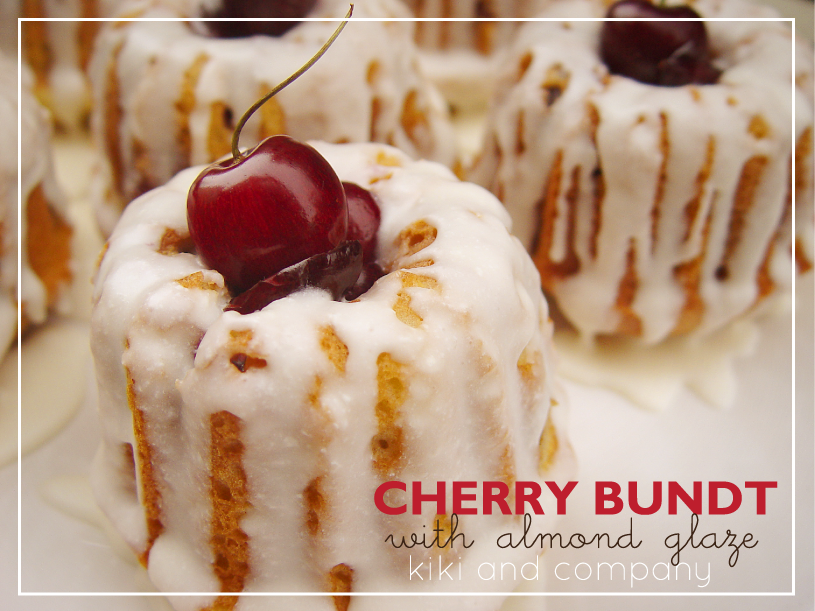 Cherry Bundt Cake with Almond Glaze
Ingredients:
White Cake Mix (and the ingredients it calls for)
4 cups of cherries
Yep..that is is for the cake. Simply make your favorite white cake and add in cherries (I just cut them in half after pitting them). Mix it all together and pour into your mini bundt pans. Cook according to the cake mix directions.
Glaze:
1 stick of salted butter
3 cups of powdered sugar
1/4 cup milk (a little more if you need it thinner)
1 tsp. almond extract
Cream this all together. Add milk to make it thinner as desired.
After the cakes are cooked and cooled, pour the glaze over the top and garnish with cut cherries (down in the bundt hole) and then add a whole cherry on top. I was so pleased with how moist and tasty these were..and the almond with the cherry was the perfect complimentary taste!
Enjoy!