I am so excited to introduce you to Kiki and Company Digital Prints.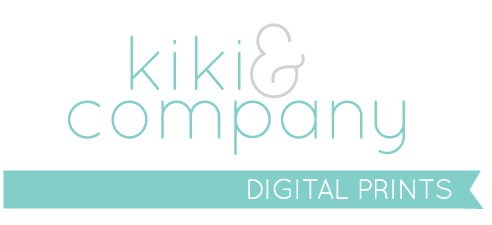 A few years ago, on a whim, I opened up an etsy shop. With a lot of hard work and patience, it became really successful and have gained the greatest customers and friends all over the world. At the beginning of the summer, I almost gave up my blog, my shop and anything to do with the computer because I was having trouble balancing it all. I was spending 3 plus hours a day just on my printing, shipping, running to the post office and then add on top of that my blog, (PLUS on top of that, trying to keep up with being a mom and wife, etc). It was all too much, so I took a break from my etsy shop for a bit. I went on an "extended vacation" until I could figure out a solution. I am getting back to that "balanced" point where I've wanted to be and couldn't be happier with the solutions that I have come up with. For about a year, I have recieved hundreds of emails asking if I would sell a certain print digitally, and up until now, I have only sold a select few that way…UNTIL NOW! Starting TODAY you can buy any of my prints in a digital format. With digital prints, you have to think long term. Prints start at $5.00 and go up from there. My most popular print is selling at $15.00 for a 5×7 and $20.00 for an 8×10. One regular 5×7 is selling at $11.95, so to get the digital where you can print as many as you want is quite the steal! All of my digital prints are for personal use only and are not to be resold or the files redistributed, BUT if you would like to be a licensed seller of a Kiki and Company print, email me at [email protected] for commercial use pricing and licensing. So let's look at the loot!
I took my most popular print and made it digital! You can buy a 5×7 in the most popular combinations (there is even a NEW Holiday Polka Dot line) and an 8×10 in the holiday line. Others will be added throughout the day!
You can see how I use my prints by clicking HERE.
I have also been emailed countless times asking if I would make the "For Unto Us" Christmas print in a large format. I am happy to tell you I am selling it now in a 16×20 and a 36×48 size!(I will be showing off my 36×48 print later this week!)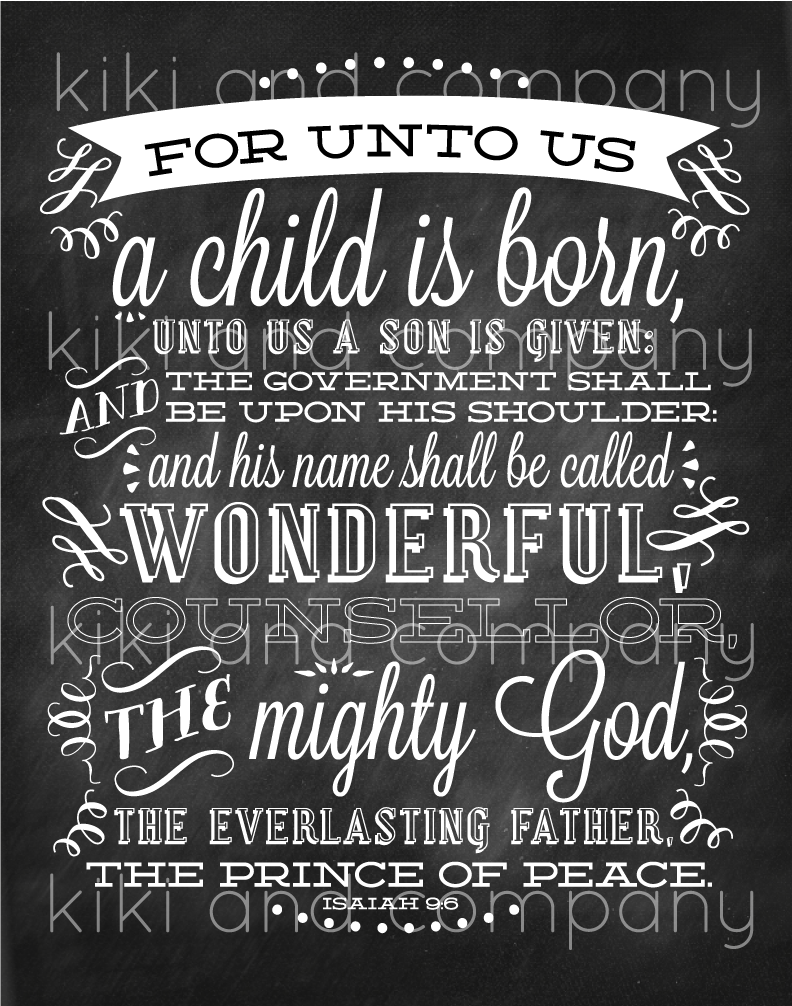 The large prints of this are offered with a chalk effect (it is a little more black than the one above) or plain black.
You can also purchase this in Christmas Card/Postcard form!
Additionally, there are also digital prints, sets and invitations in the following categories:
Art Prints, Baby Shower, Birthday, Faith Prints, Go Notes and Freebies.
I will be adding to the shop daily…adding new sizes, colors and prints, so check back often! Ultimately, this option will give me the chance to design more and get more product up! There is still the option to buy a print, but will be doing it straight from my site now. You can click on the "shop" button at the top of my page and it will take you to my shop page, which is being run through fotomoto. It's a great format which gives you many options I couldn't offer before. (I will be officially introducing it soon!)
All sold digital prints will be emailed out within 24 hours…many times much sooner!
AND lucky you…because today is CYBER MONDAY, I am having a sale!
The next 3 days ONLY you can get any I love you because print for 33% off! That means you can get any I love you because 5×7 for $10 (normally $15) and any 8×10 for $15 (normally $20). This sale won't last, so hurry over and snag yourself some fun prints! These prints are great for home decor, gifts for grandchildren, great for wedding and anniversary gifts or just to show your loved ones just how loved they are! And just remember..you can print as many times as you would like! (yay!)
I hope you are as excited as I am and cannot wait to see you over at the shop!