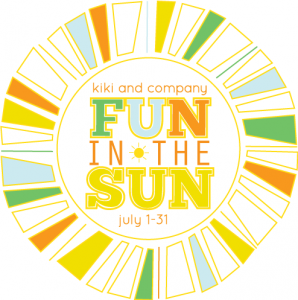 Today's guest is one of my favorite blogs to read. Lisa Storms is one of the most talented bloggers I have seen. Her projects are always beautiful, simple and well designed. Her blog is an incredible resource for all things creative and I am more than excited that she is here today..Here is Lisa:
Hi, I'm Lisa Storms from … well, lisastorms.com. Pretty creative, right? While I lack creativity in blog naming, I guess I save it up for other areas of my life, including making cute food.  Thanks, Kiki, for letting me stop by today to share some super easy summer snacks for the kids!
If your kids are like my kids, they are constantly snacking in the summer. Between swimming and sports and just constantly running around with friends, a lot of food is consumed in my house daily. It's insane! So I figure I might as well have fun with it.
I'll start with this simple sun. Fresh pineapple is my very favorite food, so it finds its way into a lot of meals around here. By lining them up around a circle of cantaloupe you have an instant sun. To make it even easier, you can swap out the cantaloupe for an orange slice. However, my kids love cutting shapes from food, so whenever we can, we do!
When shape cutting from cantaloupes and honeydew melons, I like to cut slices from the side to have a good cutting surface. Then I'll cut up the rest of the melon the traditional way after I get the slices I need.
Use a biscuit cutter or circle cookie cutter to cut out the middle of the sun. Cut up pineapple slices for sun rays (or use pineapple tidbits from a can to save prep time).
This palm tree snack is all about presentation. No cutting required. Just plop it all on a plate creatively. A pretzel rod for the trunk, sugar snap peas for leaves (I buy stringless), and red grapes for coconuts.
I added some crushed graham crackers for sand. This is standard snack-fare here during the summer. I keep a baggie of graham cracker "sand" in the pantry at all times. If they have yogurt, sprinkle it on top and suddenly it's a beachy snack. Luckily it takes very little to impress my kids, ha!
I recommend adding a little fun to snacktime and encouraging the kids to help in the process!
Thank you so much, Lisa.  I love these ideas to make healthy eating fun. My kids will be so excited to do this (and eat it too!) Take my word for it..run over to Lisa Storms and check out her blog, but I will warn you that you will be there for a LONG while! While you are there, check out a few of my favorites: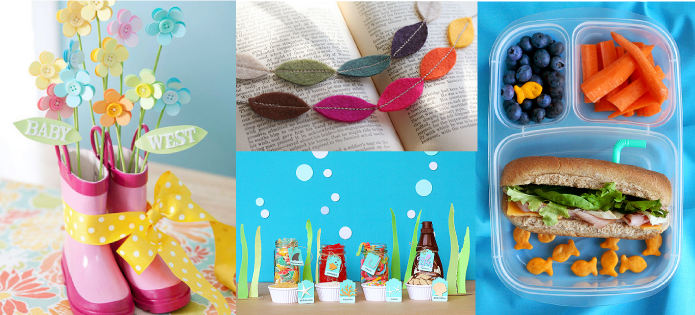 I Loved this Baby Shower idea, Make a fall leaves necklace, Throw a back to "school" party, Make a Submarine lunch