One of my two favorite sisters of all time came to visit a week ago. She spent a considerable amount of time going to school in Hawaii and each time she called she would RAVE about this pie she would get OFTEN from Ted's Bakery on the North Shore of Oahu.  Well, come to find out, a co-worker of her's made it for her and now it has been her mission to let everyone she knows taste it! Haupia is Hawaiaan for Coconut and if you LOVE chocolate and LOVE coconut..this recipe is for you!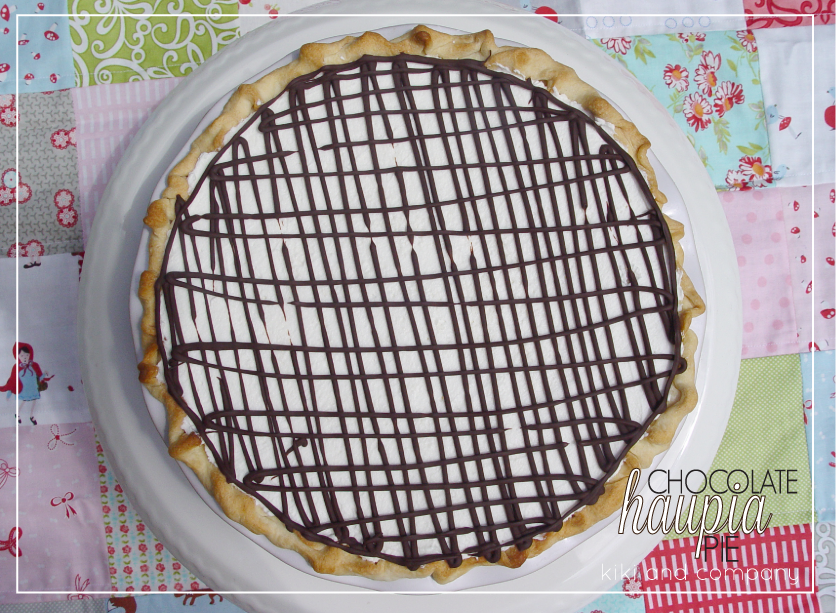 Chocolate Haupia Pie
Ingredients
1 (9 inch) unbaked pie crust
1 cup milk
1 (14 ounce) can coconut milk
1 cup white sugar
1 tsp coconut extract
1 cup water
1/2 cup cornstarch
1 1/2 cup semi-sweet chocolate chips
1 1/2 cup heavy whipping cream
1/4 cup white sugar
1 tsp vanilla
1. Preheat oven to 350 degrees F (175 degrees C). Bake crust for 15 minutes, or until golden brown. Set aside to cool.   2. In a medium saucepan, whisk together milk, coconut milk, 1 cup sugar and coconut extract. In a separate bowl, dissolve the cornstarch in water. Bring coconut mixture to a boil. Reduce to simmer and slowly whisk in the cornstarch. Continue stirring mixture over low heat until thickened, about 3 minutes.   3. In a glass bowl, microwave chocolate chips for 1 minute or until melted. Divide the coconut pudding evenly into two bowls. Mix chocolate into one portion. Spread on the bottom of the pie crust. Pour the remaining portion of pudding on top of the chocolate and spread smooth. Refrigerate for about an hour.   4. Whip cream with 1/4 cup sugar  and vanilla until stiff peaks form. Layer the cream on pie; if desired garnish with chocolate shavings or melt some chocolate and make it pretty!:)
Now all you have to do is make it and EAT it!