I think you know by now by reading my blog that I love me a good quick treat..hello..coconut pie on Monday, sweet treats on Wednesday?! HaHa..BUT one of my favorite things about making small treats is making them for other people!  Today I want to share 2 quick recipes and then Friday you can come on back to grab some free sweet treat tags to go with them (or any others that you like to make) to give away!
First off are some quick rolo bites that you customize in so many ways: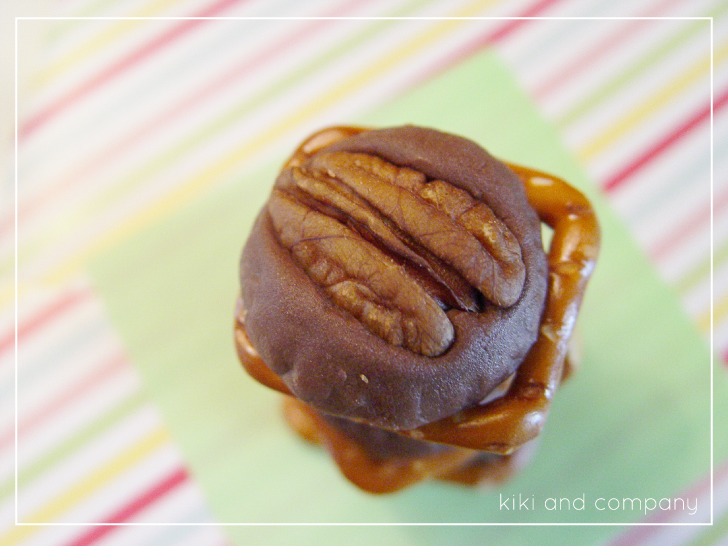 These are simply square pretzels, rolo candies and pecans. Simply preheat your oven to 350 degrees. Place pretzels down with the rolos on top of them and place them in the oven. After just a few minutes, check them..when the chocolate is shiny, take them out and place a pecan on each and press down. I also added marshmallows on some, M&M's on others..and the sky is the limit..you can add ANYTHING else you want on top! Let them cool and then eat away give away!
Second..a Dipped Chocolate Chip Cookie with Sprinkles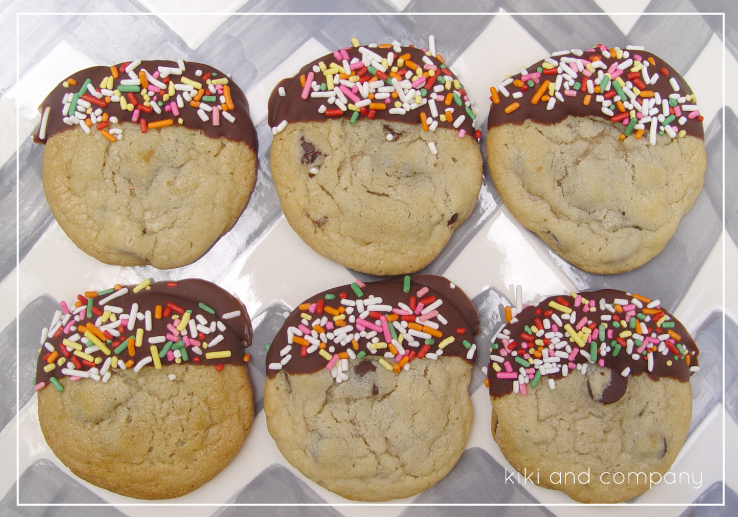 I know, I know there are a thousand chocolate chip cookie recipes out there that are "the Best". So I will not make a claim that this is THE BEST..but I do quite adore them and so I will share my recipe:
Chocolate Chip Cookie:
Cream together:
2 sticks of unsalted butter
2 eggs
1 tsp. vanilla
1 tsp. baking soda
3/4 cup white sugar
3/4 cup brown sugar
Once combined add 2 1/4 cups of flour and then 1/2 bag of chocolate chips and mix. Bake in a 375 degree oven for 8-10 minutes. I prefer to cook just until the shine has gone away and then pull them out and let them cool for 10 minutes before taking them off the pan. This will allow them to cook just a bit more, but harden up a bit to get them off the pan perfectly. This cookie is a soft one, not crunchy and is so delicious hot OR cold.  To finish these off, I simply melted the remaining chocolate chips and dipped them and sprinkled them with sprinkles..and that was that! A fun and festive little cookie!
Again, on Friday, I will show you how I packaged them up and added a cute tag (that you will be able to download for free!).