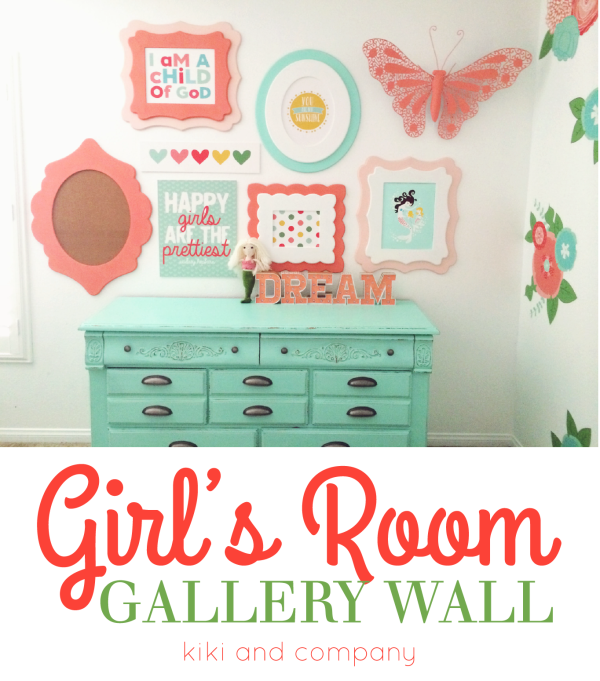 Today I am super excited to share with you the Gallery Wall that I created for my girl's bedroom makeover. I knew from the beginning that I wanted this as a big focal point in the room. I knew I wanted it bright, happy and optimistic and I think I got that!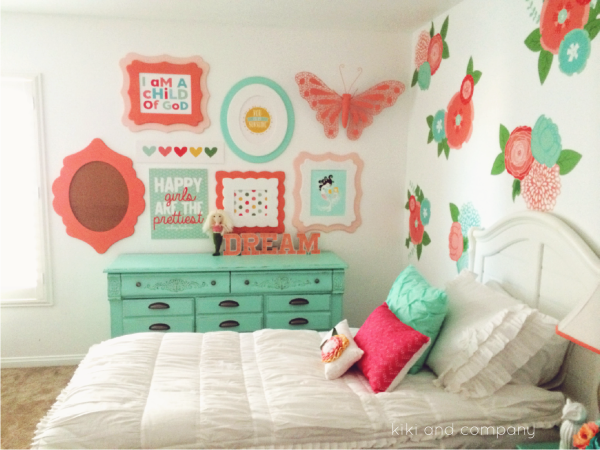 Let's take a look at the prints that I designed for this wall: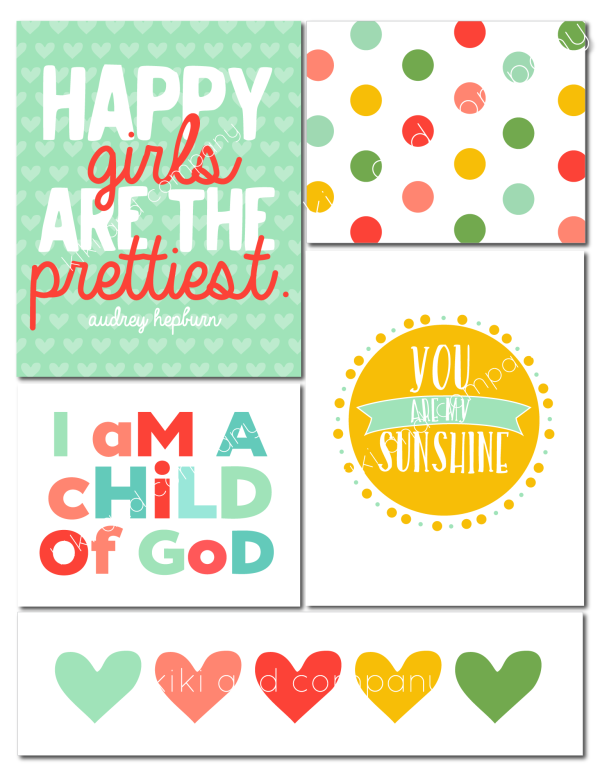 Three of the prints say "I am a Child of God", "You are my Sunshine", and "Happy girls are the prettiest". When I think of all the negative media and comments girls hear throughout their life, I want them to know the things that will truly make them beautiful human beings. Having a knowledge that they are daughters of God and knowing that will help them make it through difficult decisions and times in life. Knowing that happy girls are the prettiest is the icing on the cake. The media wants our girls to think that PRETTY girls are the HAPPY girls, but I want mine to be happy…to focus on the things in life that truly make that the truth..to work on the inner beauty that they have. Because regardless of the fact that they ARE beautiful, those happy and beautiful personalities will get them further and happier in life than anything they could work on on the outside of themselves. Lastly, I just want them to know that they are two of the sunshine rays in my life. They truly are and I hope they know as they look back on these pics when we are all really old, that they can feel the love I had for them through something as silly as a room makeover. 😉
I also added in a polka dot print and a sweet heart print to help keep the wall a bit graphic and balanced.
So when I look at the wall, my eyes are drawn to those amazing frames from Cut It Out frames. I cannot say enough good things about these frames.
They are unfinished and come looking just like this: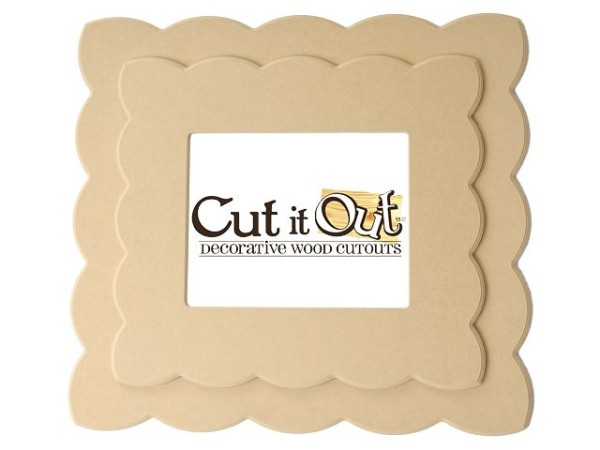 So why the unfinished frame? This is one of my favorite parts…YOU CAN MAKE IT YOUR OWN. Having these unfinished I could match the paint I used to the exact colors that were found in the rest of the room. I used BB Frosch Chalk Paint Powder and added it straight to a flat paint, painted, lightly sanded and waxed the frames with BB Frosch Finishing Wax and they were good to go.
The double frames come in two pieces (so you don't have to worry about painting them when they are already together. After painting them and letting them dry, I wood glued them together. The backs have a keyhole slot already in the back so they are super easy to hang.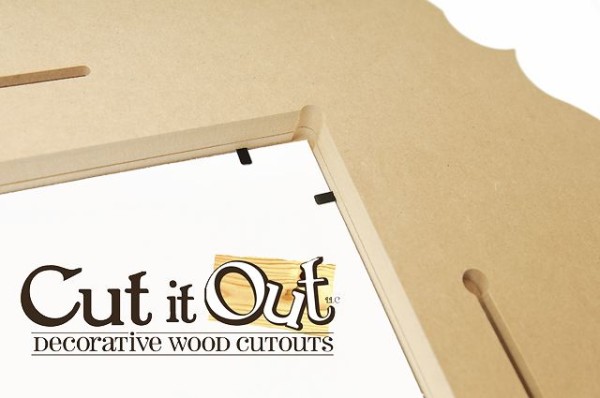 You can see my frames here before they were filled…kind of fun even just like this, right?!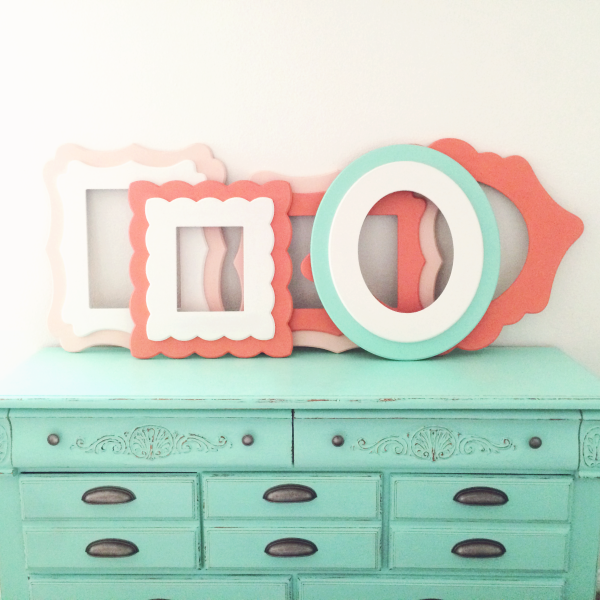 The exact frames I used were these:
 11×14 Chandler Double Layer Frames
8×10 Brooklyn Double Layer Frame
16×20 Grace Oval Single Layer Frame
Once I filled them, them became even MORE beautiful!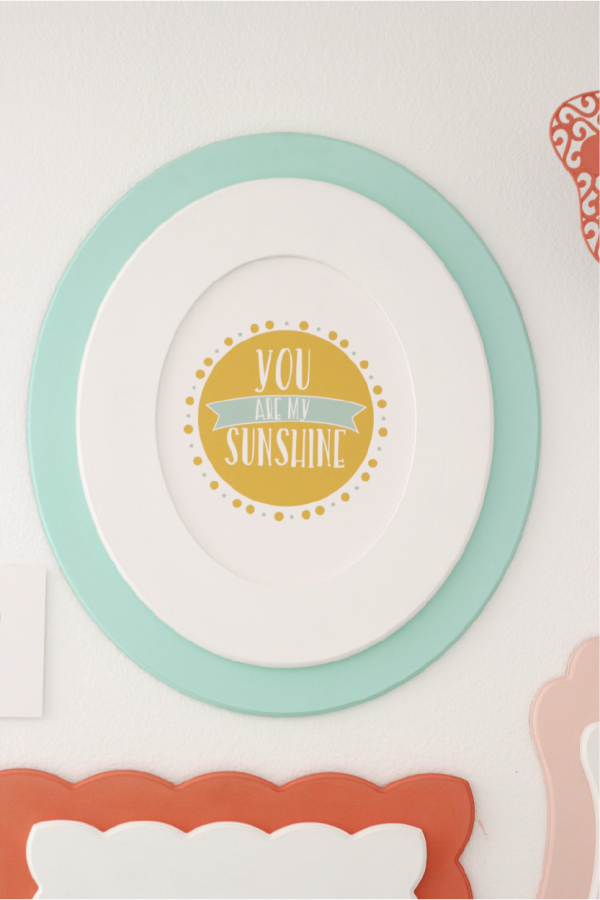 How fun are these. They are super easy to paint and install!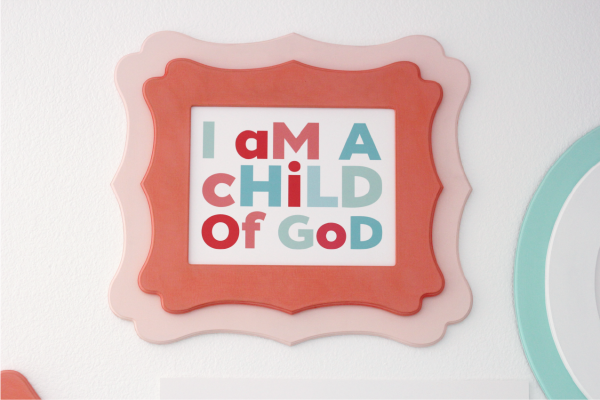 They just kept adding to the whimsy in the room and were the perfect frames for my prints.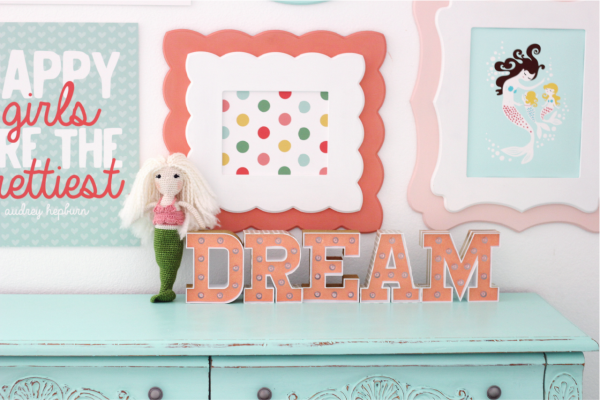 Now I want to tell you about my prints. I am so excited to be able to offer both PHYSICAL and DIGITAL prints again.  Impress by Print, a local printer (my fav!) will be doing all of the printing and shipping for my physical prints…and you will NOT be disappointed. The prints that he is printing for me right now are printed on vinyl and then mounted onto a special pvd board that is about 1/4″ thick. It is amazing! The prints are printed so they are not shiny, but have a perfect sheen to them. You can wipe them clean if you need to and they are super easy to store.  I also have all of the prints available in digital prints as well, so if you want to take the diy route, you can buy the file and get it printed yourself!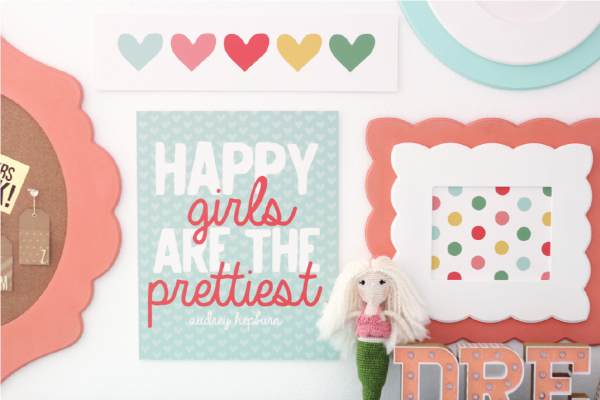 Here you can see how thick the prints are that come from Impress By Print...amazing, right?!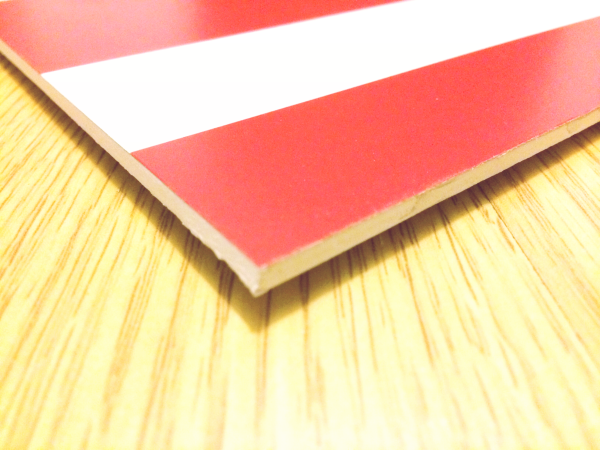 I also wanted to give a shout out to The Paper Nut for the sweet Mermaid print…she has any combination you can imagine. My daughter loves to go over and say, "Momma, Maizie, Zoey" and point to them all.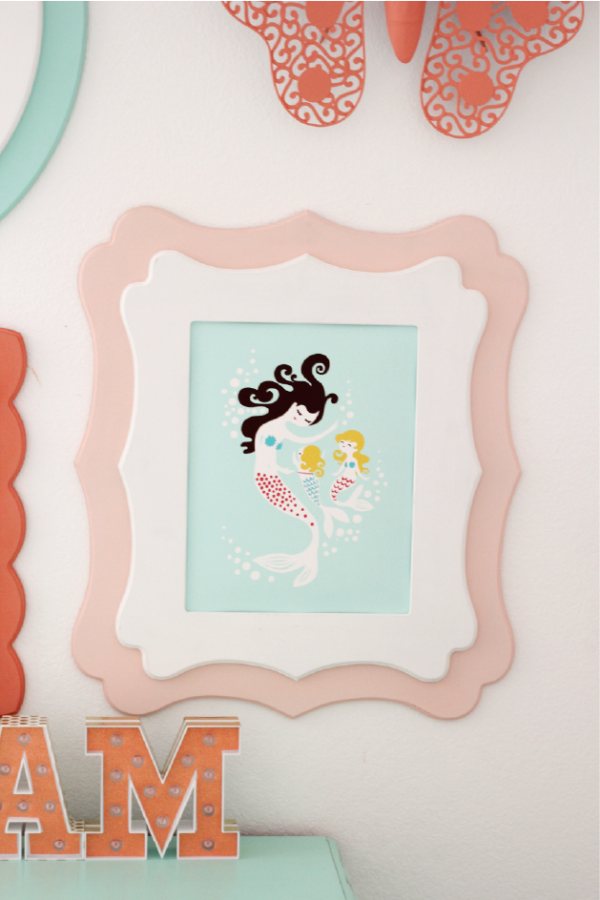 The Cut It Out Frames don't just have to be used for pictures either. Here I backed it with some cork board liner and it works great! My oldest girl is loving putting her art up on this. The sweet embellishments are from Jen at Tatertots and Jello's new HOME+MADE line of crafting supplies.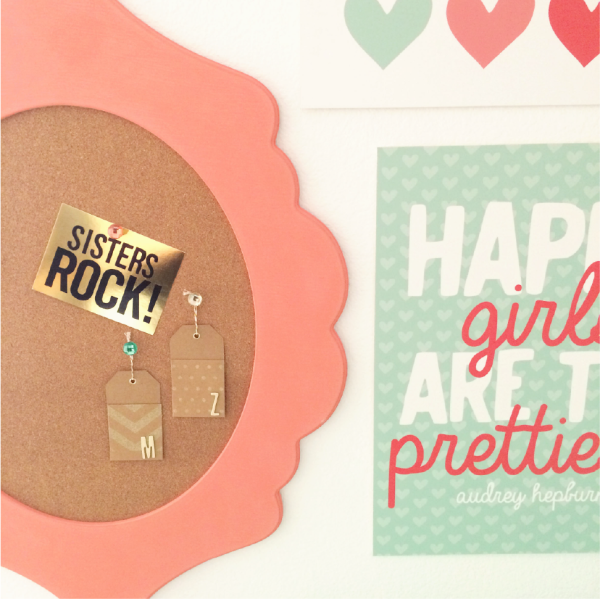 Whew and that is it for the gallery wall!

Thanks for stopping by, I SO appreciate all your support through reading and buying my prints and just love making all kinds of new friends through this little ol' blog of mine! 😉