Oh my goodness. I have been so excited to show you this girl's room makeover! This post will be super photo heavy, so I hope you'll stay with me. 😉
So we moved into our home one year ago and it was a disaster. No offense to all you cat owners, but the previous owner had a ton of cats who ruled the house. There was a LOT of damage to the house,so when we moved in, we had a TON of work to do before my daughter (who is super allergic to cats) could even come over. After painting the house top to bottom, literally, replacing all the flooring and scouring the rest, we finally moved in. And I didn't want to see another paint brush for a year. No, really. When I started putting a Pinterest board together to makeover my daughter's room, I still didn't want to paint. I love the white..it's just so fresh and clean, so I made it my goal to make the room over with no paint on the walls, but make it look completely transformed. So whether you rent or own, know that you can do this look and if you have to move or want to change, it will all come off! Once I painted one dresser, I was all in and there was no looking back.
As I started sorting through my ideas, I started sketching out my ideas and came up with this:

Most of my ideas stayed the same, but the layout of the room was shifted until it felt just right. If you were coming into my home to see this room, I would welcome you and say, "Come on in and tell me what you think!"

Before you see all of the after pictures, let's take a look at the Before shots: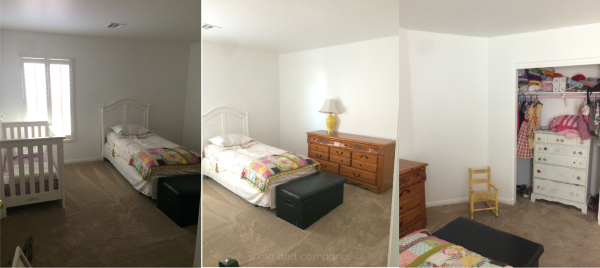 You can see the the room was just blah. It was white, white, white with furniture that needed a facelift!  And so facelift, I gave it! 🙂
We are going to start on the side of the room with the crib. Both of my little girls share this room, so having the crib in the design had to work! The wall just above her crib is not huge, so I wanted to fill it with a new print that speaks directly to both of my daughters: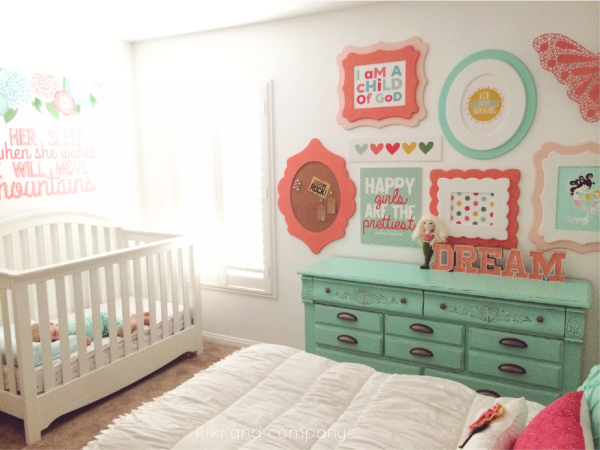 You can see the print here. How sweet is that message?!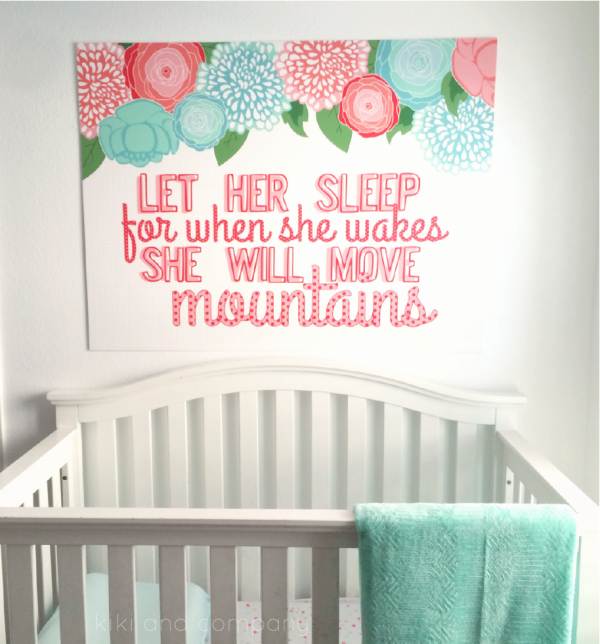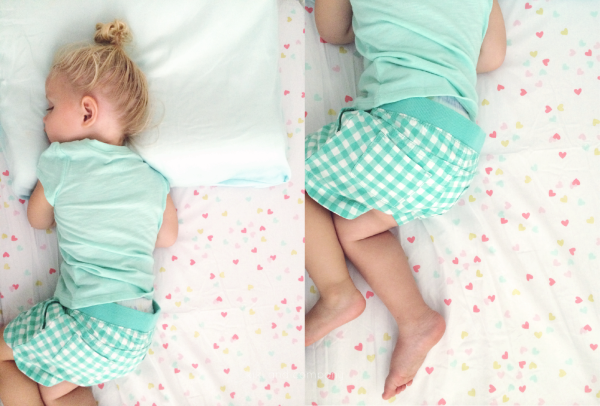 As you scan to the right of the crib, you will find the wall with the gallery wall on it. I LOVE gallery walls and wanted to make one fun and whimsical for my daughters…one that shared messages of optimism and love. Using Cut it Out Frames was the icing on top! Have you ever seen these frames before? They come in single or double layered frames, completely unfinished so you can make them any color or finish you want. I painted them with BB Frosch chalk paint powder paint…another genius product.You see that beautiful mint color I used? It is a Behr Flat finish paint in the mint color with the powder mixed right into it which instantly makes it into chalk paint. With just two coats on each frame and a light sanding, I have beautiful frames in the exact colors I wanted them in. I also used the paint on the dresser (All of these things will have their own post coming up so you can see how amazing they all are.) and that just started the room off in the right direction.
I designed all of the prints on the wall that you can now find HERE in my shop. I will have them so you can buy them both digitally on Friday AND as a physical print now thanks to Impress By Print, my favorite local printer.  Coming on Friday will be the post on the gallery wall…I can't wait for you to see how amazing these prints and frames are! The mermaid print came from a sweet little Etsy shop called The Paper Nut. If you have a mermaid lover, then these prints are a must..there are so many combinations you can choose!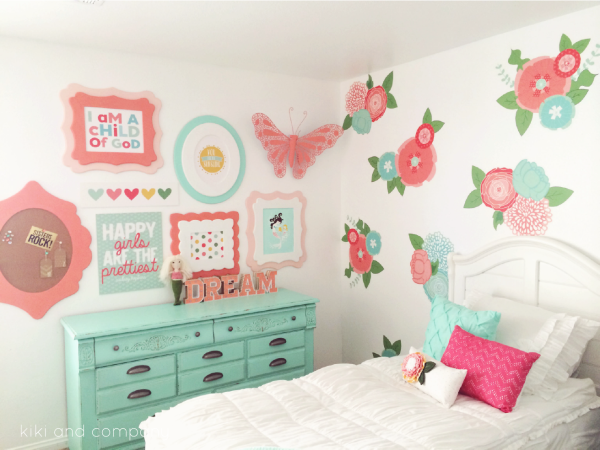 It is such a happy wall to look at.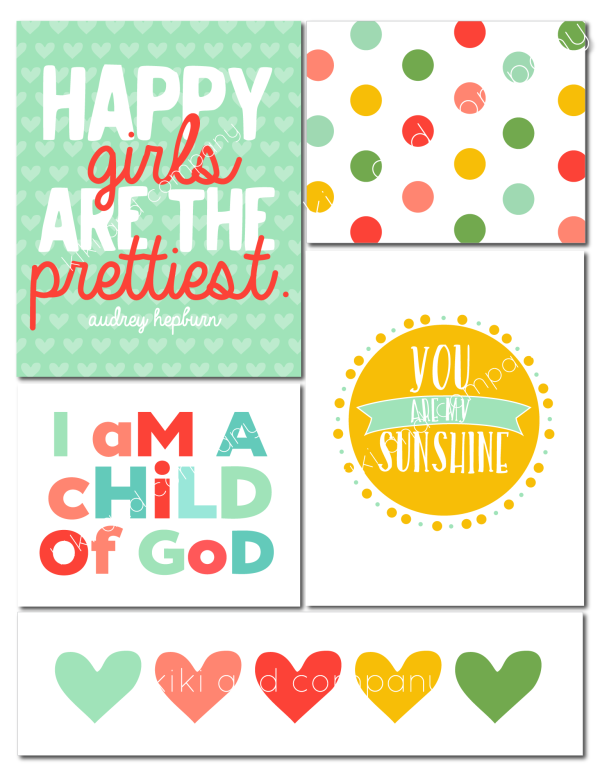 The three prints say "I am a Child of God", "You are my Sunshine", and "Happy girls are the prettiest". When I think of all the negative media and comments girls hear throughout their life, I want them to know the things that will truly make them beautiful human beings. Having a knowledge that they are daughters of God and knowing that will help them make it through difficult decisions and times in life. Knowing that happy girls are the prettiest is the icing on the cake. The media wants our girls to think that PRETTY girls are the HAPPY girls, but I want mine to be happy…to focus on the things in life that truly make that the truth..to work on the inner beauty that they have. Because regardless of the fact that they ARE beautiful, those happy and beautiful personalities will get them further and happier in life than anything they could work on on the outside of themselves. Lastly, I just want them to know that they are two of the sunshine rays in my life. They truly are and I hope they know as they look back on these pics when we are all really old, that they can feel the love I had for them through something as silly as a room makeover. 😉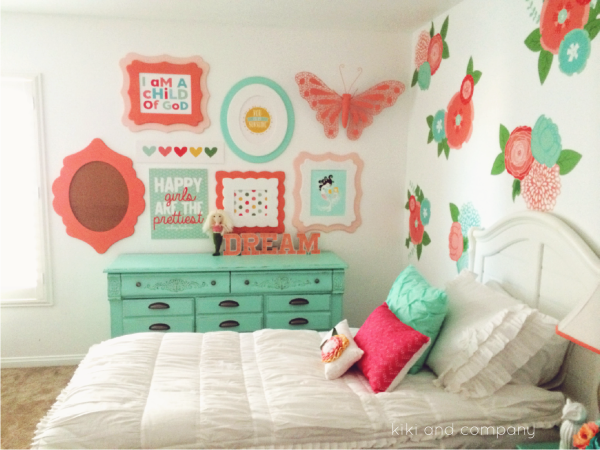 A closer view…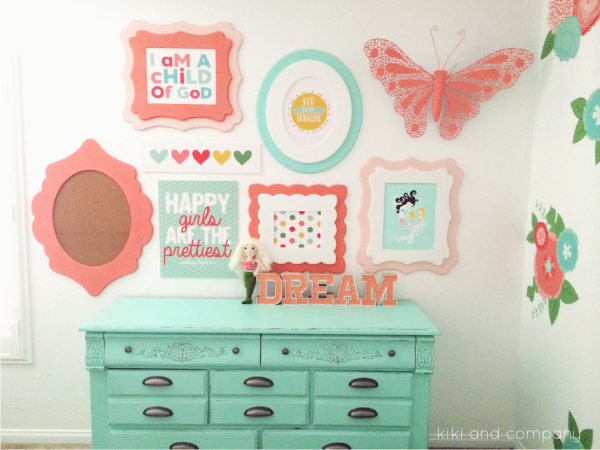 How great are these letters that come from Heidi Swapp and are found at Target. These are the best! They are $9 each and come with everything you need to make that light work (minus the batteries). I found the perfect coral glittery paper and put that on the inside of the letters and finished the outsides off with different gold tape. When they are lit at night they are magical!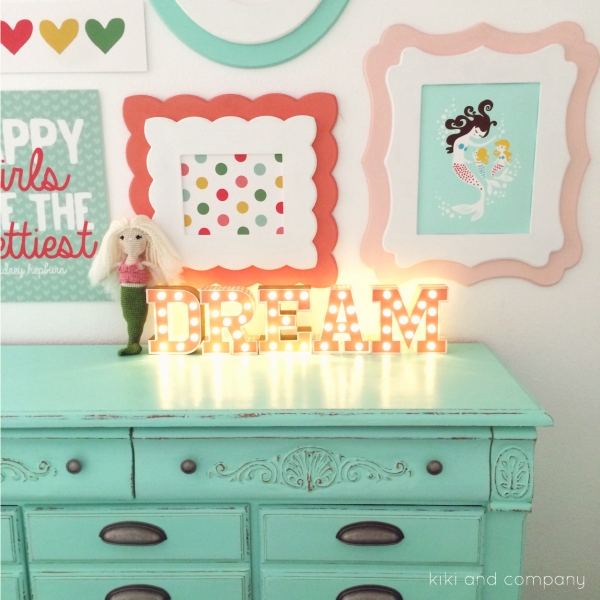 The butterfly came from a friend who was moving and my daughter fell in LOVE with it. It was a perfect addition to the wall.

And so now we are on the bed wall! How fun is that floral wall?! You guys, I saw this room a few months ago from Design Loves Detail where they painted some large scale flowers on the wall and it was GORGEOUS! But as I thought back to times in my life where I painted something on my wall and the WORK it takes to take that wall back to a nice textured wall is enormous!  I didn't want to paint those flowers on, so I talked to my printer, Impress by Print and asked if he had any product that would work on my wall. He showed me all of his line and this product rocks! Seriously…you can read more about it HERE, but it is this awesome product called TexBright that is an adhesive fabric that is removable, reusable and you can reposition it…and the best part… I designed up some flowers, made them the size I wanted and he printed them, cut them out and when I got them back, I simply put them on the wall. They are on the higher end of pricing, but again, when I think of the time and money I am saving by not having to sand, retexture and repaint a whole wall, AND I can use them again…it really is a great alternative! Plus…look how amazing they look: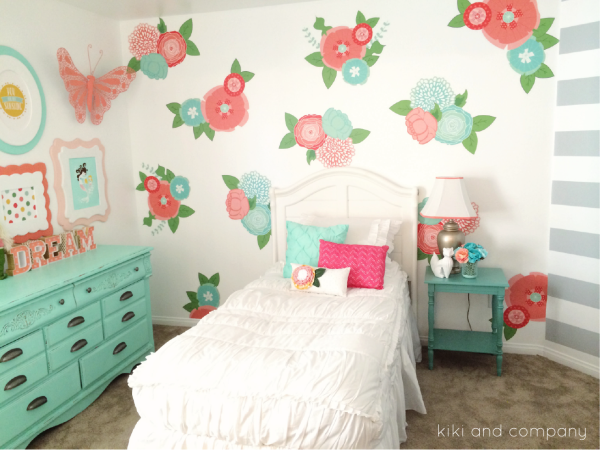 The bedding I talked about last week is from Beddy's and couldn't be more amazing…seriously. My daughter has been so thrilled to be able to make her bed every morning without help…and she can make it look just like it is above. Crazy awesome, right?! Read all about it in this post HERE.
I made that pillow in front and will have a tutorial coming soon on how that was made.
How sweet and silly are these girls?!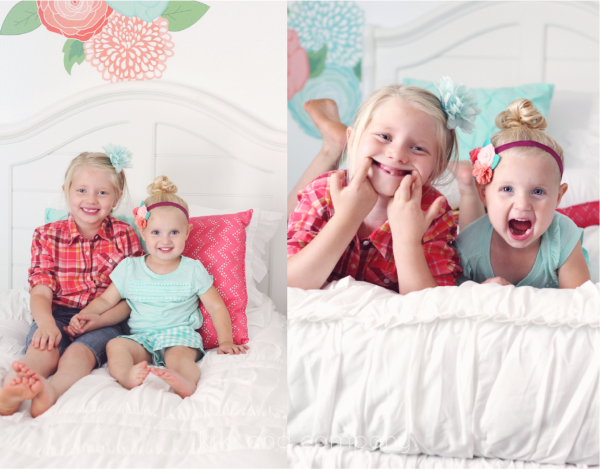 I found the little side table at Home Goods for a steal and found the fox and flowers and Hobby Lobby. The lamp was a makeover from a lamp that I made over a few years ago. It looks so classy and sweet now.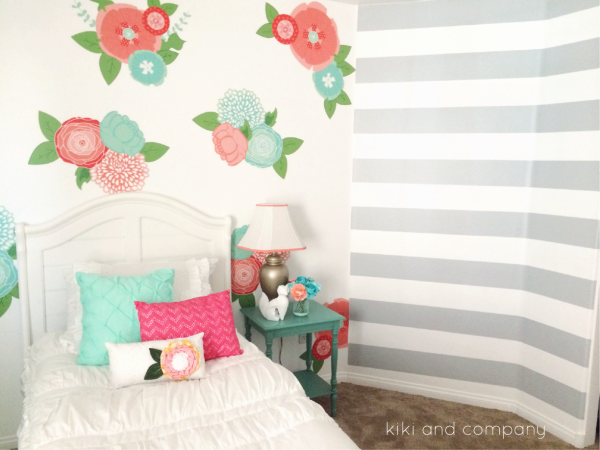 And then let's talk about this striped wall. I knew I wanted another bold pattern in a really light color on this wall, so I contacted Expressions Vinyl and they sent me these rolls of light gray vinyl. They came in 12″ rolls and I cut it down to 6″ stripes and simply put the stripes up 6″ apart. It was really easy to apply and I only got caught up a few times on the crazy long side I had to do. BUT again, I LOVE the look and love that I know if they get sick of it, I can just take them down and we will be right back to the white again.
I wanted the closet to be functional and cute. The baskets come from Target and the chalkboard tags come from Jen at Tatertots and Jello's new crafting/scrapbooking line that just came out through Pebbles at American Crafts. It is the cutest line ever. The necklace holder came from Target and the Dresser has a post coming on its own about how to get those sweet polka dots on the dresser drawers!

Whew! So there it is…WHAT DO YOU THINK? Favorite part?
Here is one more look at the before and after photos of the same walls that everything was originally taken.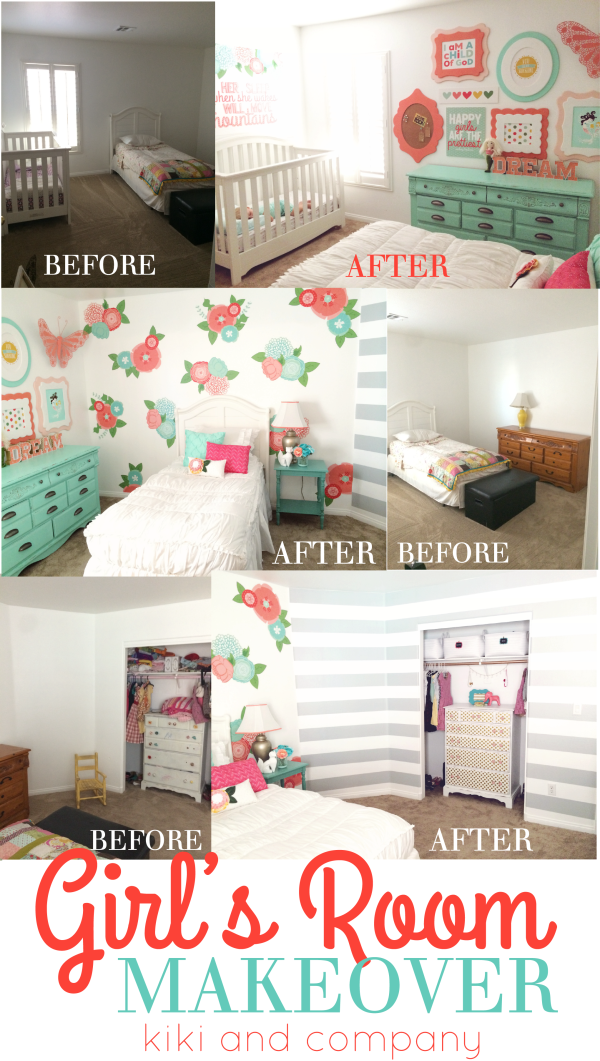 It really was so fun to put together and hope you will share with me your favorite parts of the room!
xoxo
DETAILS:
Prints: Kiki and Company
Mermaid Print: The Paper Nut
Flower Decals: Kiki and Company
Bedding: Beddy's Chic White
Light Gray Vinyl (stripes)- Expressions Vinyl
Frames- Cut it Out Frames
Paint Colors:
Crystal Rapids- Mint
Guava Jelly- Coral
Deco Shell- Light Coral
Ultra Bright White